Local florist Lisa Sandoe has 1800Flowers flower shops in Woburn and Melrose, Massachusetts and has been in the floral business for over 25 years.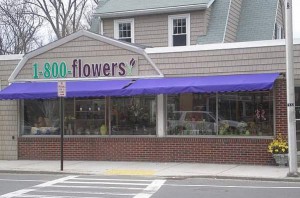 Lisa did a question and answer session to talk about her flowers experience, local city, favorite flower seasons and most unique arrangements.
How did you get into the flower business and what do you love best about being a florist?
I got into the floral business about 25 years ago. My friend got me a job at the flower shop that she worked at, part time, temporary employment, until I figured out what I wanted to do with my life. The job fit me like a glove. I was hired to answer phones, water plants, make displays, clean up etc. Within the first year I learned to design. My friend who managed the shop left, and I was promoted to manager.
What are your favorite flowers?
I love the season of the flowers, like the seasons of New England. Winter with its fragrant winter greens, like balsam, pine and boxwood, has a totally different feeling compared to say spring with all of the bulbs, iris, daffodils etc. The flower seasons, like New England seasons, are in my opinion breathtaking.
Can you tell us a little bit about Woburn, Massachusetts? What is your favorite thing about living there?
I have lived in New England all of my life, I grew up in Lexington, Mass (where it all started) then moved to Woburn, right next door for 16 years. Woburn is where I opened my first flower shop, and where it remains today. Melrose is where I opened my first beautiful retail 1800flower shop, also where it remains today, changing like the seasons.
What has been the most rewarding experience during your florist tenure?
For so many years, being a local florist has become a huge part of who I am and who my friends are. I have had customers who have stuck around since I first opened my doors, people who buy flowers from me for special occasions, those who buy flowers much more frequently, business acquaintances who have me decorate for their Christmas parties and send flowers for office promotions year after year. And then there are those, who believe it or not, are some of my favorite, those who stop by often to say "hi," or tell me about the terrible flowers they saw at an event that another florist did. They will stop by and give me homemade cookies or breads at Christmastime. Although, I almost never make much of a profit from these long time customers, they lift me up and make me realize that I have become very much part of my community.
What is the weirdest thing you have seen or experienced during your floral career?
Since I have fulfilled so many odd floral requests, the weird has become normal-ish. Last week for example, the Manager at my Melrose location was asked by one of her good long-time customers to make an easel spray for a family member that looked like a white tiger, which she did. I saw it and it did look just like a white tiger's face with black pipe cleaners to line the eyes and nose – quite a work of art actually. But, again I didn't even think to take a picture, because we do odd things all the time with flowers. I think however, the oddest thing we had to do, even though we tried to tell the sender that it would be very unusual, was to write " bomb squad " across the #40 banner of the funeral spray in large letters. The deceased was on the bomb squad years prior to her death, and although what's usually written on any funeral banner is who the deceased was to the sender of the flowers, they insisted we write "Bomb Squad " across the banner, since members of the bomb squad were sending the flowers. Oh, well…
What is your favorite floral occasion?
I don't think I have a favorite floral occasion. That's a bit like asking what a New Englander's favorite season is, they all have good points. I think that it's the people that I am arranging flowers with and the customers I am doing the work for that make each event my favorite at the time, it's always changing.
In the Massachusetts area? Visit Lisa's Massachusetts' flower shops:
Melrose Wakefield Florist
1147 Main Street
Melrose, MA 02176
(781)662-6879
Google Map for Directions
melrosewakefieldflorist.com
Woburn's Florist & Gift Shop
22-9 Prospect St.
Woburn, MA 01801
(781)932-3351
Google Map for Directions
woburnsfloristandgift.com