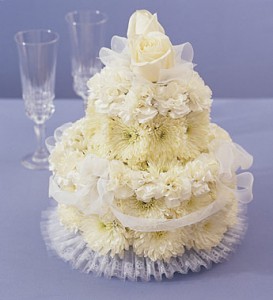 Are looking for new ideas for incorporating flowers in your wedding? Just as there are endless varieties of flowers, there are endless ways to use them to add beauty to your special day. Try one of these ideas to wow your guests and make you smile every time you see your photos.
Outdoor Ideas – Wedding Flowers
If your wedding is outdoors, you have numerous unique flower options. All you need is a sturdy tree branch and you will have the perfect backdrop for a stunning flower feature.

Branches are the ideal shape for cascading flowers and garland. If they could talk, you would hear them begging to be draped in white carnations or donned with a flower-draped swing that sets the stage for the quintessential wedding photo.
A little hot glue and a few wire frames from your local craft store is all you need to create a spectacular garden suspended above a focal point. Glue the heads of small, color-coordinated flowers to wire frames bent to form five sides of a sphere. Hang the spheres with ribbon and elevate them above a focal point such as your wedding cake, dais, or place card table.
Indoor Treasures – Wedding Flowers
Floor Designs – Flowers petals can create breathtaking sculpture-like designs on the floor of any church or indoor area. Create striped or circular designs or even your monogram with rose petals in varying colors. If the flower petal design is located near guests' feet, glue them down to large cardboard pieces so they do not blow away.
Floral Chandelier – Welcome guests with a floral chandelier fit for a palace and made with love. Use a floral frame ring to hold the flowers, and hang the chandelier with decorative ribbon. For the glamorous bride who loves a little "bling," affix reflective crystals to add ambience and to simulate light bulbs.
Guest Book Frame – Throw out the traditional guest book and let guests feel like they are signing the inside of an art piece. Flower-draped frames are perfect for the creative bride who likes to color outside of the lines. Use flowers such as hydrangeas, dahlias and roses to turn an ordinary frame into the Mona Lisa of guest books.
Don't let the sting of tradition prevent you from creating unique and interesting pieces for your wedding. Virtually anything goes, as long as it makes you happy and fulfills your desires for your wedding day.