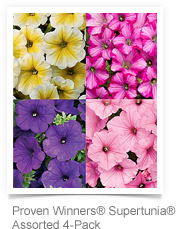 Still Searching for the Fountain of Youth
It's in the garden! We all know that spending time outdoors relieves stress and keeps us young. So if you're looking for a great reason to get outdoors this season, grab some Supertunias®. Not only are they vibrant in color but they're easy to grow and maintain both in containers and in the ground. The rapid blooming of Vista Bubblegum, Royal Velvet and Raspberry Blast, all in our Supertunia® 4-Pack, will have you heading out back to the patio or garden each day to see the abundance of bright, cheerful flowers.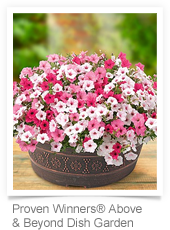 Become the Envy of Your Neighborhood
At the first sign of spring, the first thing we all want to do is get outside! Why not try some gardening? Not the kind that requires a lot of messy digging in the ground, but the kind that's guaranteed to make your house the envy of the neighborhood. The Supertunia® Above & Beyond dish garden from Proven Winners® comes in decorative containers that will look right at home on your front porch or patio, and is sure to catch the eye of all your neighbors.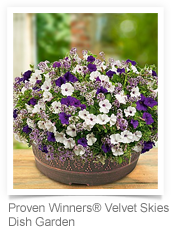 Dish Gardens Make Super Décor
Want to add a splash of color to your outdoor décor? Start with the Velvet Skies Dish Garden from Proven Winners®! The soft, pretty shades of purple and grey, which include Supertunia® Royal Velvet, Blushing Princess and Supertunia Mini Silver, are perfect for placing in small pots to use as centerpieces for your next summer barbeque—or for adding to an entryway, in a window box or upright container for an extra welcoming touch.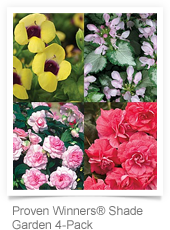 Less Sun = Less Plants? Think Again!
Just because certain areas of your patio or garden are shady doesn't mean you can't plant color. Some plants love shade, including many perennials from Proven Winners®, like the Rockapulco® series. Try our 4-pack of shade plants, and bring long-lasting beauty to even your shadiest outdoor areas.