How to Plant a Tree,
Plus Other Tree Care Tips

Trees are a great gift for almost any occasion and can be purchased year around from 1-800-Flowers.com®. These trees can be enjoyed inside a home, in a container garden or planted in your yard outside. Fall is the ideal season for planting your trees in-ground. When you plant in the fall, the combination of warm soil and cool air stimulates root growth to help your tree or shrub get established before the frost hits. Planting them is easy, if you follow a few simple steps.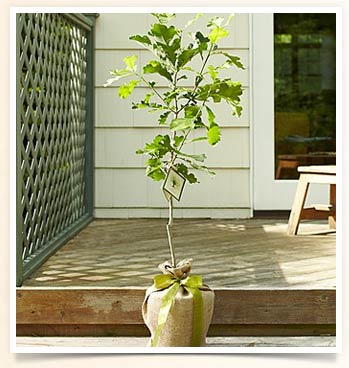 Selecting the Perfect Tree and Space
Since most trees can last for decades, choose wisely. Be sure to consider the climate, space and location of where the tree will be placed. Also, you want to be sure to give your tree plenty of room to grow. One mistake people often make is to plant trees too close to each other, to their home, or in too small of a container. Remember that fully grown trees have large roots that could possibly interfere with a foundation or wiring so choosing the right tree for your space is imperative to ensure you are able to enjoy it for years to come.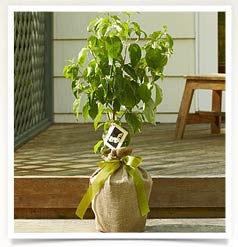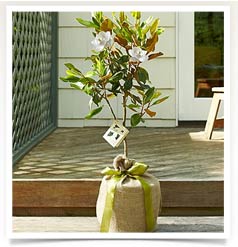 Planting and Caring
for Your Tree:Start Digging
This is the fun part! First, you need to ensure you dig a hole that's deep enough or have a container that's large enough for the tree's roots to sit on solid dirt. To ensure it's able to thrive, provide your tree with good soil filled with nutrients. We recommend blending in Miracle-Gro® Garden Soil for Trees and Shrubs with native soil in a 50:50 ratio. Make a small mound in the center of your hole or container and place your tree on it. The soil line should be slightly higher than the top of the container or ground level. Then, start filling the container or hole with your soil mixture. Tap the soil gently with your foot as you go so that there's a slight depression around the base for catching water.
Lastly, to ensure your tree continues to grow after it is planted, be sure to feed it with Miracle-Gro® Shake 'n Feed for Flowering trees and Shrubs. One application will feed your tree for up to three months. Starting with the best tree from 1-800-Flowers.com® and giving that tree the nutrients it needs with Miracle-Gro® soils and plant foods, ensures you'll be enjoying your tree for years to come.