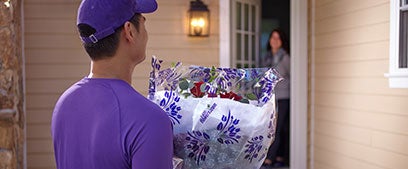 Flowers & Gifts Delivered by Los Angeles Florists
Often called by the nicknames "City of Angels," "The Big Orange," "Tinseltown," or "La La Land," Los Angeles is the second largest city in the United States, and is the entertainment capital of the world. Whether your lucky recipient lives in Bel Air, Chinatown, or Hollywood, sending flowers throughout L.A. is easy through 1800Flowers.com with many same-day flower delivery options.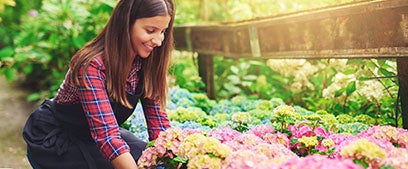 Los Angeles Flowers & Plants
1. The official flower of the City of Los Angeles is the bird-of-paradise ("strelitzia reginae") which is actually not native to the city. L.A.'s official tree is the coral tree which like birds-of-paradise, lso has orange blooms. California's state flower is the California poppy which is also known as "eschscholzia californica" and "flame poppy."

2. Approximately 18 million flowers decorate the floats of the annual Tournament of Roses Parade held in Pasadena (in Los Angeles County).

3. From Griffith Park to the breathtaking views of Runyon Canyon, there are many beautiful spots to visit around Los Angeles. One of the paths most traveled is hiking to the famed Hollywood sign.

4. Take a stroll through gorgeous gardens at The Getty Center featuring tree-lined paths that lead visitors on an extraordinary journey filled with sights, sounds, and scents. A museum with famous art and architecture is also on the premises.
---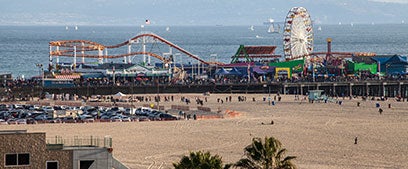 Neighborhood Hot Spots & Main Attractions
Other than what was mentioned in the Flowers & Plants section, Los Angeles has many exciting sights and landmarks that millions of people around the world flock to every year. Home to many movie premieres, see whats playing or get a VIP tour at the famed TCL Chinese Theater. Universal Studios, Rodeo Drive in the heart of Beverly Hills features some of the most high-end retail stores in the country, Capitol Records Building which is also known as Capitol Records Tower, is the home of Capitol Records recording studios & echo chambers. For a fantastic view of the Hollywood Sign in addition to space & science exhibits, visit the Griffith Observatory. Get an archaeology & history lesson at La Brea Tar Pits, a group of tar pits that are centuries old and have preserved animal bones. The museum next to the tar pits displays some of these prized specimens. If art is more your thing, visit the L.A. County Museum of Art, home to over 150,000 works of art. Just as famous as its name, the Hollywood Walk of Fame, features over 2,500 stars along 15 blocks of Hollywood Boulevard for famous actors, musicians, groups, etc. The Santa Monica Pier has activities for everyone- from restaurants to stores to an amusement park (featuring their iconic solar-paneled Ferris Wheel).
---
Flowers & Gifts for Locals in Los Angeles
Send purple and gold for the Lakers (basketball), blue and red for the Clippers (basketball), blue and white for the Dodgers (baseball), red and white for the Angels (baseball), black and silver for the Kings (hockey)
To view more products delivered by local Los Angeles florists, Click Here.
---
Locals Love
Perfect weather, coffee shops, hiking in the Canyon, the Lakers, farmers markets, In-N-Out Burger, food trucks, summers at the beach, working out, yoga & kale.
Locals Hate
Traffic, traffic & more traffic!!!
---
Los Angeles Fun Facts
LA is known as the entertainment capital of the world
It is also known for its near perfect weather- sunny, warm & breezy with low humidity
There are more than 2,500 stars on the Hollywood Walk of Fame
Many studios—including Paramount, Warner Bros., Sony Pictures and Universal—offer tours to the public
Downtown LA is the largest government area outside of washington, D.C.
There are over 80 different languages spoken in LA and people from over 140 different countries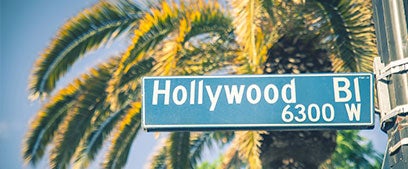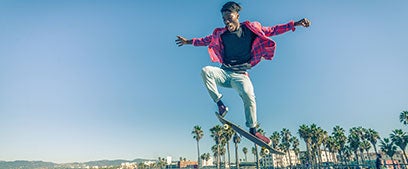 ---
Local Los Angeles Florists
Our same-day flowers are hand-arranged and delivered by a local Los Angeles florist. Looking for a local Los Angeles florist? Visit 1-800-Flowers Conroy's of Los Angeles Located at La Cienega Blvd. & 4th Street in Beverly Hills, this family run flower shop creates beautifully hand-crafted floral arrangements, delicious fruit bouquets, and also carries a wide array of long lasting plants.
---
Los Angeles Food & Culture
With more than 140 different nationalities represented, Los Angeles is the ultimate cultural melting pot, especially when it comes to authentic cuisine.
Visit Koreatown, Little Tokyo, Chinatown, Little Armenia, and Boyle for memorable international meals.
Dig into a bowl of handmade agnolotti at Wolfgang Puck's hotspot, Spago (It's in the Michelin Guide!)