Flowers & Gifts Delivered by San Francisco Florists
Go local with a bouquet featuring wildflowers that grow in the Bay Area. Some of San Francisco's local flora: California poppies, purple Chinese houses, yellow pansies, Douglas irises, common star lilies, and calypso orchids. San Francisco natives are also serious about their sports: think red and gold for the 49ers (football) and black, orange and cream for the Giants (baseball).
To view more products delivered by local San Francisco florists, Click Here.
---
San Francisco Flowers & Plants
1. The official flower of San Francisco is the Dahlia, and the California state flower is the California Poppy ("eschscholzia californica"). At Dahlia Garden (Dell) in Golden Gate Park, the dahlias begin blooming in June and can be enjoyed all the way through October! Dahlias reach their peak in late August and September.
2. In 1967, San Francisco was the center of the hippie love-in movement, whose unofficial anthem by Scott McKenzie declared, "If you're going to San Francisco, be sure to wear some flowers in your hair."
3. The Conservatory of Flowers is a greenhouse and historic landmark in Golden Gate Park that houses a collection of rare and exotic flowers and plants.
4. Visit San Francisco's parks and gardens: Japanese Tea Garden, Bayview Hill Park, Golden Gate Park, Lake Merced Park, Grandview Park, Land's End, Sutro Heights Park, and the Presidio.
---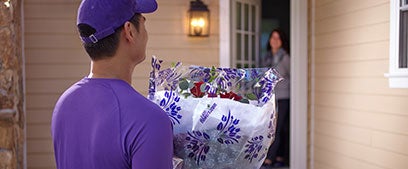 Flowers & Gifts for Locals in San Francisco
San Francisco, California, the "City by the Bay" is a diverse metropolis of stunning vistas and rolling hills. Known for inspiring artists, writers, and home to many American tech companies, San Fran has a very diverse population. From the Mission District to Fisherman's Wharf, 1800Flowers offers same-day delivery across the San Francisco Bay area.
San Francisco Food & Culture
San Francisco is home to the stuffed-to-the-brim, Mission-style burrito. Some of the city's favorite burrito joints are: Taqueria Cancún, La Taqueria, El Farolito, and Pancho Villa Taqueria.

The geography and diversity of San Francisco contribute to an exciting food scene. One way to get a taste of the city is by taking a food tour; there are literally hundreds to choose from, covering every neighborhood.

San Francisco has a vibrant music scene. Take in a show at one of the city's iconic music venues: The Fillmore, The Independent, Hemlock Tavern, Great American Music Hall, and Thee Parkside.
---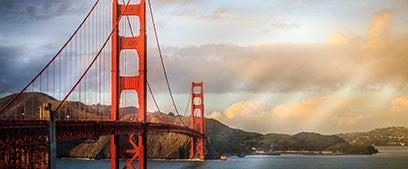 Neighborhood Hot Spots & Main Attractions
San Francisco is home to some of America's most well known attractions. Visit the bustling Pier 39 with scenic views and sea lions galore! Hop on a ferry to the famed Alcatraz Island where you can see more than just the infamous penetentiary which is now open to the public! Perhaps the most well known landmark in San Francisco, take a stroll across the Golden Gate Bridge which connects San Francisco to California's northern counties. With art in it's DNA, get some contemporary art in your trip by visiting the San Francisco Museum of Modern Art. Known for its cable cars to help visitors and locals trek up the steep San Francisco hills, take a trip to the the Cable Car Museum and take a ride on a cable car which still runs throughout San Franscisco today! The California Museum of Sciences will wow you with an in-depth look at all walks of science life. For a glimpse of local San Francisco life, check out Dogpatch, Hayes Valley, Pacific Heights, Chinatown, the Castro, and Nob Hill.
---
Locals Love
Farmer's markets and locally grown produce, independent bookstores, biking, local wines from Napa and Sonoma, taking day trips to Muir Woods, and great weather.
Locals Hate
Traffic, San Francisco stereotypes.
---
San Francisco Fun Facts
Though it may be the city's most famous street, Lombard Street is neither the steepest (Filbert Street is), nor the most crooked (Vermont Avenue wins that title).
San Francisco is a city of interesting inventions including the fortune cookie, Irish coffee, sourdough bread and blue jeans.
The cable car is the only National Historic Monument that moves.
From the stock market crash in 1929, and throughout the Great Depression, none of San Francisco's banks failed.
There are 43 hills in San Francisco.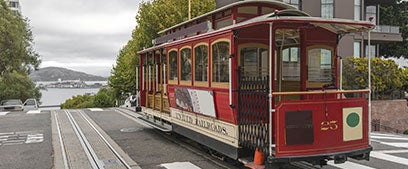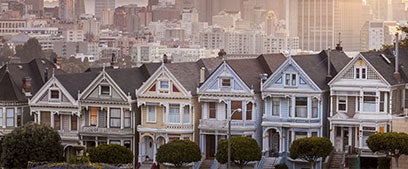 ---
Local San Francisco Florists
1-800-Flowers Albany Shop is a locally-owned florist serving the Albany, California area. Not only do they have outstanding customer service, but they deliver high quality flowers and gifts to exceed your recipients expectations.
Central Florist in Alameda, California is located in downtown Alameda at Park Street & Central Avenue. They specialize in roses of all colors, tropical flowers, plants & gift items of all kinds. These friendly florists deliver smiles to San Francisco and surrounding areas everyday!