Flowers & Gifts Delivered by Miami Florists
Send flowers to Miami sports fans to celebrate a big win! Think aqua, orange, white and blue for the Miami Dolphins (football), red, yellow, black and white for the Miami Heat (basketball), black, yellow, orange and blue for the Miami Marlins (baseball), and red, blue, gold and white for the Florida Panthers (hockey).
To view more products delivered by local Chicago florists, Click Here.
---
Miami Flowers & Plants
1. The Florida state flower is the "orange blossom" which can be found on the orange tree (citrus sinensis). Strong in scent, this fragrant white flower is often used in food recipes, perfumes, and is even popular in wedding flowers.

2. More cut flowers come into the United States through the port of Miami than any other city.

3. The city's tropical climate is ideal for flowers and plants; there are roughly 150 species native to Miami.

4. The city's Fruit and Spice Park covers 35-acres of tropical fruit trees, vegetable gardens and spice plants. Visitors are welcome to taste any fruits that have fallen on the ground.

5. Miami is home to 800 parks and is the only U.S. city bordered by two National Parks, the Everglades & Biscayne.

6. Visit Miami's parks and gardens: Pinecrest Gardens, Amelia Earhart Park, Bill Baggs Cape Florida State Park, Jungle Island and Fairchild Tropical Botanic Garden.
---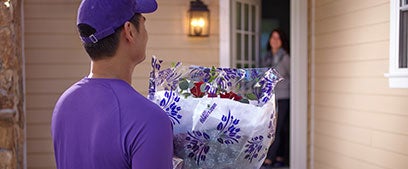 Flowers & Gifts for Locals in Miami
Miami, Florida, nicknamed "The Magic City" in the "Sunshine State," is a tropical, cosmopolitan metropolis, with gorgeous beaches. From South Beach to Downtown Miami, 1800Flowers offers same-day Miami flower delivery across the metropolitan region.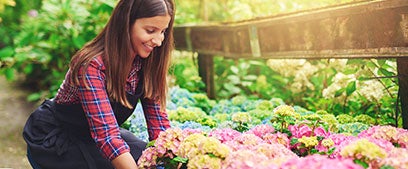 Miami Food & Culture
Miami is home to the country's best Cuban cuisine. Head to Calle Ocho in Little Havana and taste authentic dishes at Exquisito restaurant, then try salsa dancing at the neighborhood's bars and clubs. Miami is known for it's fun and flirtatious nightlife where locals and tourists alike can dance the night away.
---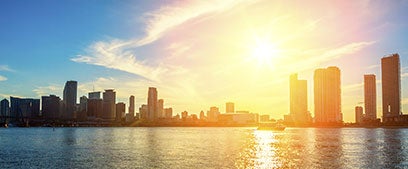 Neighborhood Hot Spots & Main Attractions
1. See alligators, turtles, and birds with many gator ride options in Everglades National Park.

2. Visit Miami Beach and the Art Deco District, Ocean Drive, Viscaya Museum and Gardens, Little Havana, and Jungle Island.

3. For a glimpse of local Miami life (especially nightlife), check out South Beach, Coral Gables, Coconut Grove, Aventura, Downtown, and Wynwood.
---
Locals Love
Fried plantains, Joe's Stone Crab, year-round warm weather, going to gorgeous beaches, fresh Florida fruit, fresh local flowers, palm trees
Locals Hate
Miami traffic, cold weather, hurricanes, lack of parking spots
---
Miami Fun Facts
"Florida" means "flowery land." Spanish Explorer Juan Ponce de León originally named it "Pascua de Florida," meaning the feast of flowers, and claimed the land for Spain after landing there in the Easter season in 1513.
95% of Miami's Biscayne National Park is underwater, so you'll need snorkeling gear or a glass-bottomed boat to enjoy the colorful coral reefs, unique aquatic plants, and tropical fish.
There are more than 800 structures with Art Deco architecture in Miami Beach, making it the world's largest Art Deco district. There is even a festival in its honor!
Miami is the only major U.S. city founded by a woman: businesswoman Julia Tuttle, in 1896.
History's famous pirates, including Blackbeard and Lafitte, once frequented Miami. Divers and treasure-seekers still turn up lost caches of gold and pirate treasure today.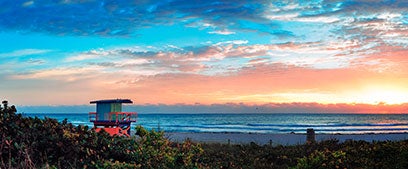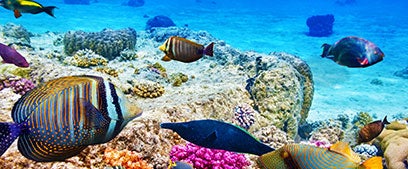 ---
Local Miami Florists
Visit Century's flower shop at Pines Boulevard & Palm Avenue in Pembroke Pines, Florida to send flowers & gifts to the surrounding area, including Miami! From fresh and tropical flowers to gourmet food and fruit baskets, our local Miami florist has gifts for every special person in your life!