Flowers & Gifts Delivered by Atlanta Florists
Put a smile on your friend's or loved one's face when you send flowers to Chicago, Illinois! From birthday flowers to anniversary roses, to gift baskets and more, 1800Flowers.com is there for all of your gift and Chicago flower delivery needs. No matter where you're sending your gift from, sending flowers to Chicago is fast and easy from 1800Flowers.com. Send red and blue for the Chicago Cubs, orange and navy blue for the Chicago Bears, black, red and white for the Chicago Bulls & Blackhawks, and white, black & silver for the Chicago White Sox.
To view more products delivered by local Atlanta florists, Click Here.
---
Atlanta Flowers & Plants
1. The Georgia state flower is the "cherokee rose." Also known by it's binomnial name "rosa laevigata," the cherokee rose is a white rose which tends to be very fragrant.

2. The Atlanta Botanical Garden, near Piedmont Park, is home to the 600-foot-long Kendeda Canopy Walk, a skywalk that tours the city's urban forest from 40 feet up. The Canopy Walk is the only pathway of its kind in the United States. Also popular is the Storza hardwood forest, a southern rock garden and orchid habitat.

3. Atlanta is home to a large number of trees, covering 36% of the city and earning it the nickname, "City in a Forest."

4. The Atlanta Dogwood Festival is a celebration of art and music that takes place in early April when the city's famous dogwoods (a.k.a. cornus florida) are in bloom. The festival has been an Atlanta tradition for nearly 80 years.

5. Visit one of Atlanta's 343 city parks, some of the well known being Piedmont Park, Centennial Olympic Park, the BeltLine and Grant Park.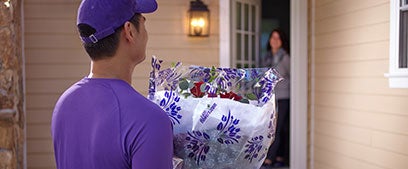 Flowers & Gifts for Locals in Atlanta
Same-day Atlanta flower delivery from Downtown Atlanta to Buckhead, allows you to send the perfect gift to your favorite Atlanta recipient. Whether you call Atlanta, Georgia, "The Big Peach," "Hot'Lanta," or "The ATL" you'll fine something special to send across the metropolitan region.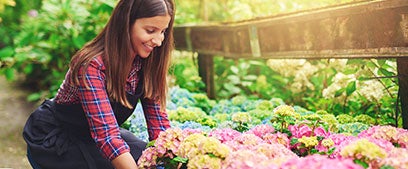 Atlanta Food & Culture
Find some of America's best southern comfort and soul food in Atlanta. Dive into dishes like shrimp and grits, black-eyed peas, fried catfish and peach cobbler. Hotspots include Empire State South, Two Urban Licks, Sweet Georgia's Juke Joint and Mary Mac's Tea Room.
For entertainment, head to Atlanta's Fox Theater. Built in the 1920s the elegant space hosting ballet, theater, rock concerts and movies is listed on the National Register of Historic Places.
---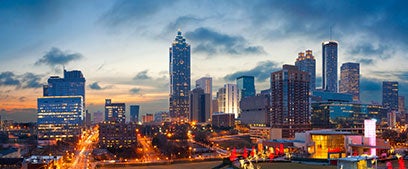 Neighborhood Hot Spots & Main Attractions
Main Attractions - World of Coca-Cola, Georgia Aquarium, Martin Luther King, Jr. National Historic Site (it's free!), and the High Museum of Art.

Neighborhoods - For a glimpse of local Atlanta life, check out Westside, Midtown, The Old Fourth Ward, Little Five Points and Virginia Highlands.
---
Flowers & Gifts for Locals in Atlanta
Send flowers to Atlanta sports fans to celebrate a big win! Think navy, scarlet and gold for the Braves (baseball), red, white, black and neon "volt" green for the Hawks (basketball), and black and red for the Falcons (football).
To view more products delivered by local Atlanta florists, Click Here.
---
Locals Love
Microbreweries, Waffle House, and "shooting the hooch" or tubing, on the Chattahoochee River.
Locals Hate
Atlanta traffic, Sunday liquor laws, not being near a beach.
---
Atlanta Fun Facts
One of Atlanta's nicknames is "Dogwood City" for the multitude of flowering dogwood trees that bloom throughout the city each spring.
The Varsity, the world's largest drive-in restaurant, is located in Atlanta. It holds the world record for serving more Coca-Cola by volume than any other establishment.
The headquarters of Coca-Cola is also found in Atlanta. Visitors can learn more about the history of the beverage at the World of Coca-Cola.
There are more than 50 streets named Peachtree city wide.
Atlanta has played host to major sporting events, including the 1996 Olympics, Super Bowls XXXVIII and XXXIV, and golf's annual PGA Tour Championship.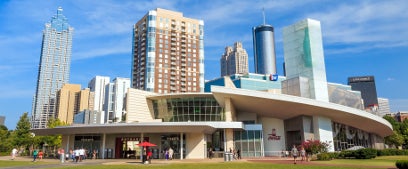 ---
Local Atlanta Florists
Same-day Atlanta flower delivery is available for the Atlanta area by your neighborhood florist. Visit Flowerama in Lawrenceville, Georgia for fresh flowers, plants and unique gifts for any occasion. All gifts come with a satisfaction and freshness guarantee to ensure that we deliver a smile to that special someone in the Atlanta area!