Why You Should Have
a Miniature Garden

Have you heard about the latest gardening trend to hit homes all over the country? A new twist on the popular terrarium, miniature gardening is a rediscovered hobby that joins the creativity of crafting with the joy of gardening. Here's what you should know about the mini craze, and why you should get in on all the fun!
What Is a Miniature Garden?
What's so mesmerizing about miniature gardens is that they allow you to create your dream yard—in petite form! Enabling large ideas and full-scale creativity in small spaces, miniature gardens can be alluring, enchanting and truly original. They are perfectly designed little worlds complete with everything from pint-sized patio furniture to itty-bitty plants.
Whether you want to make a cute and cozy Miniature Garden or a whimsical Miniature Fairy Garden, the ready-to-assemble mini gardens from 1-800-Flowers.com give you everything you need to get started with this exciting hobby and bring your landscaping visions to life.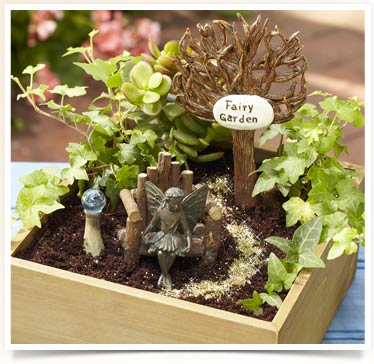 What Are the Features
of a Miniature Garden?
Our miniature gardens include all the components needed to make a tiny world of wonder. Each one comes with beautiful 2.5-inch plants, as well as a sturdy container and top-quality soil to plant them in. They even come with teeny decorative elements—like mini fairies, gnomes, benches, stepping stones, gazing balls and more—to make them look like full-scale dream gardens. And since they're totally customizable, they offer endless possibilities to bring your own personal touch to the scenery. When it comes to miniature gardening, you're the designer; so use your imagination and arrange your garden any way you like. You can even add your own little accessories to make a fantasy garden like no other!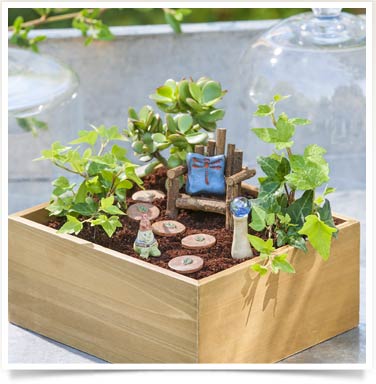 What Are the Benefits
of a Miniature Garden
Aside from the fact that these itsy-bitsy landscapes give you the chance to enjoy the garden you've always wanted, there are plenty of other benefits to getting a miniature garden for your home:
They're low-maintenance:

Unlike a life-size yard, which could take hours (or even days) to take care of, mini gardens require only a few minutes of regular upkeep. Depending on what kind of plants you're growing, all you have to do is water them on their particular schedule, and you're done. No need for pesky yard work like weeding or raking leaves!

You can keep them indoors or out:

These gardens are completely portable, so you can enjoy them in virtually any environment you desire. Use them to decorate your patio during the summertime, and then bring them inside to keep them safe during the harsh, icy days of winter.

They're perfect for small spaces:

If you're an apartment-dweller and don't have enough room to grow the garden of a lifetime, that doesn't mean you can't have a garden at all! Pocket-sized gardens can be tucked into any corner of your living space so you can still satisfy your green thumb.

Gardeners of all ages love them:

From little kids who are learning about plants to seasoned gardening experts, no one can resist the magical beauty of a miniaturized and fully detailed garden. Plus, assembling the mini garden is a great bonding experience that adults and children can enjoy together.

They make great gifts:

Stumped on what to give as a gift for your next big occasion? Whether you've been invited to a birthday party or a big holiday dinner, miniature gardens are a thoughtful token of appreciation that'll deliver smiles to any event. Your host will love this truly original gift, which they can personalize themselves!