Halloween Gift Ideas

Kids Young and Old Deserve Special Treats!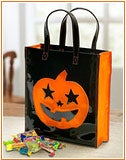 Halloween is not just for kids anymore. Next to Christmas, it's the most popular holiday in America! So don't miss this chance to spread some Halloween cheer to those you love.
Brighten up any Halloween celebration with our Halloween Treat bouquet. Our spectacular arrangement of fresh mini carnations, daisy poms and statice in a glass pumpkin cookie jar even comes with wrapped lollipops - for a super sweet touch!
And for all the "ghouls" you've loved before, send a Web of Treats Cookie Basket. A spider web-shaped cookie basket in creepy black metal wire holds Cheryl's cookies in such devilishly delightful flavors as chocolate chip, oatmeal and snickerdoodle, plus fudge brownie bars, toffee crunch bars and more.
Even your littlest witch or warlock deserves something sweet that will make them shriek with delight. So surprise them with our Haunted Treats Bag. Whether you give them Ghostly Treats, Batty Good Treats or Spider Treats, they'll love the sour worms, foil-wrapped chocolate, peanut-butter filled eyeballs and assorted mellocremes.
Going to a special Halloween Bash? Don't forget to ensnare your host's taste buds with The Popcorn Factory®'s Spider Web Box of Treats. A glittery spider web-shaped box (guarded by a "screamy" plush toy spider) includes gummi spiders, foil wrapped chocolates, monster mash Jelly Belly® beans, cheese popcorn and Frankencorn, white chocolate enrobed kettle corn mixed with green and purple sprinkles, edible bats and pumpkins.
When all the trick-or-treating is done, Mom and Dad (and family, neighbors and friends) deserve something amazing. So celebrate Halloween with Junior's Pumpkin Swirl Cheesecake. The renowned Brooklyn baker takes real pumpkin puree and freshly ground spices, then combines them with fresh cream cheese, sour cream and a dash of vanilla, for an unforgettable taste sensation that's so good, it's scary!