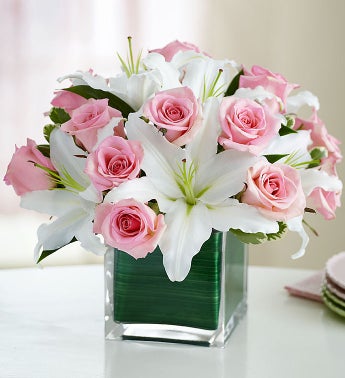 Rose and Lily Cube Bouquet
Don?t Panic, We?ve Got Your Mother?s Day Gift Ideas
How are you planning to show the mother in your life that you appreciate her this Mother?s Day? If you have not yet decided what to do, then allow us to help you. 1-800-Flowers can put that extra wow factor into a meaningful gift she?ll always remember. Custom build a personal gift package for her. Choose her favorite flowers, chocolates, and other gifts that she will treasure forever.
Distinctive Mother?s Day Gift Ideas from 1-800-Flowers
Nothing shows appreciation more eloquently than flowers. Every woman loves to receive flowers no matter the occasion, and Mother?s Day is definitely no exception. At 1-800 Flowers we have everything from exotic flowers to a timeless red rose bouquet.
Best Sellers
These arrangements consist of some of the most beautiful flowers in the world. They are the most popular bouquets that have been ordered for all occasions year round. Our sizes range from large, medium, and small flower arrangements. Some of the most popular arrangements are, Fields of Europe?, It?s Your Day Bouquet?, Elegant Wishes?, It?s All About You?, and Sentimental Surprise?. Prices affordably range between $39 and $59.99.
Roses
No flowers speak the language of love better than a rose. You will find that we have an impressive range of roses. Every color, size, or, type of rose you?re looking for can be found with us. Some of our most dazzling rose bouquets are, Rose Elegance?, Blooming Love?, Passion of Purple?, and Harvest Roses. Bouquets range between $29 and $119.
Plants
Another perfect way to surprise the mother in your life is giving her a beautiful plant. If she has a green thumb, she might appreciate a beautiful addition to her yard she can enjoy all year long. You can select from bonsai and topiary plants, flowering plants, house plants, hydrangea plants, and orchid plants. Plants range from $29.99 to $64.99.
Mother?s Day Gift Baskets
Whether your mother or wife has a sweet tooth or is a health junkie, she will be absolutely surprised by our gift baskets. You can choose from our Fresh Fruit & Candy Gift Basket and Super Sweet Snack Gift Basket. The fruit basket contains fresh fruit like red, green, and yellow apples, pears, grapefruit, nectarines, plums, oranges, and hard candy. The sweet and snack gift basket is filled with chocolate delights, chips, and other sugary treats. These gift baskets are available in extra large, large, medium, and small sizes.
Balloons
Who said balloons are only for kids? If you want to see your mother smile gift her bunch of balloons. These colorful balloons will definitely brighten her day, especially if they are sent from her favorite little one.
Gourmet Delights
Giving your mom a break from the kitchen to enjoy some absolutely yummy custom gourmet food baskets, could be just what she needs. You can select the Starbucks Break Time Gift Basket, which contains 2 Starbucks mugs, ˝ pound of bold Starbucks Espresso whole bean coffee and ˝ pound of earthly Starbucks Sumatra ground coffees, crisp biscotti, shortbread, key lime cookies and cranberry orange scone mix or the Harvest Bounty Gift Basket which contains chocolate chip cookies, popcorn, crunchy peanut brittle, French twists, mini baguettes, shortbread cookies, red apple caramels, honey wheat bread pretzels, sesame crackers, strawberry cheesecake dessert chocolate, and many other delectable goodies.
Mother?s Day Gift Ideas to Give With Flowers
Flowers, gift baskets and balloons are wonderful presents for the women in your life. However, sometimes you just want to go the extra mile. There are so many gifts that complement a beautiful bouquet of flowers. Jewelry, massages, dinner, and dancing are all ways to make your mother or wife feel extra special on her day.
Cosmetics
No matter what age, women go crazy over cosmetics. Mothers are so busy throughout the year that they have no time to pamper themselves. One way to show you mother or wife how much you appreciate her is to restock her favorite lipsticks, creams, perfumes, bath products, and any other personal care products that will help her relax and rejuvenate.
Gift Vouchers
If you want to give your mom the freedom to choose her own gifts then how about giving her gift vouchers to her favorite stores and restaurants? She will also enjoy the day out with her friends. If you want her to have an extra luxurious and relaxing day, treat her to a spa day. She can spend the entire day getting beauty treatments and massages.
At 1-800-Flowers You can count on us to help you give the mother in your life a day she?ll never forget.
Shop Mother's Day Gifts
Now that you have all these great ideas, shop now for Mother's Day flowers and gifts from our Mother's Day Gift Guide.