Our Fresh From Our Growers™ plants are shipped from fields around the country and across Canada, and then shipped directly to your recipient in a gift box... SHOP THE COLLECTION >
Our Florist Delivered plants are meticulously grown in the United States and Canada, then shipped directly to our select florists. They are then personally delivered, creating a truly memorable moment for your gift recipient. SHOP THE COLLECTION >

A NASA study found that certain houseplants, such as our Phalaenopsis orchids, Gerbera daisies and Peace Plants, are among the most efficient varieties at natural air filtration
Texas A&M University researchers found that both men and women had more creative solutions to problems when flowers and plants were nearby1
People communicate
better in the
presence of
flowers or plants,
and they tend
to eat food
more slowly
when flowers
are on the table2
Flowers and
plants help people
recover from
mental fatigue
and enhance
self-esteem2
Placing plants
and flowers
in a room
significantly increases
humidity, which reduces
some of the effects of dry
air such as common colds2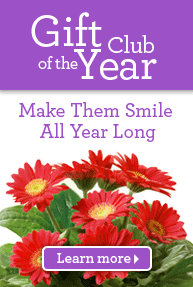 1. The Impact of Flowers and Plants on Workplace Productivity Study was conducted by Roger Ulrich, Ph.D., Behavioral Scientist, Director of the Center for Health Systems and Design, Texas A&M University in College Station, Texas. In an eight-month study, the Texas A&M University research team found that both women and men demonstrated more innovative thinking, generating more ideas and original solutions to problems in the office environment that included flowers and plants. In these surroundings, men who participated in the study generated 15% more ideas. And, while males generated a greater abundance of ideas, females generated more creative, flexible solutions to problems when flowers and plants were present.
2. Research conducted by Diane Relf of the Virginia Polytechnic Institute shows:
People communicate better in the presence of flowers or plants, and they tend to eat more food more slowly when flowers are on the table
Flowers restore people from mental fatigue and enhance self-esteem.
Placing plants and flowers in a room significantly increases humidity, which reduces some of the effects of dry air such as common colds.