One of the best parts of Valentine's Day? Being able to show off to your co-workers, of course! This year, take the celebration to the next level by really making her say wow with these Valentine's Day office gifting ideas.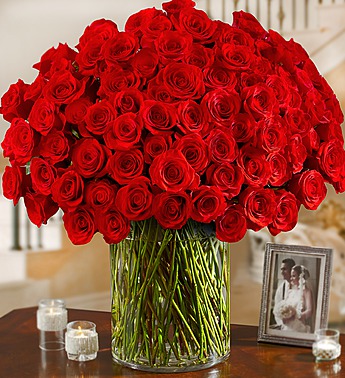 Go big, or send it home. If you're looking to wow at the office, make it something the co-workers will be jealous of! For Valentine's Day flowers, make it two dozen rather than one. If sending chocolate, go for the tower versus the box.
Coordinate with coworkers. Assuming her office bestie has a valentine this year (we wouldn't want to make anyone feel bad), coordinate with them to take a reaction photo of your sweetie receiving her gift. Post it to social media to share how much she means to you!
Order early. Since it's sometimes tricky coordinating exact delivery times, consider sending flowers a day or two early. You can even purchase office flowers that arrive in bud form so they'll be in full bloom on the day in question!
Send her a picnic basket, then show up for a surprise lunch. Have a basket filled with light bites and snacks sent to her office. When she's getting ready to dig in for lunch, surprise her by stopping by the office so the two of you can dig in together! Continue Reading…