For centuries, indulgent birthday cakes have served as a celebration staple. But, as the years go by, and sweet-toothed kids become health-conscious adults, birthday girls and boys begin to despise the treat they once adored. So, what if there was a guilt-free alternative that allowed you to have your cake, and not eat it too? Lucky for you 1-800-Flowers.com offers the Birthday Wishes Flower Cake – a 3-D sculpture arrangement that embodies the essence of this traditional treat without the calories! Party-goers, feast your eyes on this innovative and guiltless take on a birthday favorite.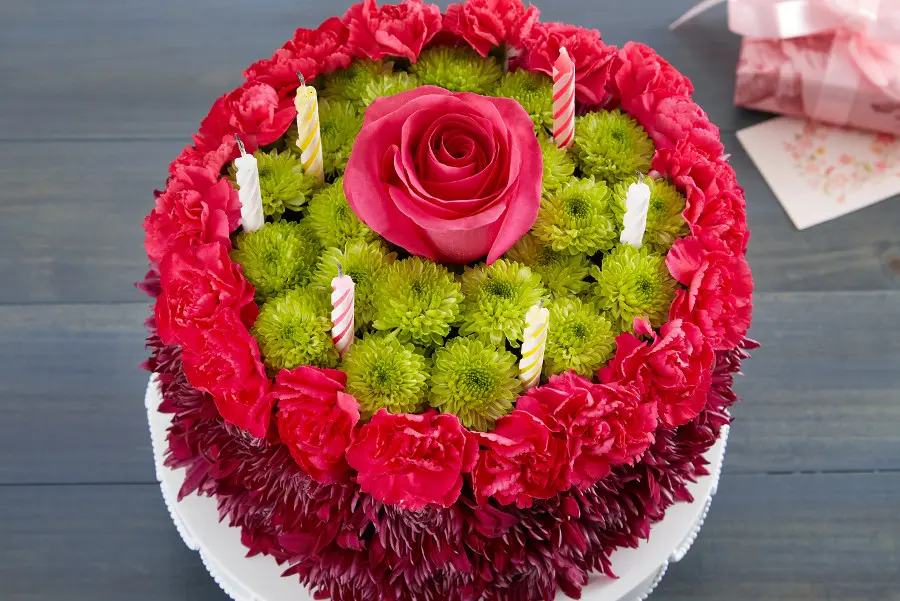 Transforming Traditions
Just over 20 years ago, the flower cake we know and love was just a mere thought! At the time, 1800Flowers.com had just introduced the Holiday Flower Tree®. As one of the first 3-D sculpture arrangements, this Christmas tree flower configuration revolutionized the way people thought about flower arrangements, and met immediate success. From that moment, flower specialists knew they were on to something. They began searching for other opportunities to bring classic symbols to life; this time, focusing on one that can be sold year round.
With careful thought, the company chose the birthday cake – after all, there's hundreds of birthdays everyday! And, what better way to develop this flavorful floral design than with a competitive 'bake-off?' Member florists were invited to submit ideas and designs. Finally, a winner, who's realistic floral layer cake looked good enough to eat, was chosen! Like its holiday predecessor, this arrangement received lots of praise and became a continuous favorite.
Getting Better with Age
For years, the Floral Cake has been serving up birthday surprises! But, now, there's more to look forward to than more candles. With new bright and brilliant flowers and features, these flower birthday cakes will have them smiling all year long! Whether sending birthday flowers in pretty pastels, popping purple, or radiant rainbow, our new color options will help you match the recipient's personality and preferences to his or her floral gift.
And, to make these redesigned cakes even sweeter, you can now make milestone flower birthday cakes more personalized. With extra floral flair, the new Milestone edition of the Birthday Wishes Flower Cake™ Pastel includes a 40th, 50th or 60th floral decoration to mark a wonderful year to come. What better way to reminisce on beautiful lifelong memories than with an additional touch of birthday magic?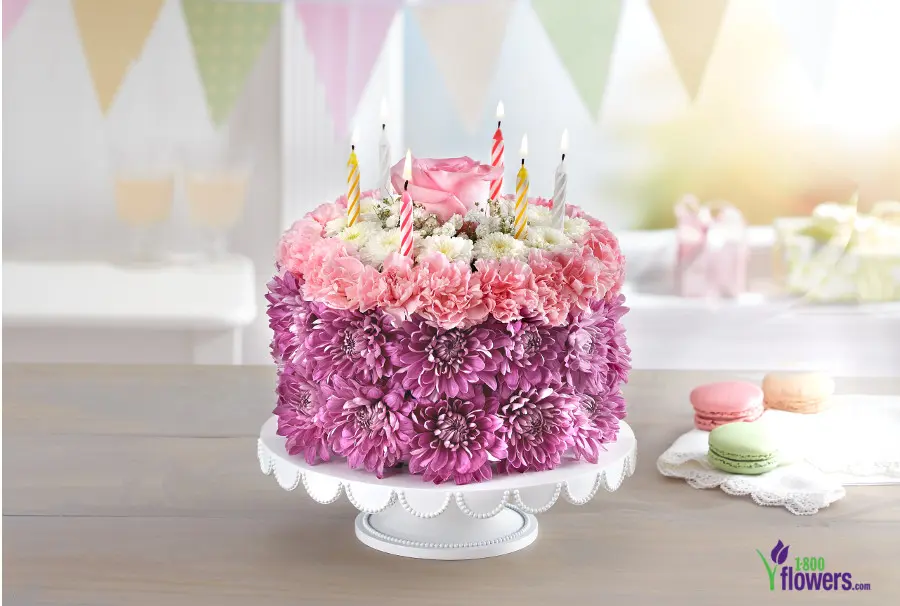 No matter which way you slice it, having a birthday cake and blowing out candles gives you a chance to reflect on the year that has passed, prepare for new beginnings, and wish for a healthier, happier year. Don't pass up on this moment just because you can't bear a sugary slice of cake! Because the Birthday Wishes Flower Cake™ highlights our favorite parts of the traditional birthday cake, – the vibrant colors, the decorative details and, of course, the candles – it eliminates the guilt and is truly something worth wishing for!