In order to learn about the creative minds behind our handcrafted arrangements, we interviewed Anthony Swick who is featured in our Local Artisan Collection. From the daily life as a florist to some of the inspiration behind his arrangements, Anthony talks about his favorite holidays, arrangements, his family & more!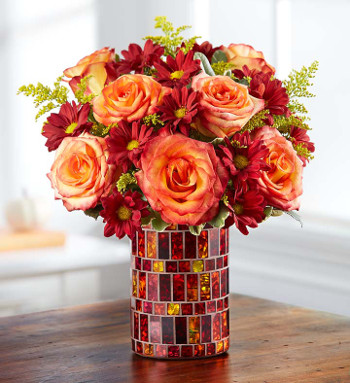 How did you get into the flower business and what do you love best about being a florist?
I was in high school and had a part time job as a shop helper in eves in a Mall Florist- many years ago. My
job was keeping things clean and taking care of roses… I'll never forget having to clean and de-thorn SO many roses at Valentine's Day, but I smiled with every stick in my finger. While going through college and growing on my own, I then would buy roses for a little Florist and one visit got me in back making my own, that how the passion got in me. I love the opportunity to create and share such wonderful things and now as an educator and working within the industry, it has made my passion even stronger knowing that I can help someone else find their passion and they can bloom.
What are your favorite flowers?
Calla! No question. This has always been my most favorite as to its masculine and feminine qualities. The ways you can design with it and the pure look makes me thrilled to challenge any design with a calla! Our logo at my stores! Continue Reading…