"Celebration Inspiration" is all about bringing you top-notch advice and creative ideas to make the most of life's special moments. Flowers for Halloween, such as glow-in-the-dark and black roses, are a stunning trend that provides another option in Halloween decorating.
From a costumed flamenco dancer with a red rose in her teeth to Morticia Adams clipping off the blooms leaving only their thorny stems, flowers and Halloween have a history together. But blooms can be more than just a costume prop — they can play a prominent role in your fall and Halloween decor.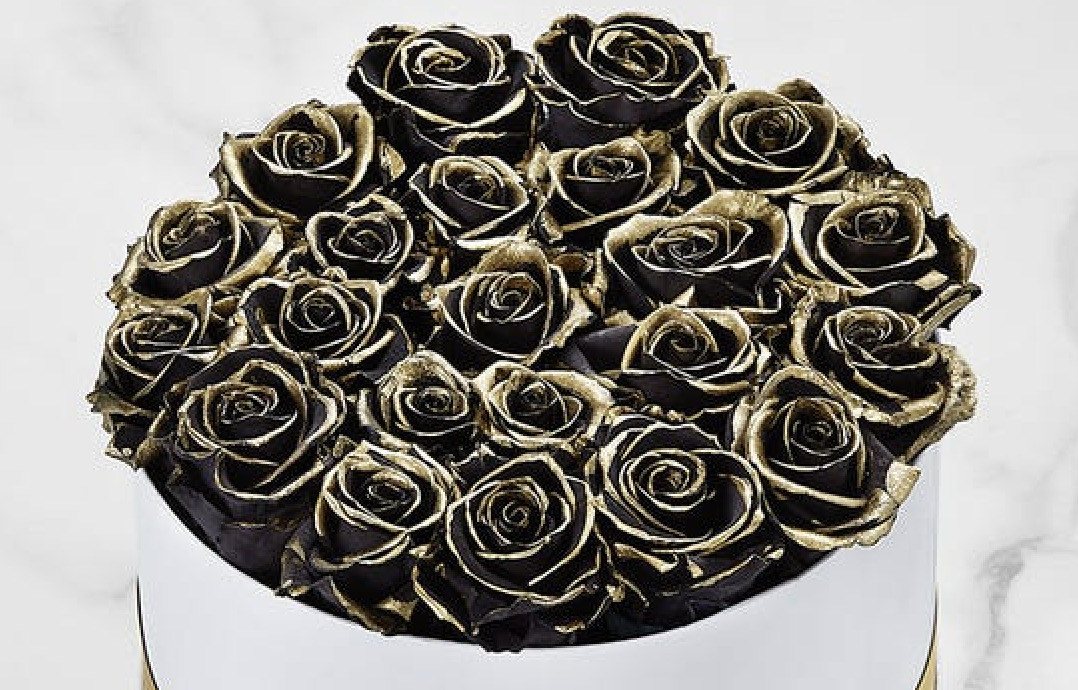 Just as you see with clothing and design, flowers follow a pattern of what's in fashion. "Fads and trends come and go for every holiday, and Halloween is no different," says Jackie Lacey, president of the American Institute of Floral Designers and director of education and industry relations at the Floriology Institute.
While pumpkins and gourds are regarded as the go-to elements for nature's contributions to Halloween decorating, flowers for Halloween — notably glow-in-the-dark and black roses — are becoming more closely associated with the holiday. They offer an elegant spin on the holiday, and are further elevated by noteworthy designs emerging from floral tastemakers.
Here are some latest trends for incorporating roses to Halloween decor for a modern spooky effect.
Painted flowers for Halloween
One big trend, Lacey says, is painted roses. "Orange roses with black tips, or pink or white roses with red splatter to imply a bloodstain, are a great source to add flair to your Halloween party." These will last just as long as regular roses, he says. "You might think the paint would be harmful to the flowers, but it actually helps seal in the moisture by coating the petals. These roses will usually hold up the same length of time as unpainted flowers — an average of five to seven days."
Painted roses are a statement in and of themselves, so they're probably the least time-intensive decor solution — just throw them in a sleek container and you're done!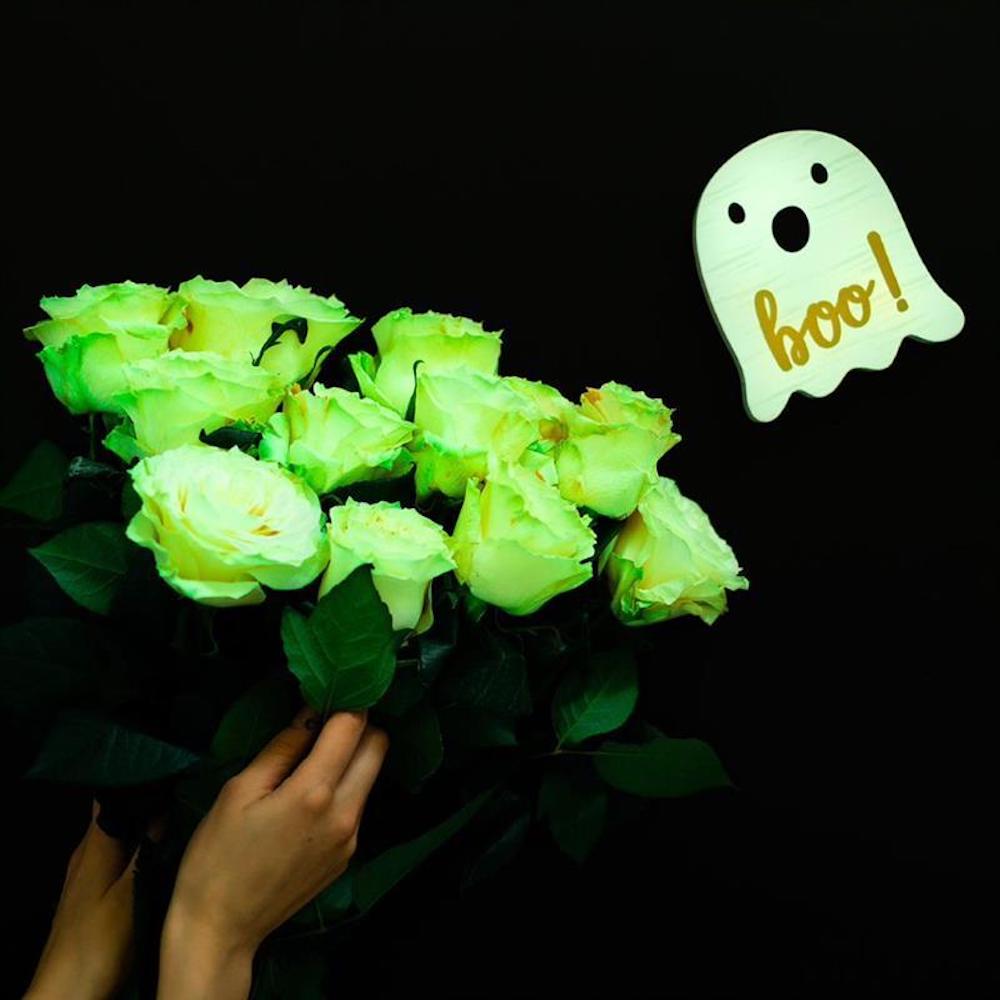 Glowing blooms
A bouquet of white or glow-in-the-dark roses covered with a spider web and small black spider rings is a perfect centerpiece for your celebration. The more flowers for Halloween, the better. Find a large vase, short or tall, and fill it with white roses. Strategically place a few black spiders or one larger fuzzy spider that looks super spooky. Webbing can be black or the white fuzzy stuff you find at the drugstore (or leave it out!).
Fill your gourds with flowers
Carving jack-o'-lanterns? Find gray or white pumpkins and gut the pumpkin as usual, but, instead of a candle, use the squash as a vase and make a floral arrangement. Trim the stems of some white roses so the heads are just popping out, tight to the top of the gourd, and place in a small container of water directly in the squash (so the flowers don't wilt!). Greens spilling over the edge are optional — either way, you have a cauldron of gorgeousness.
Día de Muertos
The day after Halloween is the Mexican celebration of those who have died. The colors of the day are orange, yellow, and red. Skulls are a focal point of this look. Surround one on a silver or white tray with neon-colored roses and candles. Special kaleidoscope roses are a novel take on this look, too.
Adult indulgence
A gorgeous orange rose bouquet sprinkled with a few white calla lilies is a treat you can give yourself on a holiday typically focused on the kids. Put the mixture in a ball jar or Halloween-inspired vase and move it to something more traditional after the day's festivities.
Trick or treat?
If you're having a Halloween party for the neighborhood kids — or as the children knock at your door — don't forget about the unsung heroes of the evening: the adults taking the little ghosts and goblins door to door. A bucket of cold seltzers or water is just what they need to keep plugging away. Giving them a single orange rose stem with a "Happy Halloween!" ribbon or note attached is a sweet way to acknowledge parents and caregivers. A 3D flower ghost will make them laugh, and a tray of cookies, brownies, cupcakes, caramel pretzels — or even dried fruit — is just enough of a sweet to satisfy the "big kids."
Primary color
Halloween is synonymous with orange and black, but an inspired take on decorating with these two colors is to separate them and use them monochromatically. Try orange gourds with orange roses or black Baccara roses (really a deep red) in painted black pumpkins, with spiders in black spider webs — an homage to the traditional Halloween in a non-traditional way!
---