The series "Seasonal Design" covers home decor and how decorating for the season elevates an environment. In this article, be inspired by neighborhood homes with festive front porch ideas for fall.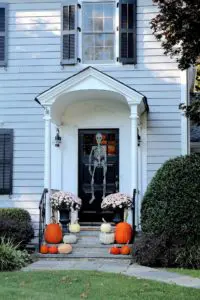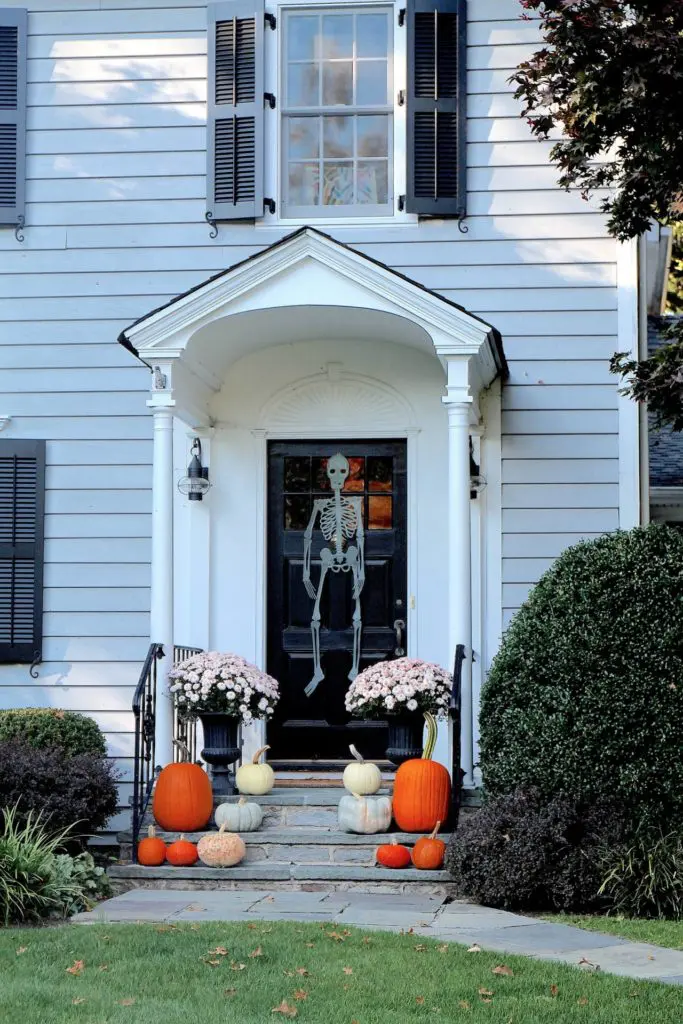 Before the first leaf hits the ground, signs of autumn abound. In the tradition of neighbors decorating their porches or stoops in a flurry of orange is at the top of the list. Gone are the days of a single pumpkin — even an elaborately carved one. These days porch steps are overrun with flowers, gourds, and enough barrels of hay to rival a harvest hoedown.
When creating front porch ideas for fall, use the season's aesthetic for your inspiration.
Go natural for a classic fall porch
A yard under attack by inflatable monsters is one way to decorate. For a more, um, tasteful porch, let nature take its course. Find inspiration from the colors and shapes of the season's best pumpkins and gourds. Visit your local nursery to ogle its curated selection, or simply stop by the grocery store for quick picks. And make sure you have space in your car, as you'll be hauling a slew of freshly grown finds to include in your porch design.
Gather your gourds
Put together your gourd collection by placing the smaller ones down as a sturdy base and displaying larger, more striking pumpkins as the top tier, like a reverse pyramid. Another option: Try stacking gourds in a variety of sizes and colors — show symmetry through a pattern of big and small. Or display a grouping of the same colors. Be creative! Simply tinker until you hit on a style you love.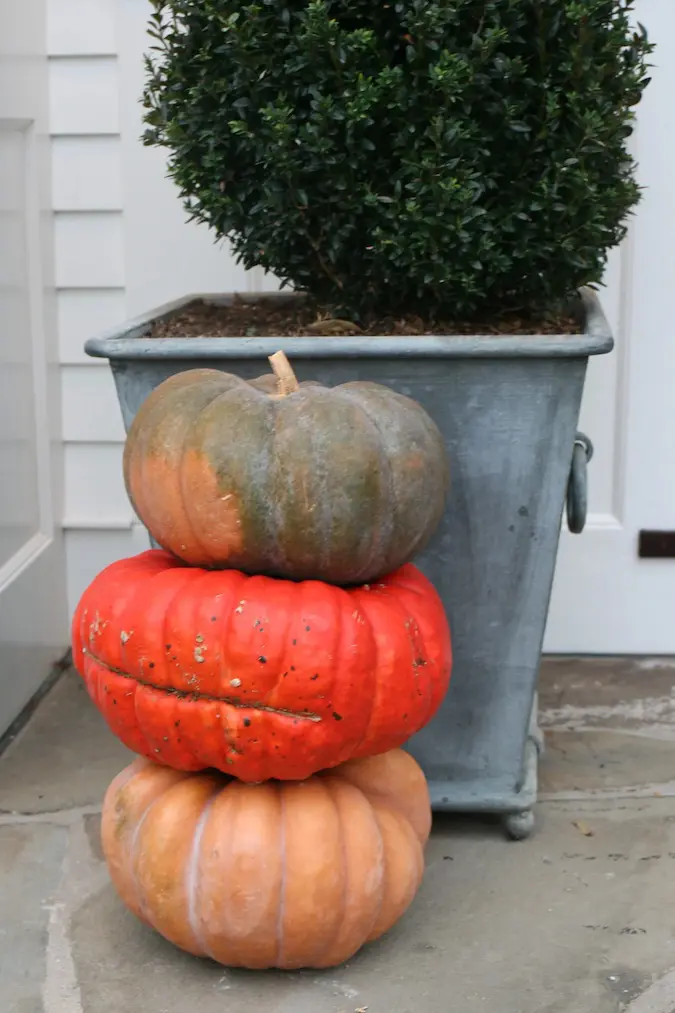 Pick from the full spectrum of pumpkins
Orange pumpkins aren't the only contenders for your porch these days. Now the varieties include a slew of lighter hues — think blue, gray, pink, green, and white. Devoted to orange? Even that traditional color has different shades these days, from a burnt terra-cotta to a neon saturation that will scramble your phone's filters.
Additions from your garden
Once your pumpkins are in place, supplement your vignette with garden pickings. Dried hydrangea, greenery, and fresh fall leaves are perfect fillers that make the porch display stand out. (It's also a great way to practice sustainable fall cleanup — win-win!)
What are the best flowers for a fall porch?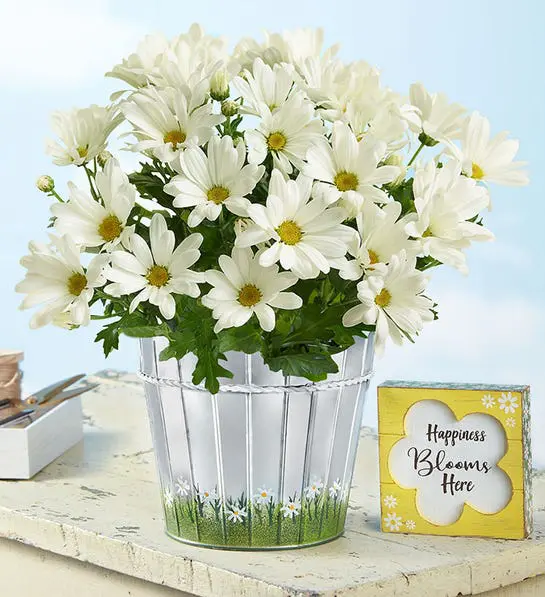 Pots of mums and daisies are a cheery, colorful addition to the porch, and they'll harmoniously blend with the gourds. Elevate basic fall flowers in plastic tubs by ordering mums in a festive galvanized container you can use again and again. Try arranging bunches of flowers in a classic bushel blanket planter, adding gorgeous fall celosia, or using the beautifully fragrant Autumn Rose & Calla Lily Bouquet. The Autumn Harvest Rose flowers come in a vintage-inspired wire crate, which romanticizes the look, and they're ready to be replanted once their porch duty is over.
How to preserve your fall porch decorations
A well-designed fall porch can last from Halloween to Thanksgiving, making it a wonderful investment of your time. We know what you're thinking, though: How do I protect my pumpkins from hungry squirrels, burning candles, and mushy decomposition?
Here are a few tips to make your pumpkins and gourds last longer:
Don't carve the pumpkin, and it's especially important not to cut out a hole at the top for inserting a candle — when you remove the stem, the rest of the gourd loses nutrients needed for its health. Instead, decorate your pumpkin with paint, marker, or glue.
If you can't resist carving your pumpkin, make sure you clean out the inside.
Use small LED lights instead of candles.
Store gourds in a cool place when they are not on display.
Bring pumpkins inside the night before Halloween to protect them from mischief-makers with a penchant for smashing them.
Spray pumpkins with bleach diluted with water to prevent fungus and bacteria from developing.
Apply rubbing alcohol and Vaseline.
If your pumpkins have a tragic demise, don't worry: You can always replace them with realistic resin pumpkins that come expertly carved.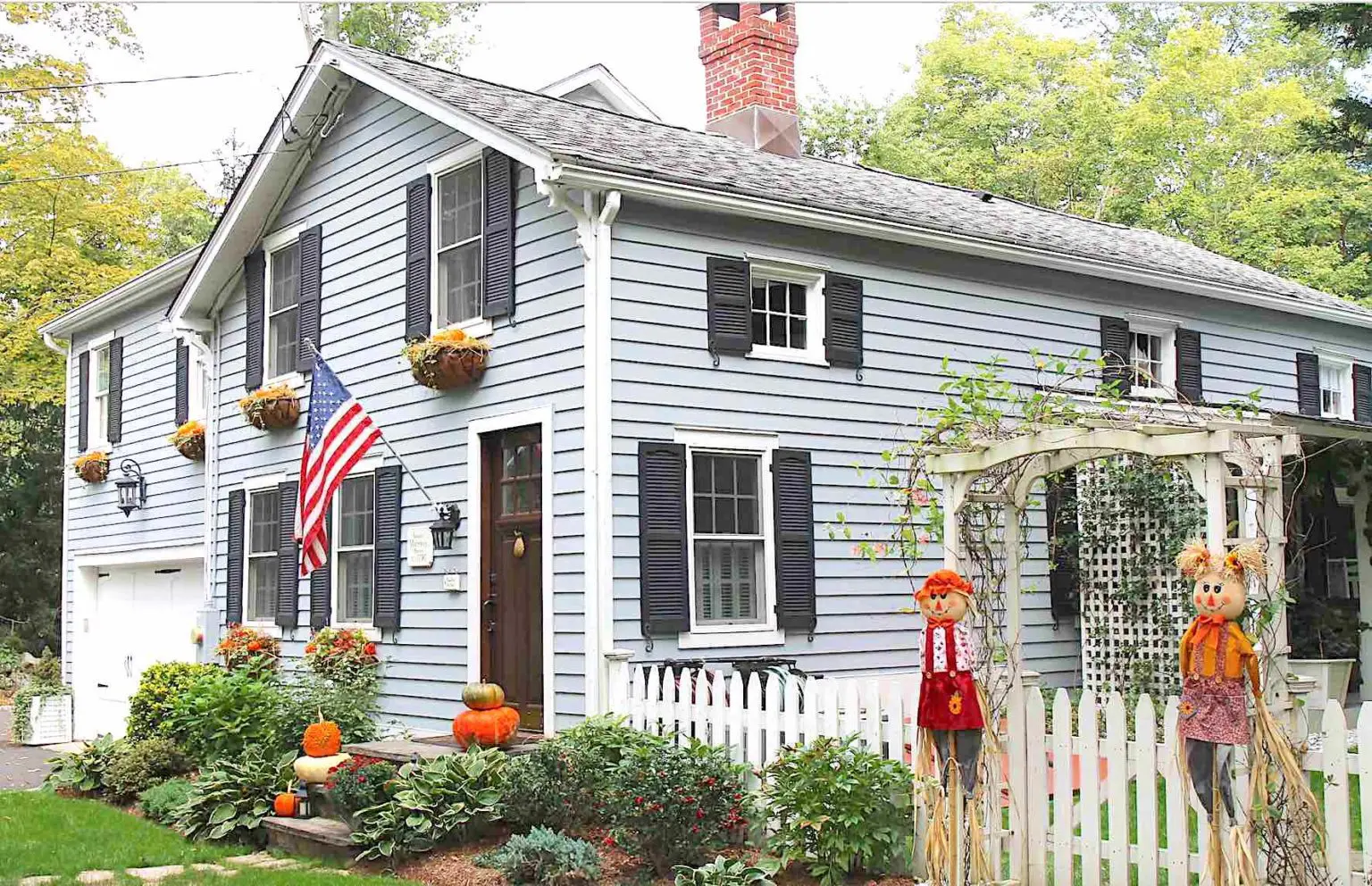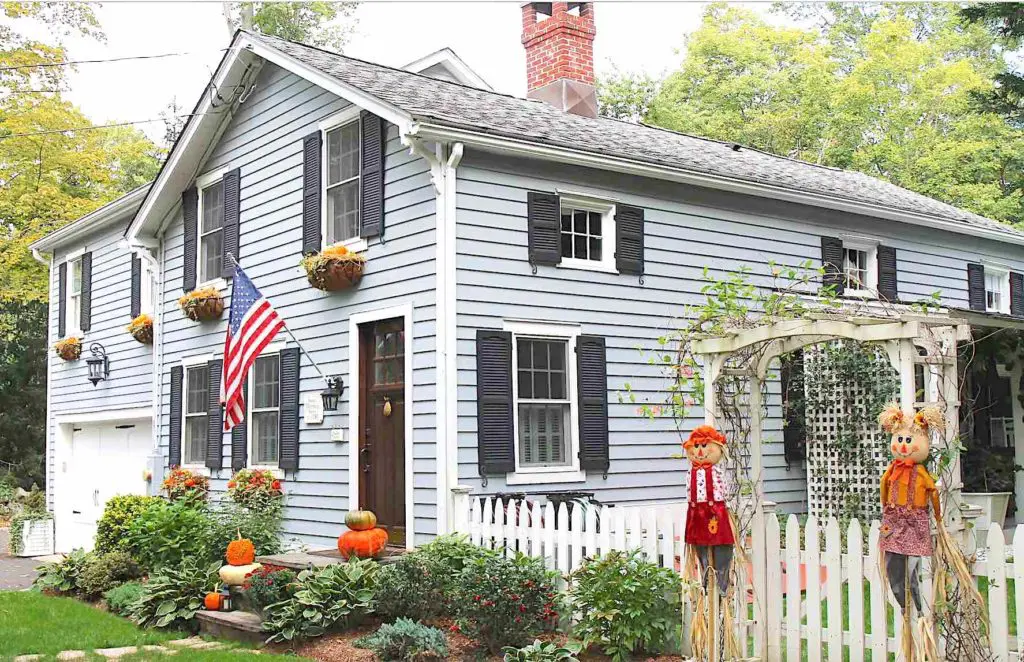 Spruce up flower boxes
We approve of any space deserving of florals, of course, but we particularly love flower boxes for fall displays. Go big! Overdo it with a mix of autumn blooms, miniature pumpkins, and colorful plants on a bed of straw.
Showstopping pieces to complete your stunning fall porch
Feel free to add decorative elements to the porch design. Have an outdoor bench or chairs? Accent them with fall pillows. Customized signs also have festive appeal. Use orange and red lights for a mood-making glow you can tweak for Christmas. And fall bunting is pure Americana and a great way to convey the season.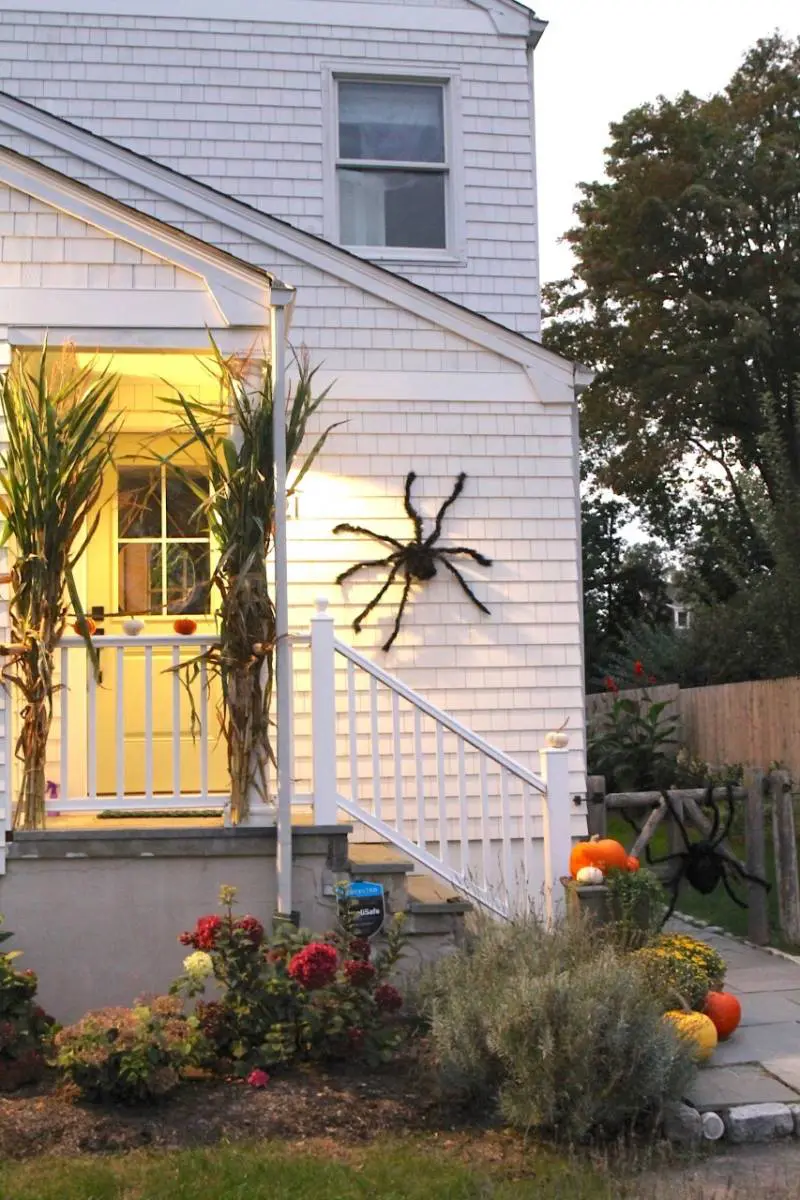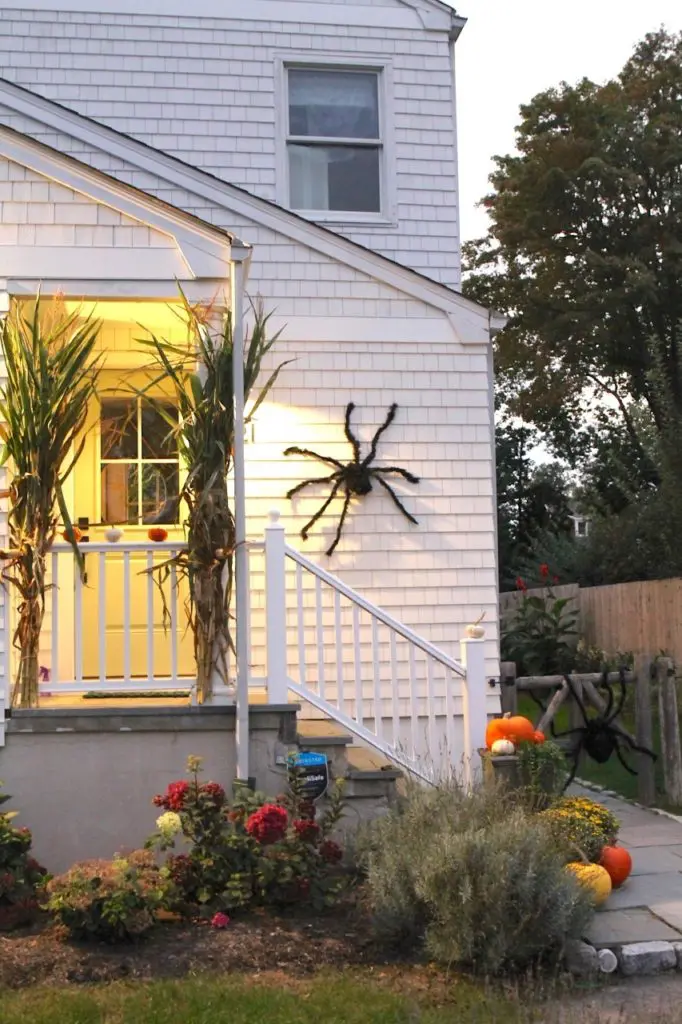 For a styled, spooky look to give trick-or-treaters the chills, install oversized spiders to make your home look like it's under arachnoid attack. A vintage wreath on a painted door brings in an exciting color story with nostalgic appeal. And an extravagant garland of orange and black balloons will boost your appearances on Instagram, too.
---