A juicy and flavorful turkey. Countless sides. Endless sweet and savory pies. A full day and night of football. Spending the day with the people you love.
Thanksgiving is America's favorite holiday, with a whopping 79% popularity rating. So, it's no wonder you're asking the question: When is Thanksgiving this year? If you're like us, you just can't wait for the day to arrive!
But before you begin looking up recipes, basting any birds, or making other seasonal preparations, check out our extensive handbook for the holiday, which answers your most pressing Thanksgiving-related questions.
When was the first Thanksgiving?
Based on a letter from a Plymouth, Massachusetts, colonist that mentions the Pilgrims celebrating their first robust corn and barley harvest, November 1621 is thought to be the holiday's official start.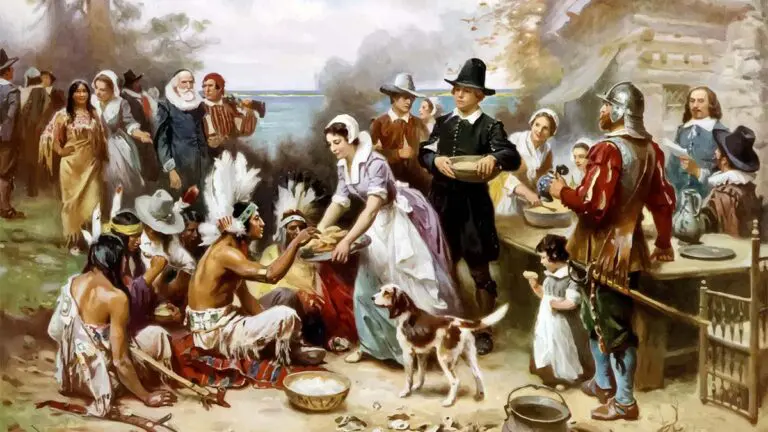 A few more fun facts about Thanksgiving:
While debate exists over whether the event involved a meal to acknowledge thankfulness, if the participants did, in fact, dine together, they could have had turkey; the colonist's letter mentions hunting fowl.
During this time period, large feasts often included wild game. This was a popular autumnal dish in the Pilgrims' homeland of England that was frequently served stuffed, according to author and food historian Sarah Wassberg Johnson, who runs the website The Food Historian. The British also traditionally paired game meats with sour fruit sauce and jelly garnishes, which means cranberries could have been served alongside the bird.
Although pumpkin pie likely wasn't served at the 1621 event, pumpkin made its way into a number of dishes during the time period, including cornbread, soups, and desserts, such as custards and pies. This is due in part to the fact that pumpkins grew well in New England and could be kept for a long time in storage, Wassberg Johnson says.
Live exotic animals, such as tigers, bears, and elephants, were featured in the first three Macy's Thanksgiving Day Parades between 1924 and 1926. The event's iconic large balloons didn't debut until 1927, when a nearly two-story-high Felix the Cat floated above the parade route on Thanksgiving Day.
Why is Thanksgiving on the fourth Thursday of November?
President George Washington issued a public decree in 1789 for a day of thanksgiving, and in 1863, President Abraham Lincoln proclaimed the last Thursday in November would be a national day of Thanksgiving.
We have the 32nd president of the United States, Franklin D. Roosevelt, to thank for the holiday's current calendar spot. In 1941, as the U.S. recovered from the Great Depression, the last Thursday of November fell on the final day of the month, Nov. 30. To elongate the Christmas shopping season, Roosevelt established the official Thanksgiving holiday date as the fourth Thursday in November.
---

---
Is Thanksgiving celebrated in other countries?
Nine other countries celebrate some form of Thanksgiving. Of those, three have events that are similar to the U.S. holiday.
Some features of Canada's Thanksgiving and America's are alike. Both, for instance, involve turkey. The Great White North's celebration, though, is older, reportedly dating back to 1578. Its annual date also differs, taking place on the second Monday in October.
Liberia, a West African nation established by former slaves who came from America in 1847, celebrates Thanksgiving also in November but on the first Thursday of the month. The holiday is similar to the American version, with celebrations ranging from a lavish meal to simply taking the day off work.
Locals in Norfolk Island, a sparsely populated Australian territory in between Australia and New Zealand, reportedly picked up the Thanksgiving tradition after a U.S. trader held a holiday celebration at a church when visiting in the late 1800s. Islanders now serve a mix of dishes that include pork, chicken, and bananas on the last Wednesday of November. As in the U.S., residents finish their meal with pumpkin pie.
What is Friendsgiving?
Hosting a pre-holiday dinner for friends, often the weekend before Thanksgiving, is a new tradition called Friendsgiving. This unofficial holiday has seen its popularity rise in recent years, especially among millennials and other young adults.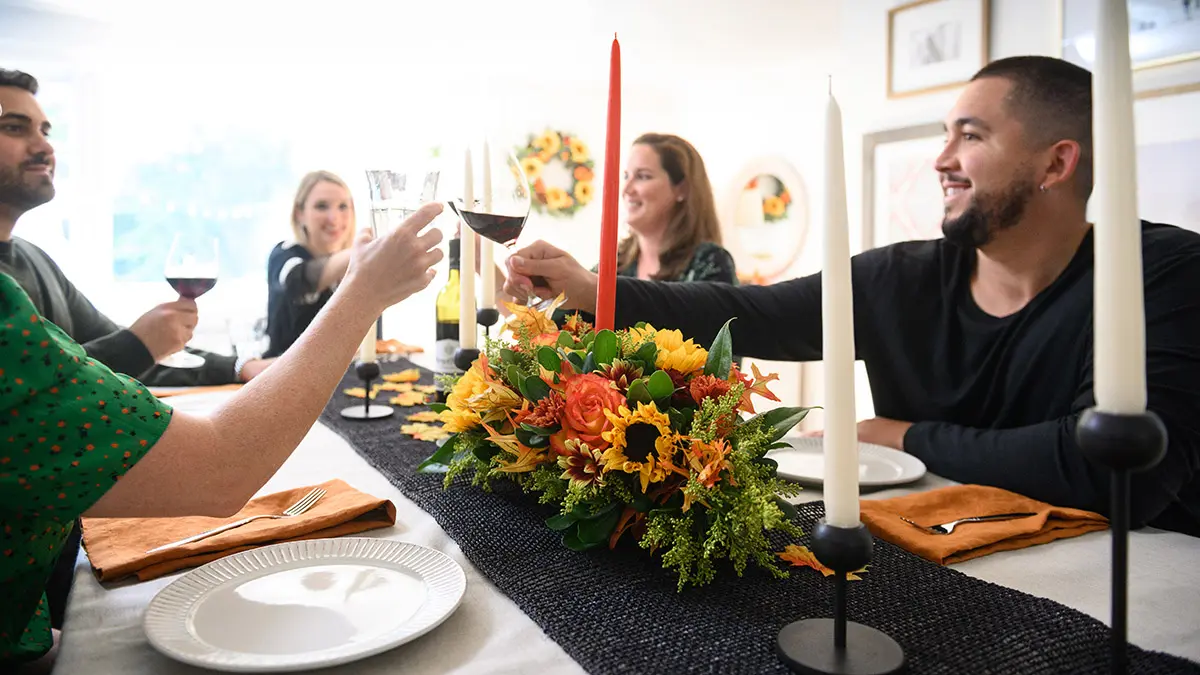 Often involving a more casual meal than the one served on the actual holiday, Friendsgiving has no hard-and-fast rules. Whether you invite people over for light bites or a full meal, setting out an elegant — yet simple to assemble — charcuterie board, paired with several wines that are offered in a self-serve or tasting format, can be a festive start.
What day is Thanksgiving this year?
In 2023, Thanksgiving will be Thursday, Nov. 23. Next year, the holiday will be on Nov. 28, and in 2025, Thanksgiving will be celebrated on Nov. 27.
What are some traditional activities to do on Thanksgiving?
Thanksgiving is a day steeped in tradition. Participating in an organized road race in the morning (often called a "turkey trot"), watching parades and football, and going out in the community to help others are just a few of the activities we typically do on this day.
Other ways to celebrate Thanksgiving are by making crafts and DIY decor. Here are some ideas to get you started.
Thanksgiving crafts
Thanksgiving DIY decor ideas
Thanksgiving hosting ideas
Event planner Annemarie Schumacher, principal and owner of PR and event services company Schumacher Creative, who also blogs about home entertaining, recommends inviting guests at least one month beforehand to allow time to confirm how many will be attending.
"Based on the number of people you are hosting, pull together your menu and shopping list at least two weeks prior to turkey day," Schumacher says. "This will help you avoid any last-minute omissions."
At least a week before the event, check to make sure you have the necessary number of plates, chairs, utensils, and other items, she advises. If you are short, consider looking into leasing what you need.
"Utilizing rentals can be an essential but frequently overlooked part of Thanksgiving planning," Schumacher says. "You can also rent linens, such as tablecloths and napkins, [and] silverware and glassware. It's a great option that typically isn't a huge investment and can be well worth the price."
What are some popular Thanksgiving dishes?
Food is an essential part of Thanksgiving. The meal we sit down to on the fourth Thursday of November is one of the most beloved — and highly anticipated — of the year.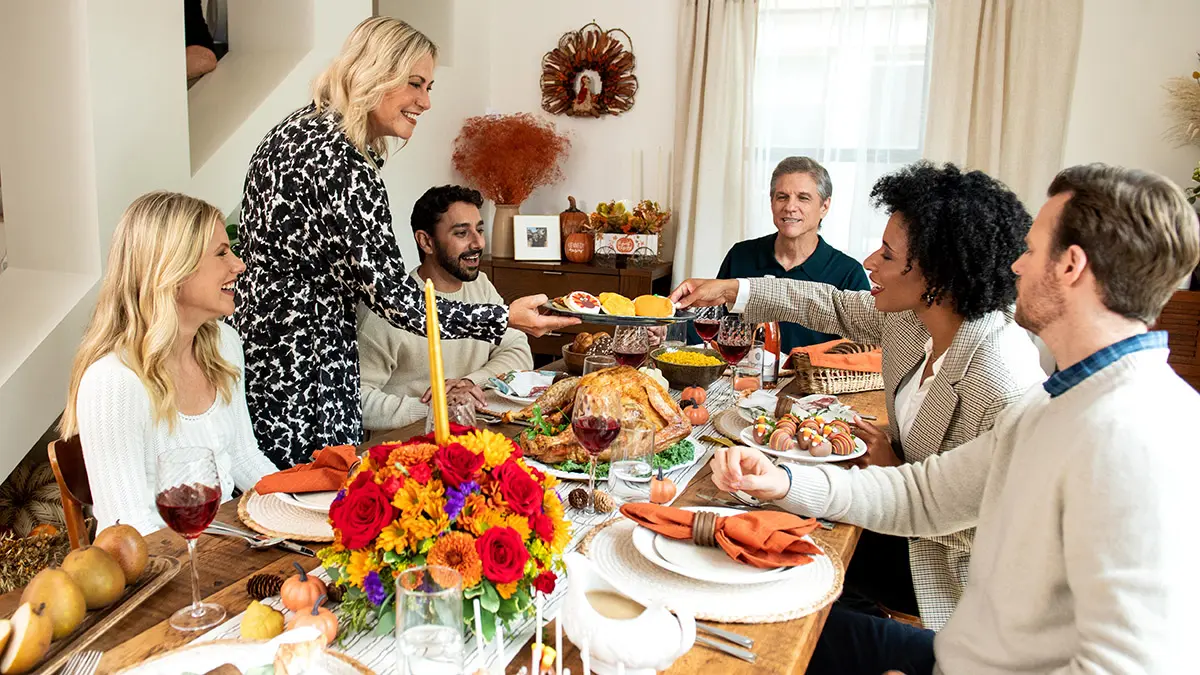 Traditional Thanksgiving foods include:
Turkey
Mashed potatoes
Sweet potatoes
Cranberry sauce
Green bean casserole
Stuffing
Gravy
Rolls
But it doesn't end there. After the meal, get ready for the dessert course, which typically consists of a variety of pies, cakes, and pastries, including:
Pumpkin pie
Pecan pie
Apple pie
Sweet potato pie
Cheesecake
Cookies
Brownies
Above all, though, the purpose of Thanksgiving is right there in the name — to give thanks. And to help get you in that spirit, here are 79 quotes about gratitude.
Have a happy Thanksgiving!