A quintessential symbol of Christmas, the wreath is practically de rigueur in yuletide decorating. But as a token of hope and eternity, the Christmas wreath isn't just another decorative artifact with a pretty bow. So how did this circular object become emblematic of "the most wonderful time of the year?"
Wreaths, the early days
The wreath has enjoyed a long and storied history, although its precise origins are unclear. In ancient times, wreaths made from leaves, olive trees, berries, and twigs were worn as headdresses to denote royalty, authority, and power. The Greco-Romans conferred wreaths upon notable individuals as symbols of honor, respect, and victory. In 10th-century Scandinavia, as part of the pagan winter solstice Yule festival, candles were lit and placed around wooden wheels to pay homage to the sun and to summon warmth from the gods.
By the 16th century, the prevalence of Christianity in Northern Europe had ushered in new traditions, and the wreath took on a whole new meaning. Evergreen trees, naturally abundant and revered for their ability to withstand the elements of winter, became symbols of hope and eternal life.
In Germany, families chopped down fresh evergreens and cut them into triangular formations in a symbolic act representative of the Holy Trinity. They brought the trees home to decorate as part of their Christmas tradition that also included twisting the discarded cuttings into small circular ornaments — the very shape of which signifies eternity.
The eventual introduction of the Advent wreath in the 19th century sparked another sacred practice: the lighting of candles to celebrate the birth and light of Christ. In addition to evergreens, other elements of the traditional Advent wreath included holly oak and berries —symbols of the crown of thorns and the blood of the crucifixion.
"The decorative value of wreaths is believed to have been derived by ancient tradition. In the way that we use house numbers today, wreaths featuring different floral arrangements were used to identify different families and houses," says Julie Mulligan, 1-800-Flowers.com's lifestyle and crafting expert.
21st-century Christmas style
The Christmas wreaths of today may or may not have a religious significance, depending on the individual. Whether your wreath is crafted from evergreen branches embellished with pinecones or made from bright sparkly baubles accented with ribbon, it should always speak to your personal taste and holiday decorating style.
"The wreath is so rich in history, tradition, and symbolism yet most people just like the way they look and incorporate them into their decor. And that's fine, they offer a year-round opportunity to be creative and change it up seasonally.
If you're planning to create a wreath from scratch this year, consider going the sustainable route. "Sustainable wreath bases formed from the grapevine, kiwi vines, and other 100% compostable materials are more popular than ever," says Debra Prinzing, Creative Director of Slow Flowers Society. Otherwise, says Prinzing, metal wreath forms generally "end up in the landfill after the holidays."
Here are some of the snazzy wreath ideas trending this season.
Shapeshifters
Circles are so 20th century. Try something new this year by creating a wreath in a totally different shape. This season's wreath shapes "include oval, crescent, and square forms," says Prinzing. A triangular-shaped Christmas wreath is a nice way to pay tribute to its ancestor, the Christmas tree.
Vintage vavoom
"I love the idea of incorporating something personal into the wreath," says Mulligan. A vintage collector type could include some old shiny bright ornaments. Or a gardener might feature some tools, mini clay pots, or some seeds!" You can score vintage holiday decorations from antique stores, flea markets, and thrift shops. Layer in retro-style tinsel garland for a touch of mid-century modern shimmer.
Personal touch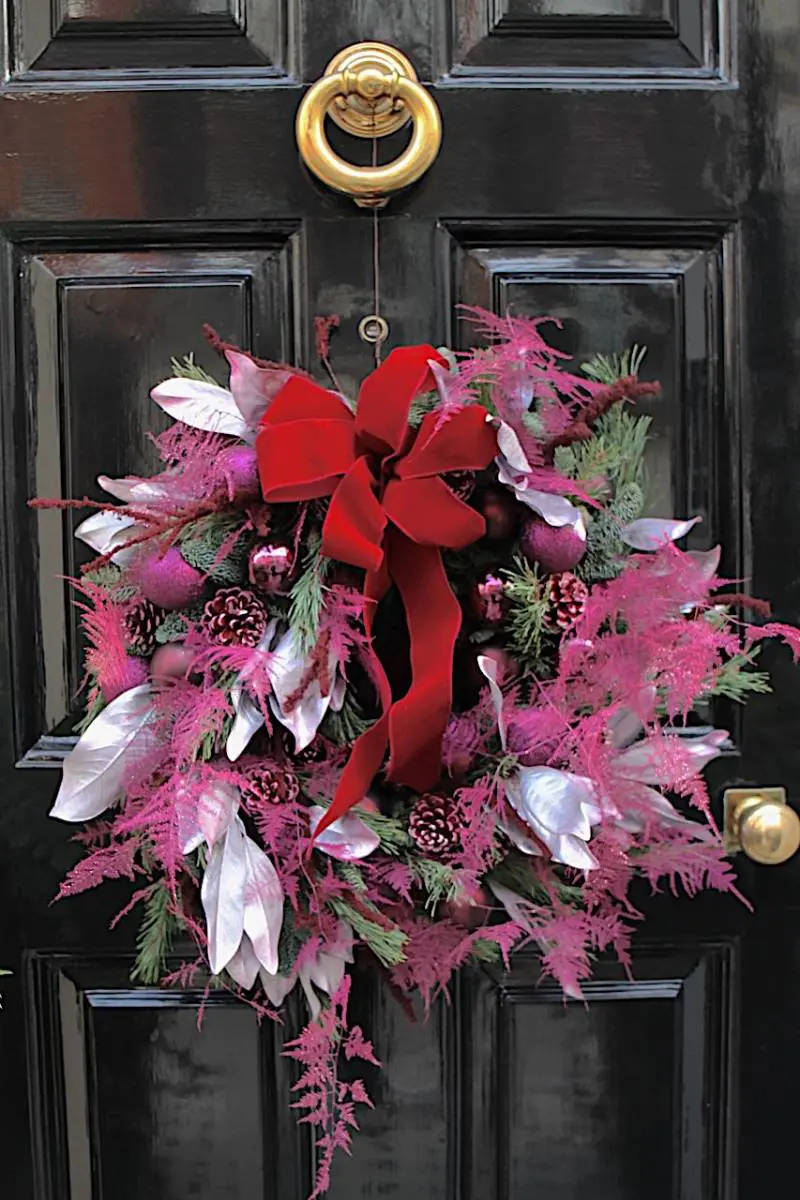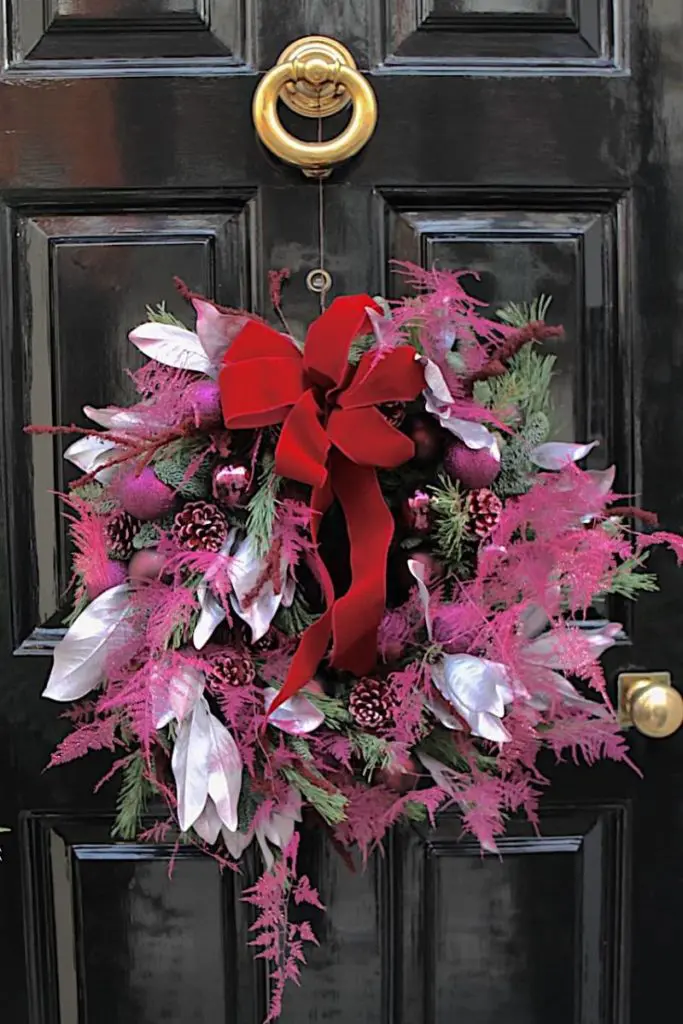 Create a wreath using family photographs, mementos gathered from special trips, and personalized keepsake ornaments for a one-of-a-kind holiday heirloom with meaning. Make the wreath even more special by inviting family members to take part in its installation. "Creating wreaths is a wonderful communal act for people of any age," says Prinzing. "Gathering branches and hanging [a wreath] feels like a timeless gesture of hope for the season."
Celebrate the arrival of your new little one with a flocked wreath embellished with miniature baubles in pretty pastels and a satin ribbon. Attach a favorite photograph so it hangs in the center.
Regal elegance
It's all about the jewel tones this season: midnight blue, royal purple, emerald green, gold, and silver add sophistication to any holiday vignette. Use a combination of fresh blooms, velvet ribbon, glittery baubles, feathers, and sequin trim to capture the look you want.
Sensational sunflowers
Named the 2021 Flower of the Year, sunflowers might seem like an unconventional choice for a holiday wreath, but it really is an all-occasion flower. The sunflower embodies the very essence of optimism, and it reminds us to stay hopeful during challenging times. Accent your sunflower wreath with holly sprigs, pip berries, pinecones, and twigs. Then add a dark green satin bow as the finishing touch.
Coastal vibes
There's never a wrong time for a wreath inspired by the seashore. Create a base wreath with shells, starfish, sand dollars, driftwood, and twine. Then add a few evergreen sprigs and mini pinecones to the arrangement to infuse it with some holiday pizzazz.
Says Mulligan, "This year it's all about creating your world, your way, and using what you already have in new ways. So, look around and create a holiday wreath that represents you!"