Sometimes — no matter how much you care for your significant other no matter how thoughtful you are, and no matter how much you adore Valentine's Day — the perfect gift idea just doesn't come to you. That's precisely why we're here: first, to reassure that it's OK to not always have the perfect gift idea pop into your head, and secondly, to remind you that sometimes a little inspiration is necessary.
Remember, this is just one strategy — and we're not telling you that you must abide by these rules if you want to zero in on the best gift possible. Ultimately, your style of gifting (and what you choose to give to the ones you love) is totally up to you! It's simply our hope that by reading through this carefully curated Valentine's Day gift guide, you'll find the inspiration you're seeking and the perfect gift for the one you love.
Find the perfect gift based on your time together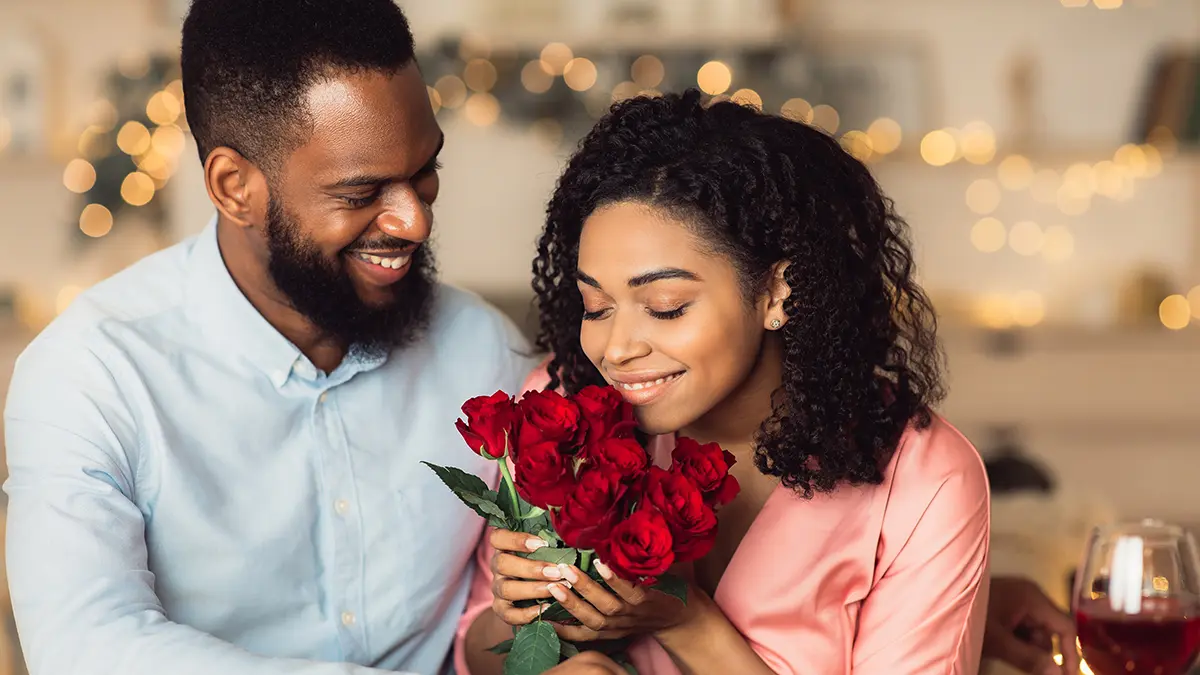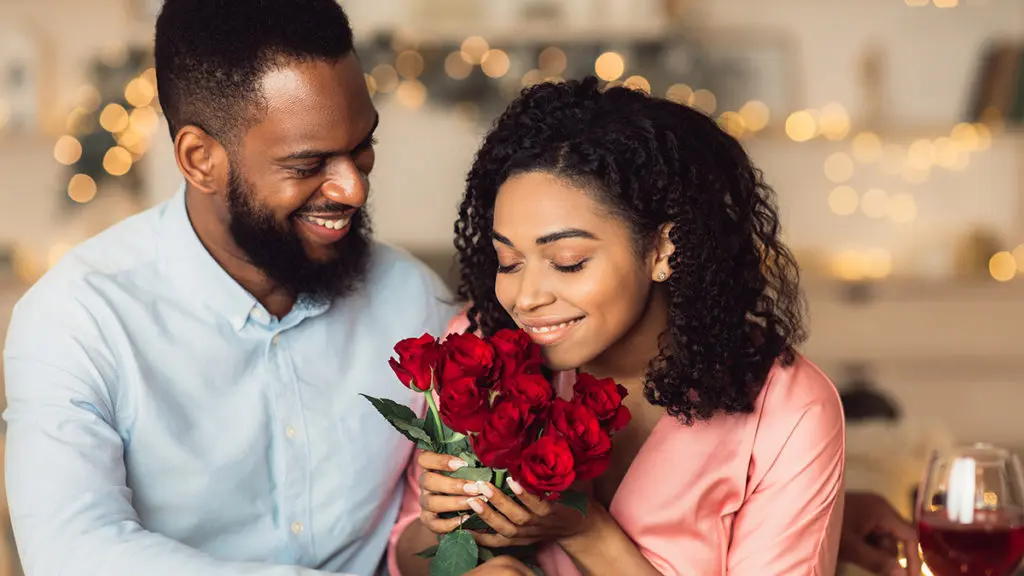 While it's true that being a great gift-giver isn't an exact science (more likely a carefully curated artform), there are certain almost-scientific strategies you can take to deduce what type of gift might be right for your partner. One of these strategies? Taking a look at the length of time you've been together, assessing your experiences together, and establishing where you're both at in your relationship. While we don't think it's always possible to put labels on relationships (especially when it comes to time together) to pick the perfect gift, we do believe it can be a helpful exercise for deciding on the right gift for your love!
Dr. Randy Schroeder, a marriage and family counselor and the author of Simple Habits for Marital Happiness, suggests that couples treat Valentine's Day as a special occasion while viewing it as a consistent reminder of the daily ways they should be celebrating their relationships — including folks who have been married for several years.
"The disease of marriage is complacency," Dr. Schroeder says. "Celebrating your love for your partner — whether that's with a 10-second hug every day, a celebration for Valentine's Day, renewing your vows, etc. — is essential. No, it's never just about Valentine's Day — it's about all the small things you do every day," he says. "But Valentine's Day is a part of that experience and a part of reminding your spouse with everyday efforts that you love them."
Keep reading for more insight and some specific inspiration for your Valentine's Day gift-giving!
Dating: The six-month mark
Though everyone's relationship is different, many experts believe that the six-month milestone in a relationship is a super important one! Experts from Regain.us, an online relationship counseling platform led by licensed counseling professionals, say that after six months together, "you and your partner will have a solid number of memories together…you're growing more comfortable with your partner by the day, and you're starting to see the little quirks you might not have seen before."
In other words, at the six-month point, you've overcome lots of hurdles, have grown closer, and have gotten to know each other better than before. This milestone is significant! We suggest celebrating your partner with a thoughtful gift without entirely breaking the bank. Focus on what you know your partner likes. Do they prefer tulips or roses? Chocolate-covered strawberries or cookies? A small but sweet gift is the perfect solution for your six-month love this Valentine's Day!  
One year together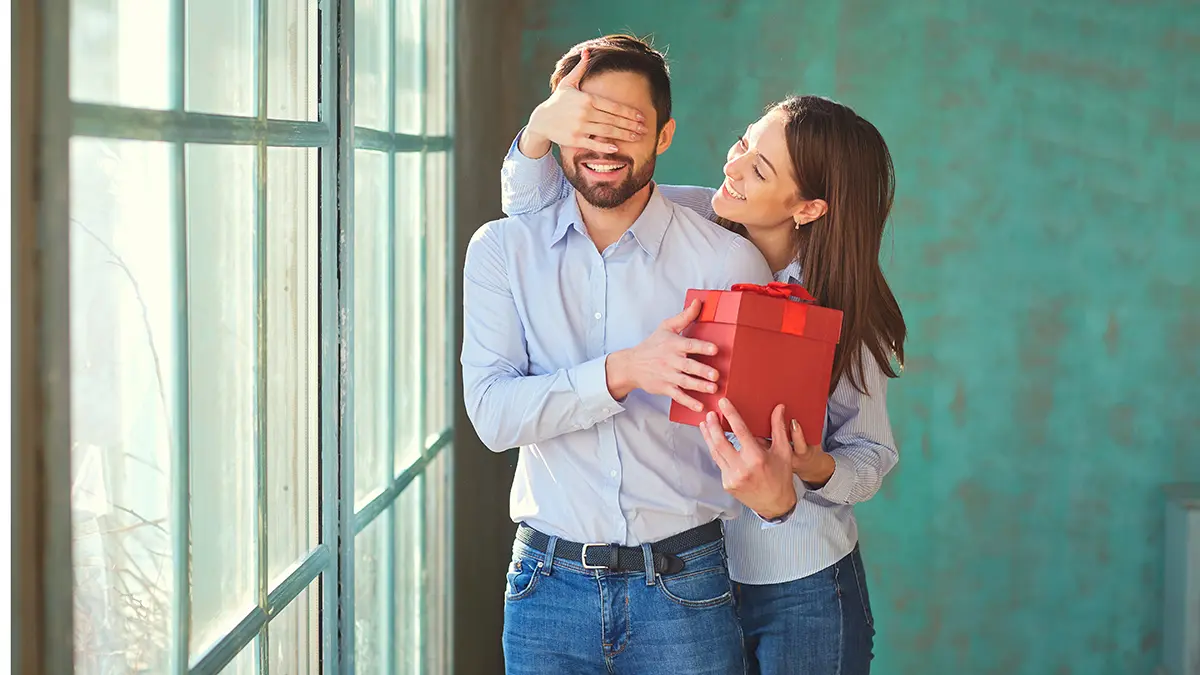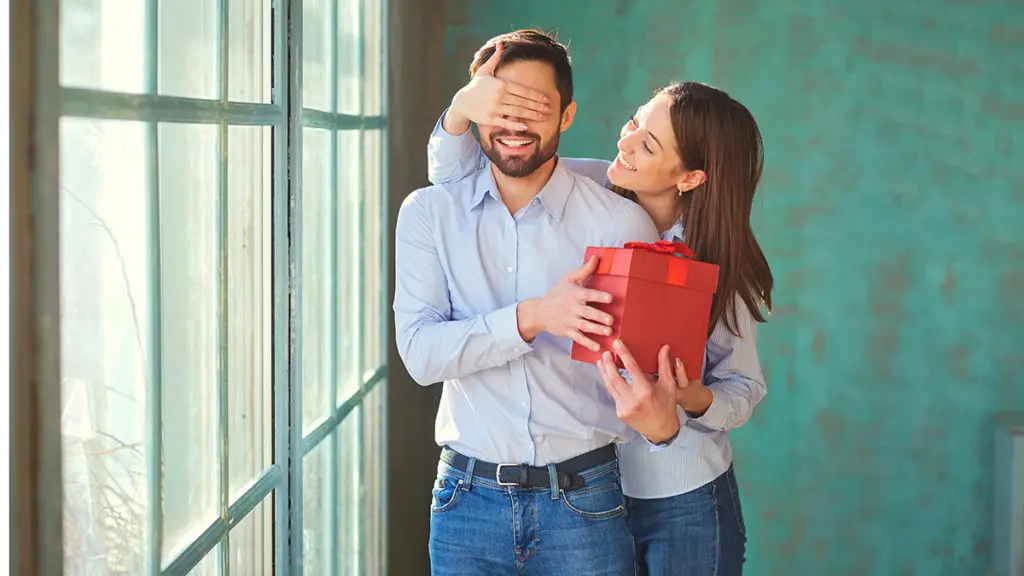 There's no doubt about it — the first year of a relationship comes with many challenges. But it's also undeniably a ton of fun. For many, a year-relationship doesn't seem like a long time, but for others, it's a huge deal! Our advice? We tend to agree with a statement in Bustle.com from relationship expert April Masini—"Don't ignore or downplay a first anniversary. Even when couples act cool and say it's not a big deal, it is. Having made it through a first year is a feat worth celebrating."
So, splurge a little! Opt for something thoughtful, kind, and totally romantic! We find that experiences can be an awesome way to express your love — especially at the one-year mark come Valentine's Day. Does your partner have a dream destination that's within your budget? Maybe surprise them with two tickets to paradise. Do they follow a sport's team religiously? Check into the feasibility of buying passes to the big, upcoming game. The best thing you can do is think about what's important to your partner, then acting on that!
Engaged lovers and newlyweds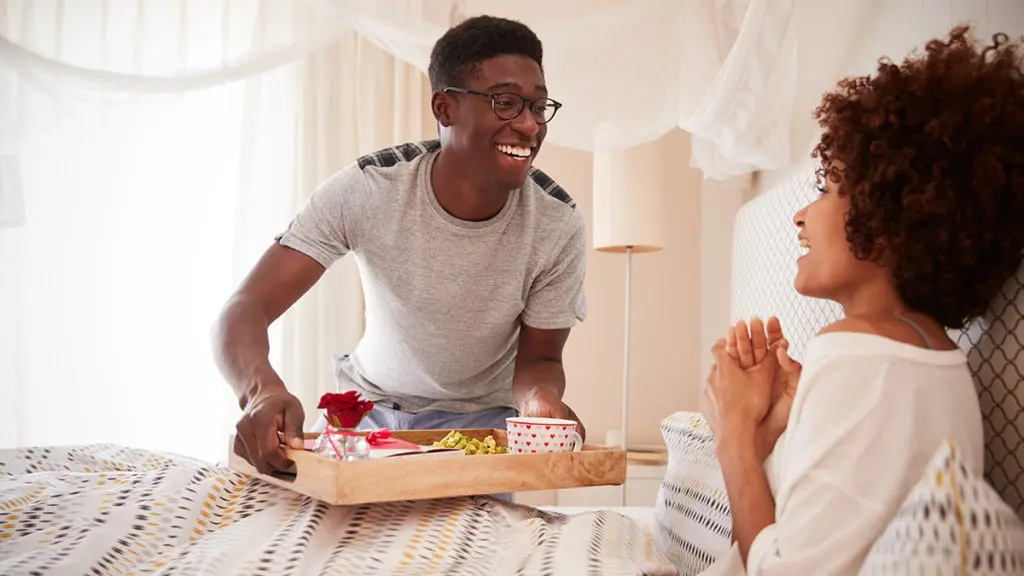 You're typically only engaged for Valentine's Day once (or twice, depends on how long your engagement is, of course!), so we highly recommend celebrating your love in style! Remember, big gestures don't automatically mean big spending. Show your partner how much you care for them — and how excited you are to marry them — by tying your Valentine's Day gift into something for your upcoming wedding. Does your partner love the pink petal roses you've chosen for your big day? Send them a big bouquet of the same flowers to show how excited you are about your wedding. Are you eloping and heading out on a tropical getaway for your wedding day? Buy your loved one some new snorkel gear they can use during your honeymoon.  
If you and your partner are newlyweds, try this strategy in reverse — gift them something that reminds them of the significance of your wedding day. A shadowbox featuring odds-and-ends from your wedding day, a framed photo from your wedding, or even a carefully-orchestrated dance in the kitchen to your wedding song (followed by some chocolates and a home-cooked meal, of course) can do just the trick!  
Married for decades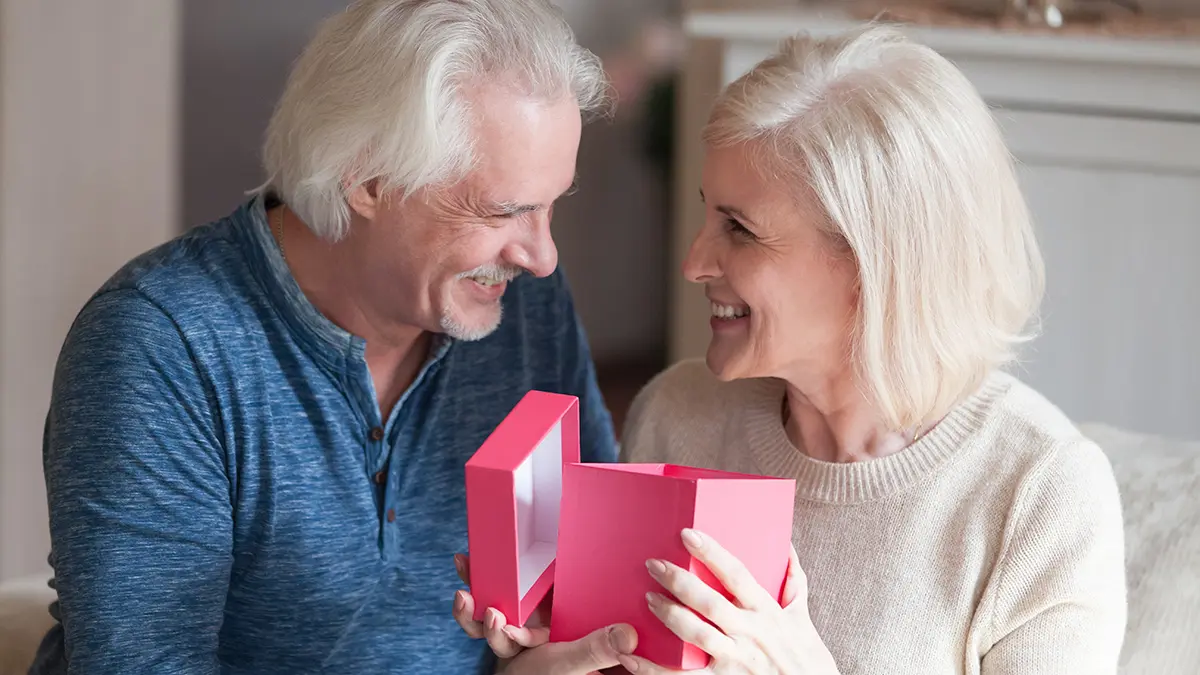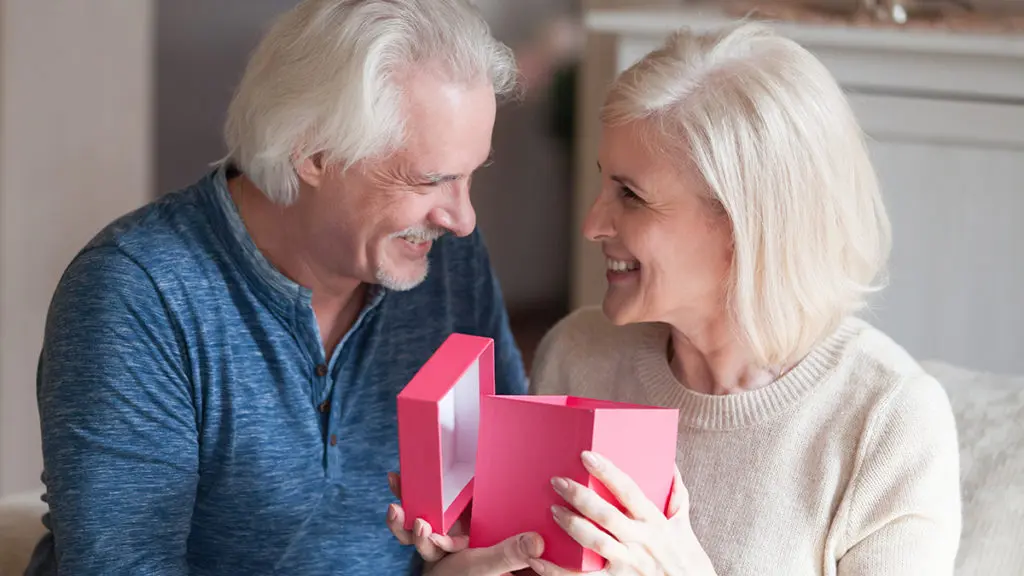 Show your loved one that even after all this time, you still know them best. Being together for a long time means you know a lot about your partner and have had plenty of experiences together.
According to Dr. Schroeder, it's crucial for the health of a couple's marriage to consider these facets of a relationship all the time — not just on Valentine's Day. "Couples need to think about the physical and the verbal, all the part of their relationship — it's important for couples to focus on dating their mates." In his opinion, Valentine's Day is no exception.
A great way to celebrate Valentine's Day when you've been married for a while? Recreate a past Valentine's Day or memorable experience for your upcoming celebration. Think about a memory that you know your partner absolutely loved and re-create that special moment for them! Whether it's a trip, a special gift, or something else entirely, the gift of nostalgia and romance can be an incredibly meaningful one!  
Show your loved one how special they are
Often, the best gifts are the simple and straightforward reminders that you care deeply for the person you've chosen as your partner. But that doesn't mean that finding the right gift (or the right words, for that matter) is always a simple process. We're here to help you express that love, devotion, and joy in the best way possible — that's why we've mindfully curated a collection specifically for Valentine's Day to help you show your love as simply, seamlessly, and lovingly as possible.
Scroll through, take a peek, and find the gift that speaks to you — but most importantly, try to find the gift that speaks to your partner's heart!