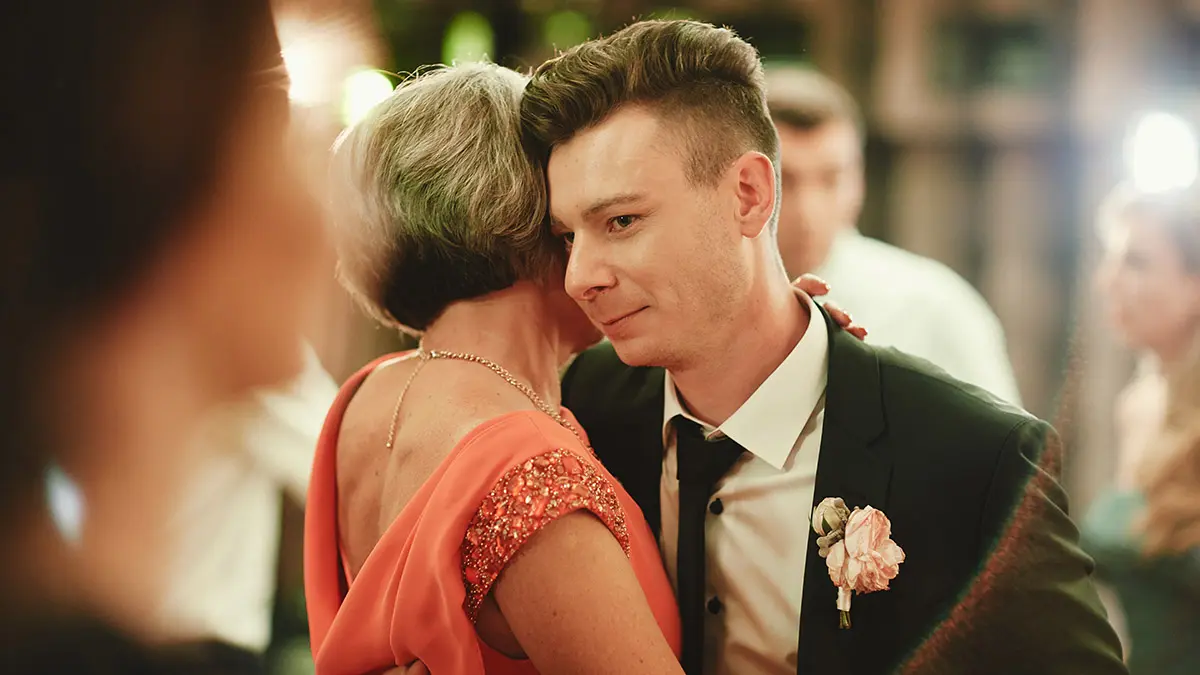 The father-daughter and mother-son dances are two of the most anticipated moments at a wedding — but they're more than just a simple waltz across the dance floor. They are a chance for the bride and groom to show their gratitude to their parents and acknowledge the big step the newlyweds themselves are taking. "These [dances] are a nice recognition to the parents and an opportunity to say 'I love you, and I'll always be your son or daughter, and now I'm moving on and thanking you for everything,'" says Matthew Kurowski, owner and founder of Stumptown DJs.
Although the exact origins of the father-daughter and mother-son dance are hard to trace, the tradition stems from the days of arranged marriages, when matrimony was used for political, social, and monetary alliances. Back then, the father-daughter dance came before the first dance so the father could have a final moment with his daughter before giving her away to her new groom — usually a man she had only recently met. Today, the father-daughter and mother-son dances celebrate the love and support of the parents and take place after the first dance, which gives the parents and newlyweds some quality time before the reception goes into full swing.
How to choose the right song for a father-daughter or mother-son dance
The biggest mistake you can make for one of these dances is choosing a song that does not have any significance to you or your parent. "Think back to your childhood. Maybe it's a song that your dad would sing in the car, or a song that reminds you of the first time you went camping (with your mom)," Kurowski says. It's OK if the song doesn't make sense lyrically; what's important are the memories it evokes when you hear it. Pick a song that's meaningful to the both of you.
Father-daughter and mother-son dances are traditionally slow, but they don't have to be — it's your wedding, so do what feels right. Does Dad want to boogie down to Queen? Go for it! (Just make sure someone records his Elaine Benes-esque dance moves.) You can adapt the dance to whatever works for you. If the bride's father is no longer alive or she prefers to dance with her mother, then that's an option too.
The dance is also an opportunity for parent and child to check in with each other. Weddings are wonderful, busy affairs that offer little time for quiet, one-on-one conversations. When you're dancing with your father or mother, talk to them. "You can say 'I'm playing this song because I remember when I was a kid and we'd go to the grocery store, you would sing it to me and use your hairbrush (as a mic)," Kurowski explains. That little moment of acknowledgement and love on your wedding day will mean the world to every mom or dad.
Each dance song has specific meaning to you and your parents, but if you need inspiration, here's a list of our favorite father-daughter and mother-son wedding songs.
10 best father-daughter wedding songs
1. "Sweet Pea" by Amos Lee
2. "Landslide" by Fleetwood Mac
3. "Your Song" by Elton John
4. "Father's Eyes" by Amy Grant
5. "Father and Daughter" by Paul Simon
6. "My Girl" by The Temptations
7. "Sweet Child O' Mine" Guns & Roses
8. "Wildflowers" by Tom Petty & The Heartbreakers
9. "Daddy" by Beyoncé
10. "My Little Girl" by Tim McGraw
10 best mother-son wedding songs
1. "God Only Knows" by The Beach Boys
2. "Mama Hold My Hand" by Aloe Blacc
3. "Bridge Over Troubled Water" by Simon & Garfunkel
4. "The Best Day" by Taylor Swift
5. "Teach Your Children" by Crosby, Stills, Nash & Young
6. "In My Life" by The Beatles
7. "Home" by Edward Sharpe & The Magnetic Zeros
8. "Montezuma" by Fleet Foxes
9. "Child of Mine" by Carole King
10. "River" by Leon Bridges