We love a good board around here, and we bet you're in on the trend too. In "Board Games," learn to level up your Sunday brunch, create a holiday board with all your favorite cookies, or style a cheese board for a night in — we have tips for creating all of them. This Mother's Day dessert board from Heather Templeton of Heather's Home Bakery features a brownie cookie made with melted down dark chocolate truffles.
I just love Harry & David's truffles. They are the dreamiest candy, all dressed up, and decadent to their very core. I reside in Southern Oregon where Harry & David originated, so its products have been a part of my life since I was a child. My favorite candy of theirs was always the truffle, so this Mother's Day, they seemed like a great way to celebrate and bring back some fond memories.
Since truffles melt down easily, I decided to use them in a decadent cookie recipe that is part of a big Mother's Day dessert board. I used the truffles to make a dark chocolate reduction that I then mixed into the cookie batter, making these cookies deep, rich, and impossible to resist.
Making the truffle brownie cookies
The truffles
I reduced the truffles by melting them and whisking to a smooth, deliciously drip-worthy consistency. This is the only chocolate that these cookies need, and trust me when I say, the truffle flavor shines through brilliantly. Just make sure you check the chocolate often when using the microwave (or melt them slowly over low heat if using the stove), since chocolate can burn easily.
The cookies
In addition to the melted truffles, there are only seven other simple ingredients needed to create these little chocolate gems. The cookies bake up perfectly soft and are wonderful eaten plain or dipped in melted chocolate. You could even add some fruit and ice cream to the top and turn it into a base for a delightful sundae.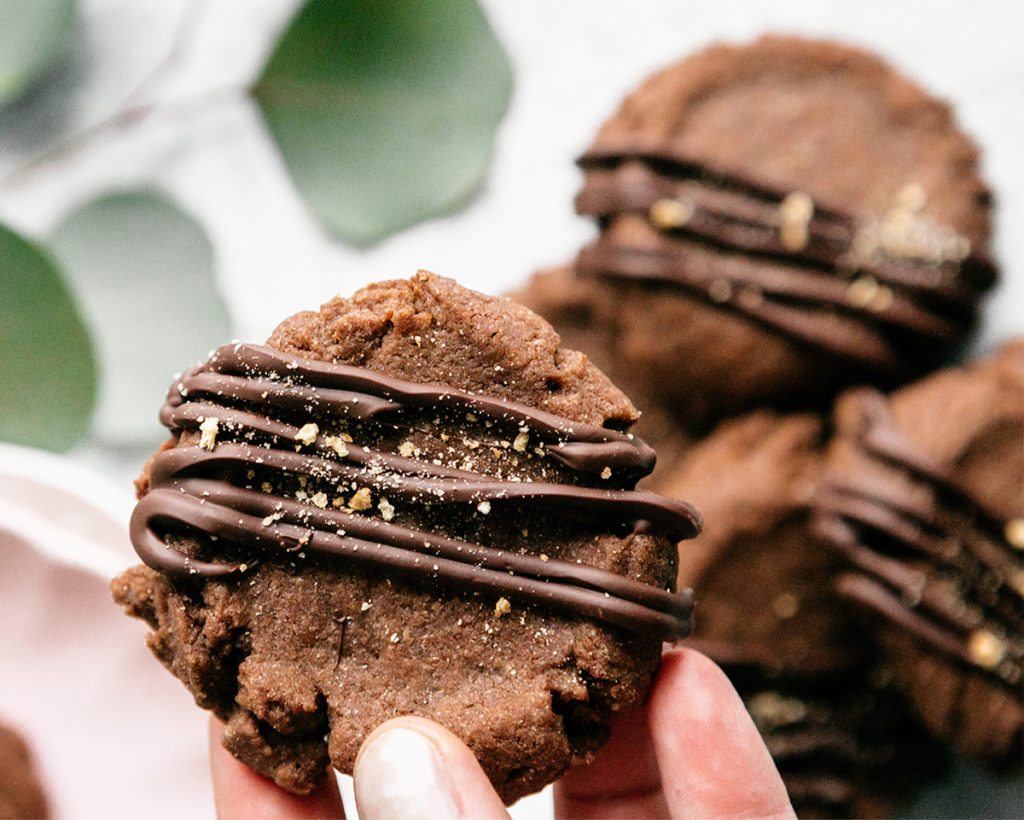 The substitutes
Avoiding gluten or dairy shouldn't hinder your Mother's Day surprise. These are the substitutions for gluten- and dairy-free diets that I always have in the pantry.

Bob's Red Mill 1:1 Gluten Free Baking Flour is a wonderful all-purpose sub, and it's cup for cup, so you can use the same measurements as you would all-purpose flour.
Miyokos Butter is a plant–based brick that closely resembles dairy butter not only in its look, but its taste as well. It melts, browns, and spreads just like real butter, and substitutes great in this recipe. Use it as a 1:1 ratio sub, same as the flour, so the recipe measurements will not change.
The truffles contain dairy, so those allergic should be aware of this. Those simply wanting to limit the amount of dairy should note there is a 1/2 cup of truffle reduction in the entire recipe.
The dessert board
I used these cookies as part of a beautiful Mother's Day dessert board, because why give Mom one dessert for Mother's Day when she can have a whole array of her favorite goodies? To create this board, you'll need the following Harry & David treats:
Homemade truffle brownie cookies (Recipe below)

Raspberry and blackberry galettes (THE best store-bought cookies to ever exist. Period)

Chocolate hazelnut wafer rolls (Perfect for dipping in Mom's morning coffee)

Chocolate dipped almond biscotti (Also perfect for dipping… in Mom's 2nd coffee of the day)

Limited edition truffles (Go for the strawberry ones. They are magnificent!)

Hazelnut coffee spoons (These hard candy spoons are a perfect pop of flavor in any hot drink)

Lemon almonds (Sooo refreshing… can a nut be refreshing? Because this one definitely is.)

Milk chocolate enrobed apricots (Real fruit candy. Need I say more?)

Melted dark chocolate truffles (They make for the BEST melted chocolate)

Blueberries (Because every dessert board needs a spot of fruit, both for a pop of color and a palate cleanser between rich desserts)
Putting it all together
Dessert boards may appear challenging, but they are very easy to create. Begin with selecting an array of goodies that complement each other with similar flavors. For this board, my theme was chocolate.
Start with your main items, which are the homemade cookies in this case. But the main item can be whatever Mom's favorite treat is or what you want the focus of the board to be. There are no true rules to this. Give the cookies "center stage" so they draw the eye. You can add a few extra in a different spot to create balance across the board, like how I put a few on the second, smaller plate to create some cohesion.
Then arrange the other treats around your focal points. Don't worry about it looking perfect — there's no "right" way to build a board — but it is pleasing to the eye if you create a balanced look again by placing the same or similar treats on each side of the board. For example, I used wafer rolls on both sides, but arranged them in different directions. I also used truffles and berry galettes, but put them in different spots and used different flavors and colors. If it begins to feel cluttered, simply remove an item. You can always create the board again if (or more likely when) all the treats are eaten.
Add some greenery and florals to give it a fresh, vibrant feel and match the season. The most important thing is to have fun and make it your own. As long as it has all of Mom's favorite treats, it'll be the perfect Mother's Day surprise.