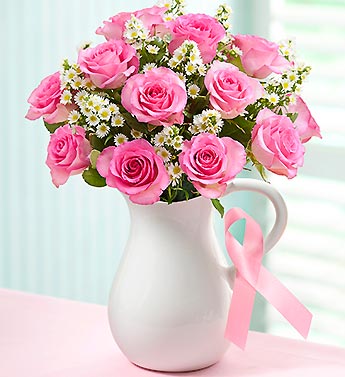 There's a reason once October comes around that you see bursts of pink popping in clothing, accessories, and even home décor. Charities and individuals team up to raise awareness and help find a cure for breast cancer during Breast Cancer Awareness Month.
This year, you can honor your friends and loved ones who may have had breast cancer or been affected by the disease by sporting the color inspired by the iconic cancer awareness ribbon: pink.
10 creative ways to wear pink for Breast Cancer Awareness Month
Tie a pink ribbon in your hair. Wear it down as a headband or tie it into your ponytail.
Wear pink shoelaces. Swap out one or both of your shoelaces for a more vibrant lace. You can choose solid pink shoe laces or fun pink patterns!
Wear a pink hair tie around your wrist. A simple, subtle, and fully supportive gesture.
Add some pink to your pout. Grab your favorite shade of pink lipstick and apply generously.
Attach a pink flower to your top. Turn any fresh flower into an accessory by sticking a safety pin through the thickest part of the stem.
Wear pink clothing. The most noticeable way to rock pink during Breast Cancer Awareness Month? With an entire outfit overflowing with pink!
Treat your nails to a pink makeover. Whether you're painting all your nails in your favorite shade of pink or simply adding pink polka dots or stripes, adding a touch of pink to your manicure is a subtle and simple way to show support.
Wrap your feet in pink pride with socks. Be sure your socks are tall enough to peek out of your shoes so everyone can see your support.
Put a pink bandana in your pocket or hang it around your neck. Supportive, trendy, and so simple to do.
Add a pink streak to your hair. From clip-in extensions to temporary hair chalk, there are tons of ways to add a temporary pop of pink to your hair.