From recalling happy memories to celebrating a life well lived, our new series, Reimagining Grief, encourages you to rethink your understanding of grief. Whether you're searching for ideas to honor a loved one, are seeking inspiration to brighten someone's day, or are looking for supportive communities, our experts – from those who have experienced loss to professional therapists – are here to show you that positivity lives on. Through personal stories and uplifting videos, we're here to guide you to a peaceful, pleasant mindset.
Creativity can be used to express a range of emotions, and after suffering a traumatic brain injury, it's what artist Kristina Libby relied on to get herself through tough times. When the COVID-19 pandemic hit, Kristina used her imagination to bring comfort to the public in the form of floral heart arrangements. We were fortunate enough to catch up with her and discuss the inspiration behind her selfless project she shared with the world.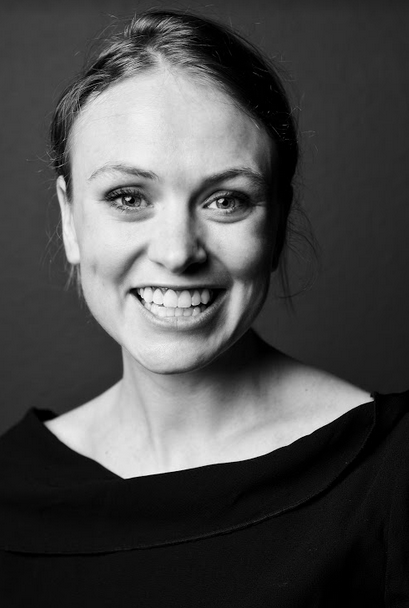 What started your artistic career?
I've always been interested in art and florals. I was even a florist when I was in my early 20s. However, it wasn't until after a traumatic brain injury from a kite-surfing accident last year that I found my way back to art. First, I started painting because it helped to soothe my constant headaches. Then, when the pandemic hit, I felt like I couldn't just stay in my studio. I wanted to make and create public art and that really inspired me to start creating floral hearts.
Did you start making your floral heart designs at the start of the COVID-19 pandemic?
No. When the pandemic hit NYC, I was rushing back from a trip in Africa. I made one of the very last flights out of Rwanda and just snuck into South Africa before it shut down its borders and then flew to the U.S. So, when I first landed I was just in a total daze. As I watched the news and began to feel the enormity of what was happening, I felt so heartbroken. Thousands of people were dying without funerals and their families were left without the traditional grieving practices. I became really worried about what we were doing to help the dead and dying. So, I co-founded COVID Tech Connect with four other women, a non-profit that helps put tablets into the hospital rooms of patients who are dying from COVID. The tablets allowed people to use Zoom and FaceTime and that started to give people a chance to say goodbye to each other and watch over those who were dying.
Many families have been unable to go through traditional grieving practices during the pandemic.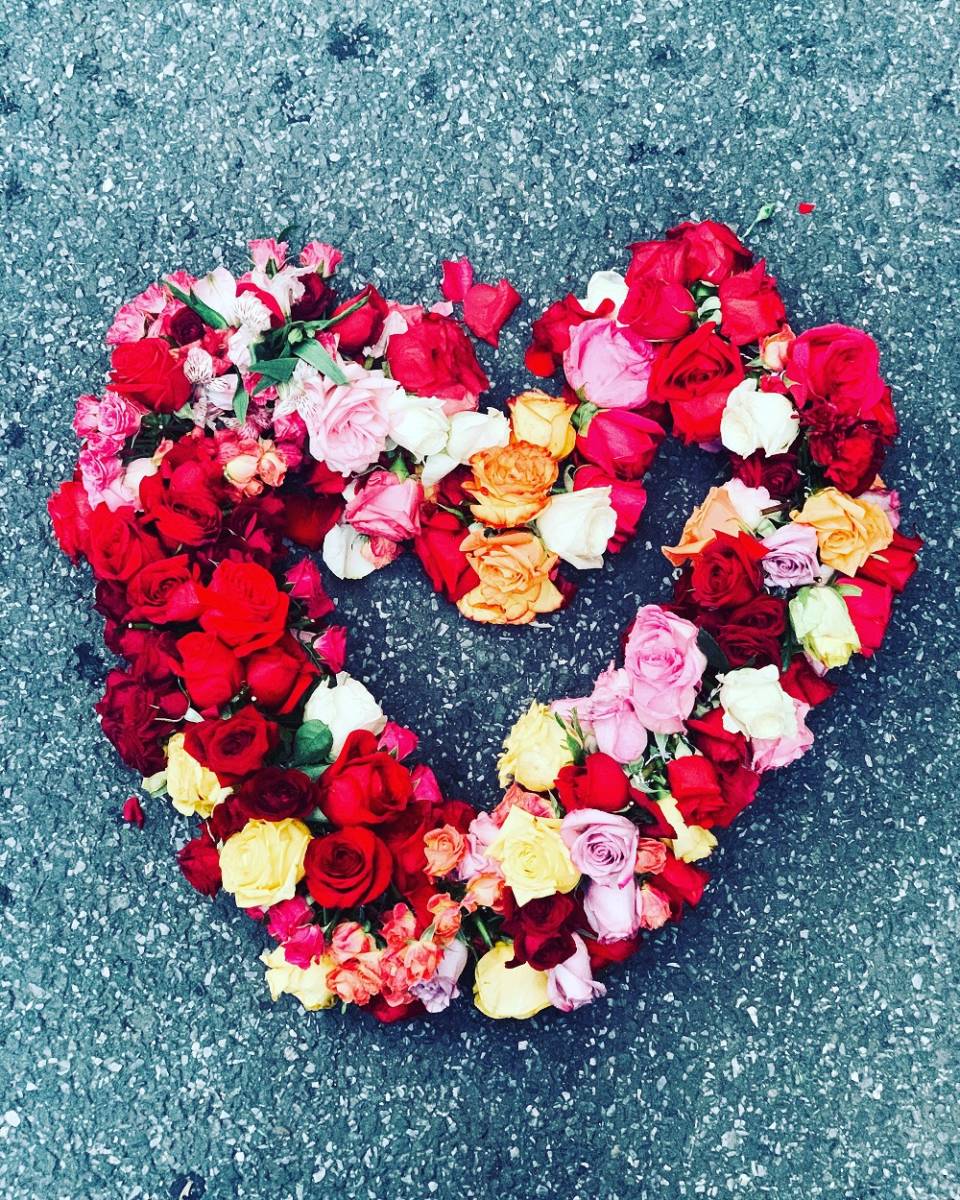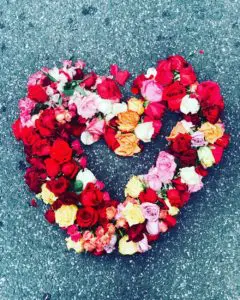 Is this what inspired the creation of your floral hearts?
Yes. I was heartbroken watching what was happening in my home city and in cities across America. The number of people dying was astounding but, so too was my worry about how this would impact the fabric of our nation. There is a term called "disenfranchised grief" which is the idea that people who put off grieving — generally due to war or other high-stress situation — end up with lingering and endemic PTSD symptoms. This includes violence, depression, and anxiety. I wondered if putting off grieving as a nation meant that we would have these symptoms in the fabric of our culture long after the pandemic had stopped. So, I wanted to do something to visualize my grief and allow others to access their grief; to feel connected to the city and to have a moment of comfort.
Why did you choose to work with flowers?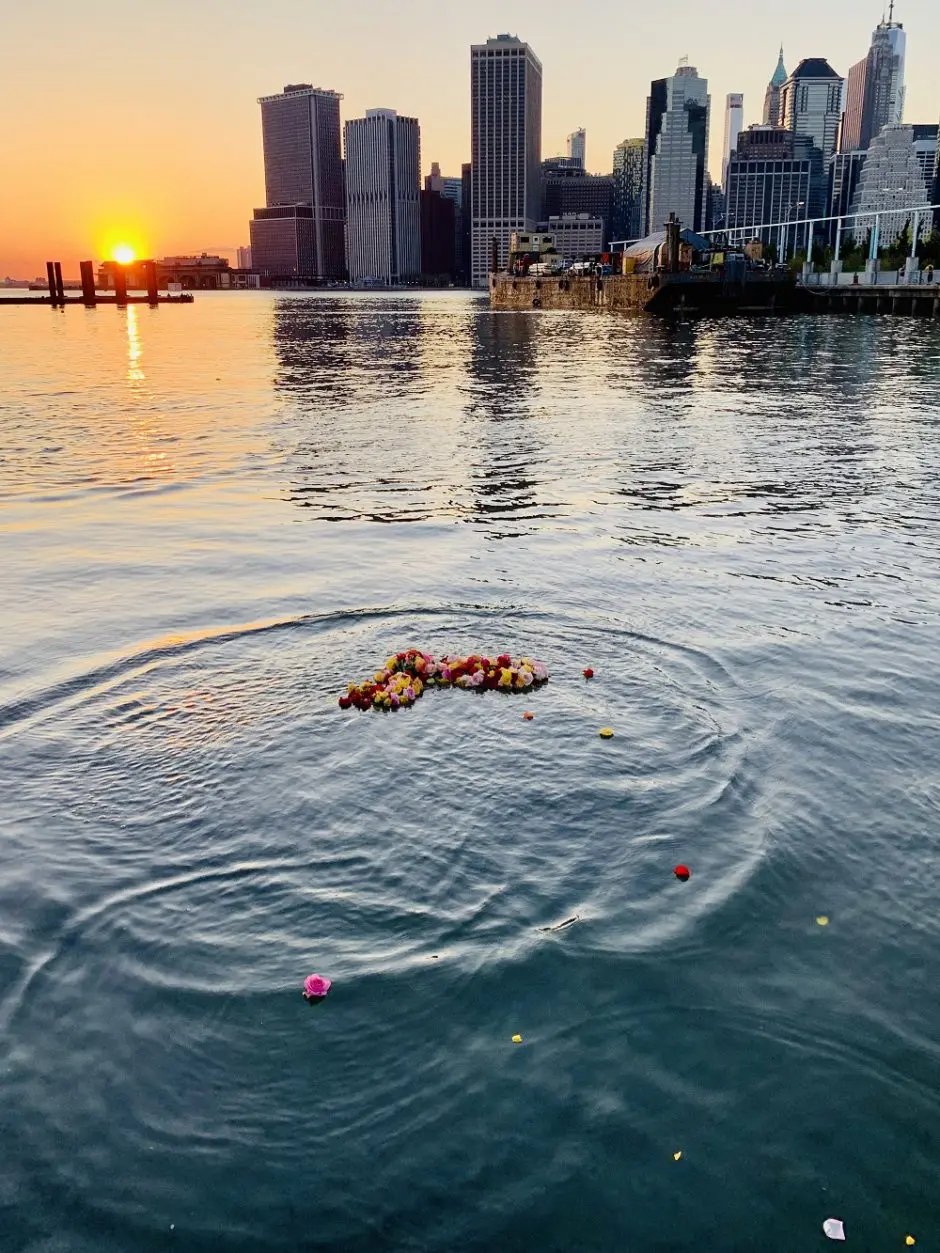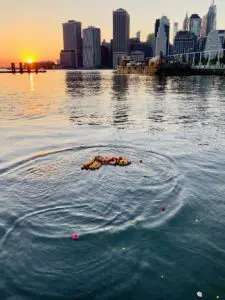 Naturally, I drifted towards floral art — something I was comfortable with — and it felt right for this moment. Flowers are already dead but historically are used in moments of sadness to provide sympathy and support. The first floral piece I made was about re-imagining the six feet social distance messaging. I was terrified to put it in public. But, it was well-received and inspired others who saw it and interacted with it. Plus, I think we were all craving surprise, color, and compassion in that moment.
The second piece was a floral heart and it really started as an act of blessing and sympathy for the city.
You said your floral hearts acted as a blessing. How so?
There are a lot of traditions that use floral garlands or flowers to bless those around them, wish them well on a trip, or send them off into the afterlife. The interesting thing about flowers is that they really can do all of those things at once. So, I made a floral heart as a blessing and put it into the East River. People reached out to me from all over when they saw the image. They found it to be touching and meaningful. So, I wanted to do more of that and help more people. From there, I laid a floral heart on the Brooklyn Bridge and the whole project took off after that.
What is the aim of your floral hearts project?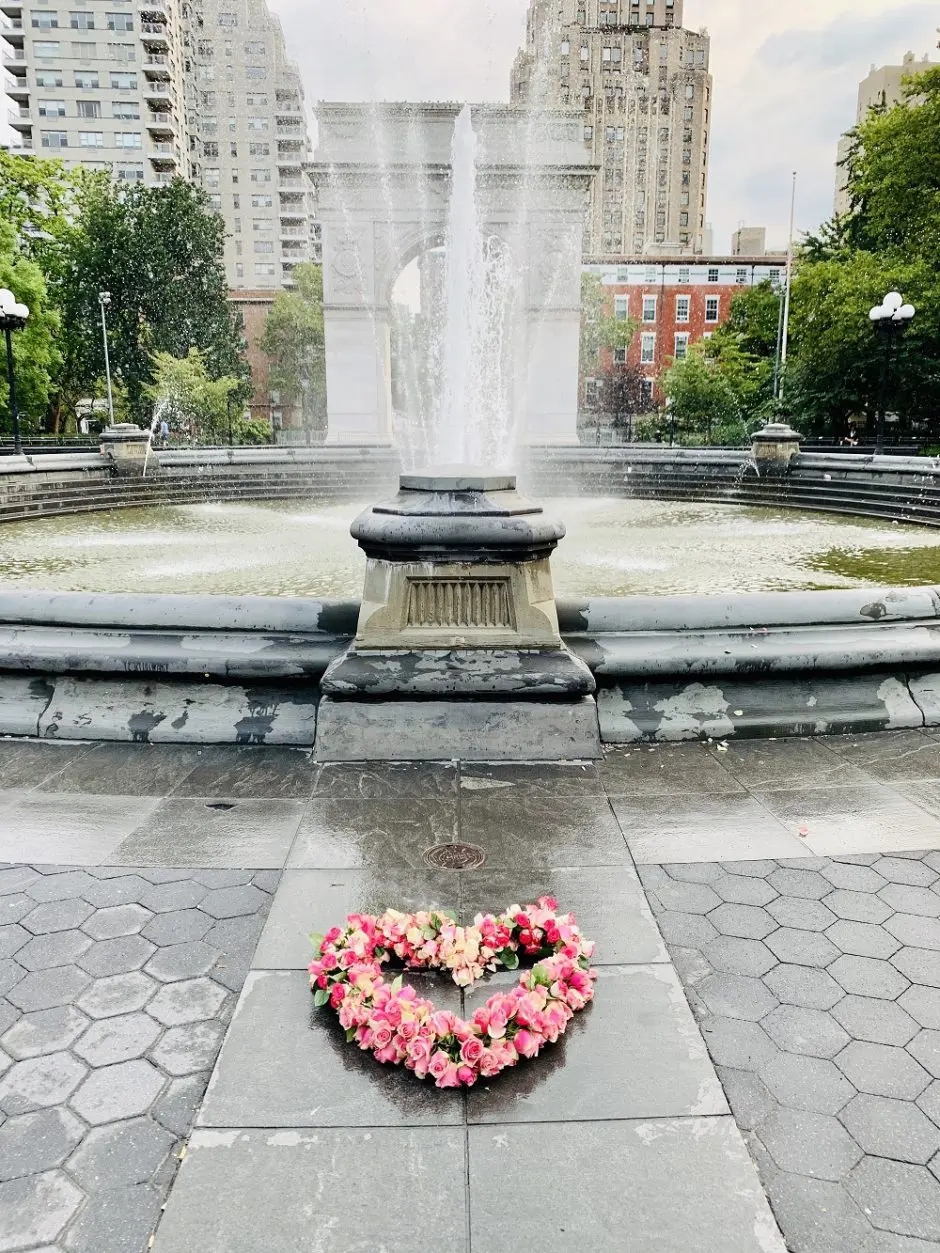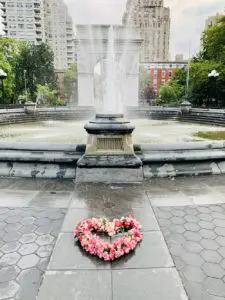 For now, I want to make 50 floral hearts in recognition of those we have lost. But, ultimately I want them to grow into a future piece that will allow us a moment of recognition for the pandemic deaths along with a moment of reflection. I'm thrilled to partner with 1-800-Flowers to make floral hearts for the next few months because it allows us to write a love letter to NYC, in a way. These flowers will be in sympathy and love with those who have passed away, and they'll also spread warmth to those that are living and allow their struggling to feel seen.
What do you hope your floral hearts project inspires in others?
I would love to see copycats of these floral hearts around NYC and around the world. Nearly anyone with any kind of flowers can make a floral heart garland. Making it is cathartic; laying it in a public place is cathartic; and, ultimately watching others interact with it also makes you feel good, too. If we can do nothing more right now, maybe we can blanket the world in flowers.