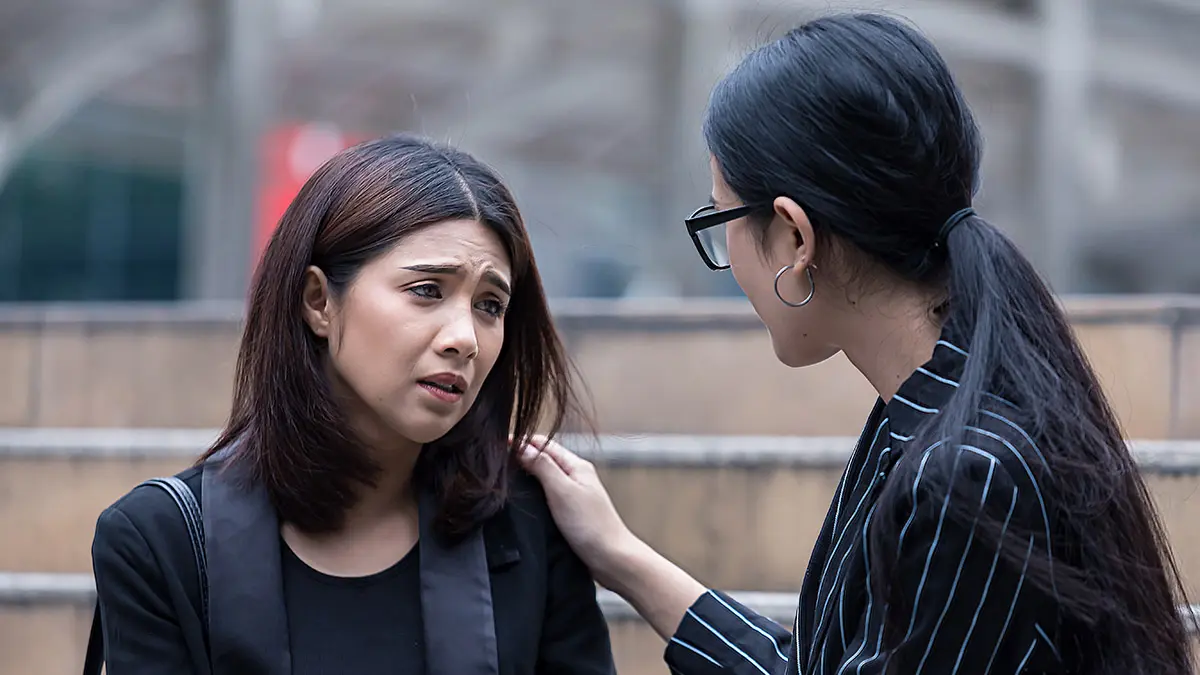 We all have good intentions during times of loss, but due to a number of factors, including changes in our culture, we tend to have a hard time approaching the topic of grief. While we want to be there for the ones who need support the most, we simply don't always know how. As a result, we frequently fall into the trap of offering platitudes, such as "How are you?" or "It takes a year," unwittingly suggesting actions that will move a process along that actually has no set timeline, or, worse, ignoring it completely.
When a colleague is grieving, we find ourselves even more overwhelmed by trying to figure out how to support them. We may be nervous to cross lines with someone who we also work with professionally on a daily basis — but that shouldn't stop us from trying. After all, we spend so much time at the office that it's completely logical that many life milestones will be lived out in front of coworkers.
There are many ways you can sensitively — and sensibly — help a colleague affected by loss. Here are four of them.
1. Send flowers, but do more
Sending flowers, a beautiful plant, or some food in the immediate wake of a loss is a universally accepted move, so go for it. If you are so inclined, though, do more. Do you live near the funeral location, and is the service open to the public? Consider planning to show up with a group of coworkers to pay your respects in person and learn more about the one who died. What type of loss are they grieving? Identify an organization to which you and your team could make a meaningful donation in their person's memory.
2. Pass along a simple yet meaningful message
It's normal to feel awkward around a colleague who is going through a difficult time, especially when they are newly back at work. After all, they may be using business hours as a way to do everything in their power to stay composed. Don't feel the need to ask them how they are doing every hour (in fact, please don't do this!), and don't offer any "solutions" or assurances during every encounter. Take the time to leave a handwritten card on their desk, or even just send them an email telling them how happy you are that they're back and asking them to tell you, whenever they feel like it, how they'd prefer you bring up their loss in the workplace. (Doing this via email takes the pressure off them to give an immediate response.) When you truly have no clue what to say, use a version of this: "I wish I knew the right thing to say and how to make it better. But I want you to know how sorry I am that you are going through this, that you can always talk to me, and that I'm in your corner." It always works.
---
Gifts for a Grieving Coworker
---
3. Find out their trigger days
Several times throughout the year, your colleague will move through a particularly emotionally charged day — be it a holiday, birthday, death anniversary — and this might explain a drop in productivity, change of mood, or any other behavior that's out of the ordinary. Knowing about them in advance will surely make you more sympathetic to their needs. If you don't feel comfortable asking them for this information, check in with your manager; they might be able to share the details with you. Then, add those days to your calendar and remember to be extra thoughtful around those times.
4. Practice empathy
Not everyone is comfortable being around someone else's pain. But if you are OK with it, show all the empathy you can muster by being the one who lets them completely lose it in your presence, or opens their office to them when they need a few moments to themselves throughout the day, or invites them to a standing lunch or happy hour. It will surely strengthen both your professional and personal relationships moving forward. And, chances are, when you're the one going through tough times in the future, you'll know exactly who will open their office to you.
This article was authored by Modern Loss, which offers candid conversation about grief and meaningful community throughout the long arc of loss. Learn more at modernloss.com and the book "Modern Loss: Candid Conversation About Grief. Beginners Welcome."