We've been collecting and sharing stories of local heroes from our community over the last few months. We've enjoyed hearing all your stories. We are humbled by all the amazing local heroes you have shared.
With back to school around the corner we have been thinking a lot about teachers and the role they play in all of our lives.
When someone says the word hero, many think about traditional heroes. As a Company, we're also committed to our local heroes and teachers are certainly among the group we call heroes.
Back to school this year will be different for students around the country — whether in person, online or a hybrid of the two. But one thing will be universal for their teachers: They'll be there to make sure our kids learn. Parents everywhere realized this spring when schools closed that teachers are truly underappreciated local heroes.
Teachers were thrust into a new world of remote schooling along with everyone else this spring, and they're learning while they teach, too.
I am not a teacher, but an awakener
Robert Frost
We recently heard the story of Lisa Meyer, who has been heroic in her efforts throughout her career as a teacher. Lisa is a first-grade teacher at the public school in Canaan, New Hampshire. She has seen a lot change since she started her career in 1984.
She says her first teaching job in Unity, New Hampshire, was a challenge, despite her bachelor's degree in education from Keene State College. "They don't teach the things I had to figure out how to do," she said, including caring for kids who lacked clothes and food, like the twins who shared one pair of boots and took turns going out at recess. "I made about $10,000 a year when I started, and I put most of my money back in my classroom and spent it on my kids," she said.
She moved to Canaan Elementary School two years later and will welcome her 36th first-grade class there this month.
One hallmark of Lisa's first-grade teaching is an original holiday drama production. She adapts or writes an original script that her class performs. She says people underestimate first-graders. "I wanted to push these kids — to work together, do a production, speak in public, memorize lines. It teaches them to be brave, to get over fear, build self-esteem, and it makes them laugh and work hard." At least one Broadway actor attributes her role as Mrs. Santa in Miss Meyer's play as the start of her career. Sadly, this year's play has already been canceled.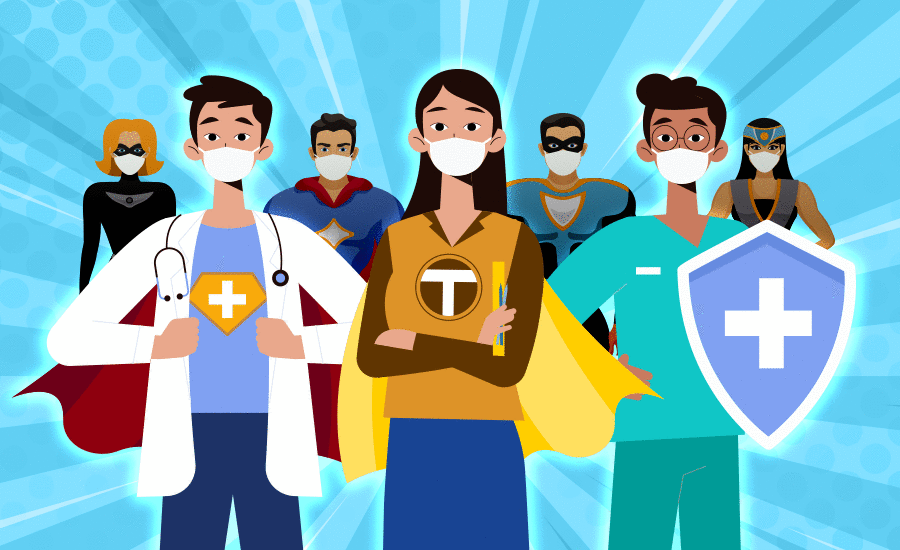 Local Heroes Wear Smiles
She also acknowledges that these times are hard on parents regardless of whether their kids are in school or at home. "Working all day — add in reading to kids and helping them with homework, it's hard."
They say not all heroes wear capes. About 3.7 million of them, like Lisa, wear smiles as they welcome our kids into their classrooms (virtual or in person) each school day. We applaud their thoughtfulness, flexibility and dedication to their students.
We all have these heroes in our local communities. We hope you'll learn their stories and share them with this community. SHARE YOUR STORY