The winter months can be a hard time for couples to keep the spark lit. After all, dark days and drab weather do not lend themselves to dating inspiration. "As the days become shorter, it can feel like there's less time to engage together," says Lumalia Armstrong, a relationship expert and Couples Connection architect who helps couples rediscover their love for each other. "This creates a scarcity mindset, leaving couples feeling like they don't have enough time and space for each other."
Learning something new on a date is always a good idea. It will encourage playing together, which is one of the best bonding activities for a couple.
lumAlia armstrong
Relationship expert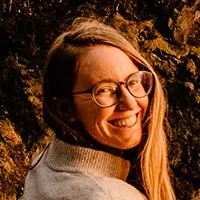 Armstrong believes, however, that it's possible to shift your thinking and turn winter's downsides into positives for your relationship.
"Here's what's most important: Remind yourself that this time scarcity is a mindset," she says. "The greatest gift of being human is our ability to shift our realities. Once a couple can recognize a perception that is hindering them from intimacy, such as less sunlight and time outside, they can then use their creativity to create a new dynamic and thrive in the winter."
Below, Armstrong shares her best cold weather date ideas — both indoors and out — to help couples stay connected all season long.
Indoor cold weather date ideas
These ideas are best for when the weather is particularly nasty outside, or when you'd just prefer to take advantage of the coziness of home.
Try yoga
Exercising together is a surprisingly intimate experience. Armstrong suggests centering a date on yoga to encourage couples to build a bond that will grow throughout the evening.
"Take a couple's restorative yoga class on the days you're feeling extra exhausted," she says. "Movement with your partner can help you feel in sync more biologically, especially if your love language is physical touch.
"Ultimately, it can help us enjoy deeper connections we all deeply crave. Even doing simple breathing exercises together can make for a really connecting date night at home."
Take a virtual class together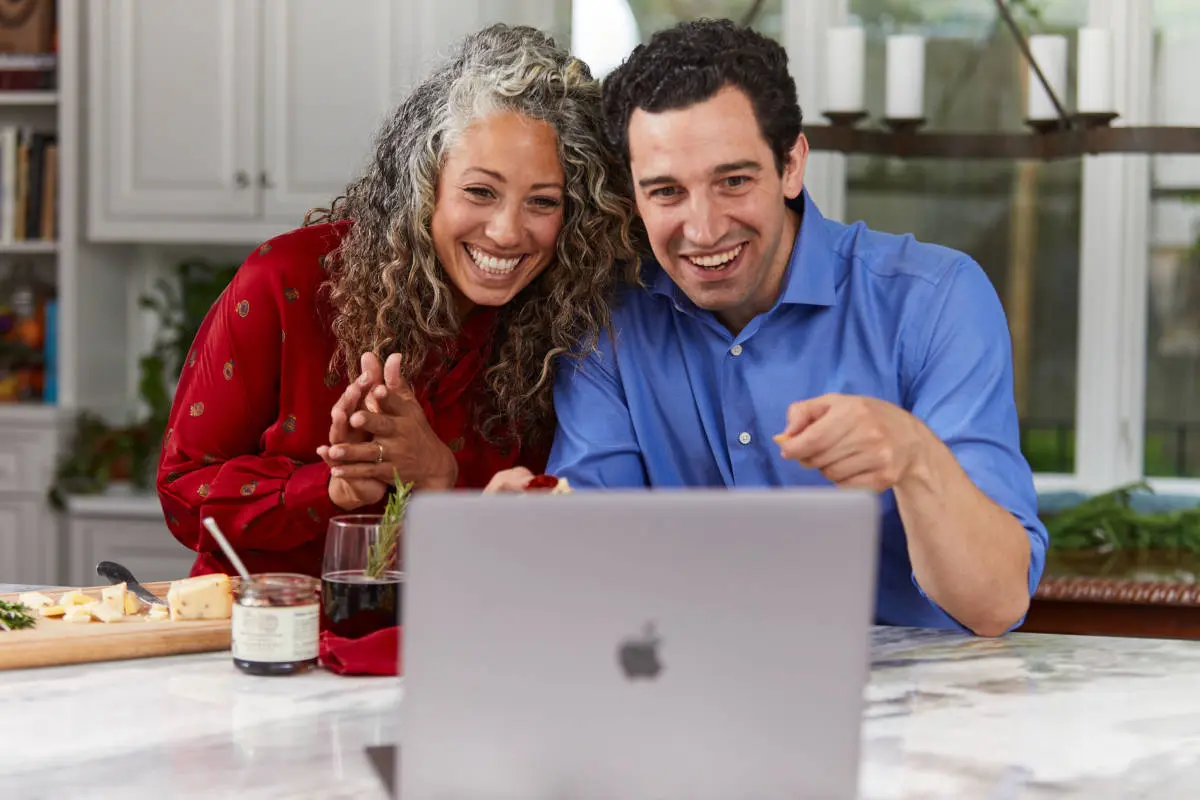 Stretch yourselves as a couple this winter by tackling a new skill. "Learning something new on a date is always a good idea. It will encourage playing together, which is one of the best bonding activities for a couple," Armstrong says.
You can learn without leaving the house with virtual classes from Alice's Table. Options abound for seasonal activities, including Christmas wreath making, winter flower arranging, and even holiday charcuterie board design. Just pre-register for your event of choice (live or on demand), and you'll get all the necessary supplies shipped right to your home in time for date night. It's a stress-free experience that will remind the two of you why you fell in love in the first place.
Stay in for movie night
Movies are a classic date activity for a reason — they create intimacy. "Watching a movie is a great way to connect physically with your partner without feeling pressure, " Armstrong says. She suggests couples be extra intentional about sitting close together and setting aside time to discuss things afterward. "Share your insights and thoughts about what you're watching. Let the movie become a point of connection instead of just spending a couple of hours 'numbing out' side by side."
Keep things extra cozy with a custom couple's throw blanket, and bring the movie theater experience home with you with an authentic assortment of candy and popcorn.
Have a happy hour at home
Weather outside too frightful to go out? Be your own bartender instead! "Use this as an opportunity to get creative together and have fun," Armstong says. "Try mixing different cocktails together to see what combinations you can come up with, or take time to learn more about the wine you're tasting. Playing together like this builds such a beautiful bond!"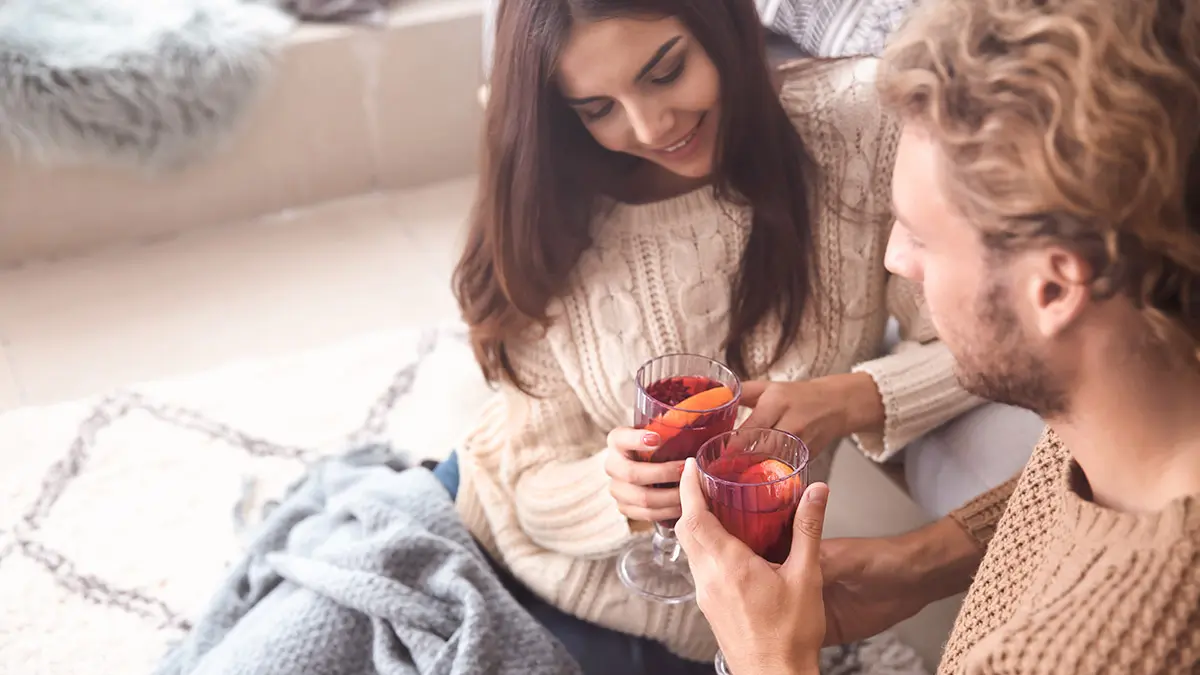 If you're feeling more adventurous, consider playing the long game and brewing your own beer or making your own sparkling wine for date night. Your homemade drink should be ready to be enjoyed within a few weeks.
Outdoor cold weather date ideas
If you don't mind the frosty conditions, or if you live somewhere where the winters don't get too harsh, venture outside for these date night ideas.
Have a photo day
Forget the professional photoshoot this winter and have a DIY photo date instead. Armstrong recommends going someplace familiar — a favorite place in your city, an outdoor area you both enjoy visiting, even your backyard — to take pictures of each other.
"Use your joint creativity to find fun ways to document each other in these different places," Armstrong says. "Really strive to capture the way you see the other person, how you find them beautiful and attractive."
But the fun is only just beginning, Armstrong says. Get the photos developed and write love notes or your favorite silly poems on the back of the prints. Then randomly, over the next month, surprise each other with the photos planted in fun places, such as in lunches, on desks, in journals, or taped to mirrors.
"These little ways of creative connection will help you both feel loved and seen, and tap into a playful side of you that is full of the romance most couples really deeply desire," Armstrong says.
Weeks later, you can put all the images in a photo book for a memorable keepsake.
Go sledding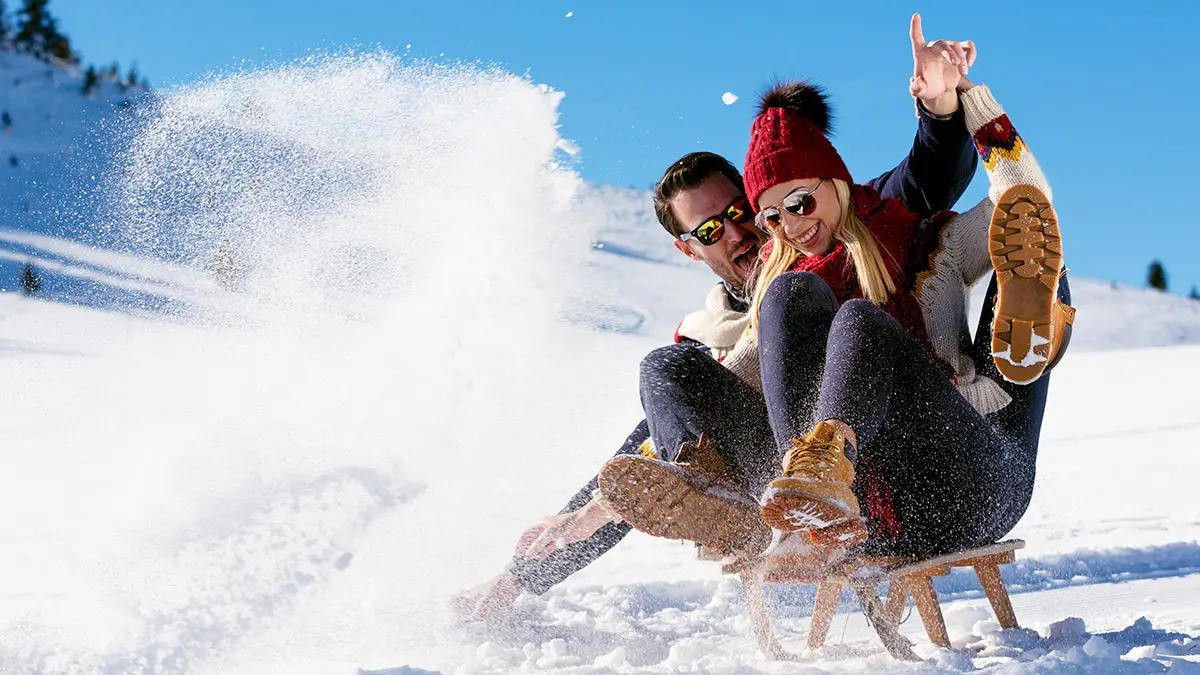 Weather permitting, here's a cold weather date idea that lets you embrace your inner child. Bundle up and get ready for an adrenaline rush as you race down the hill together, or get a sled that's big enough for both of you.
If you feel too old for hard plastic sleds, consider taking a more cushioned ride with an inflatable inner tube. They protect you against the worst of the bumps, and the elevation ensures you're less likely to end up covered in snow. Some ski mountains also have snow tubing hills; if you live near one, check to see if this is an option.
Of course, all good sledding days should end with hot chocolate, so plan ahead by stocking up on some cute hot cocoa bombs that add to the cozy factor.
Check out the holiday lights
During the earlier stages of winter, Armstrong suggests couples take a trip around their community to take in the holiday light displays and decorations. "Turn this into a fun drive or walk around different areas of your town," she explains. "See if you can find new creative ways to get there and take the long way around. Whatever you do, make a small adventure of it."
If you choose to drive, make a custom playlist for the trip, Armstrong recommends. "Share music that you've forgotten about, bringing back some older music or new music you've discovered and can experience together."
Explore a nature trail
It's easy to go into hibernation mode in the winter, so Armstrong recommends moving your date to a natural space.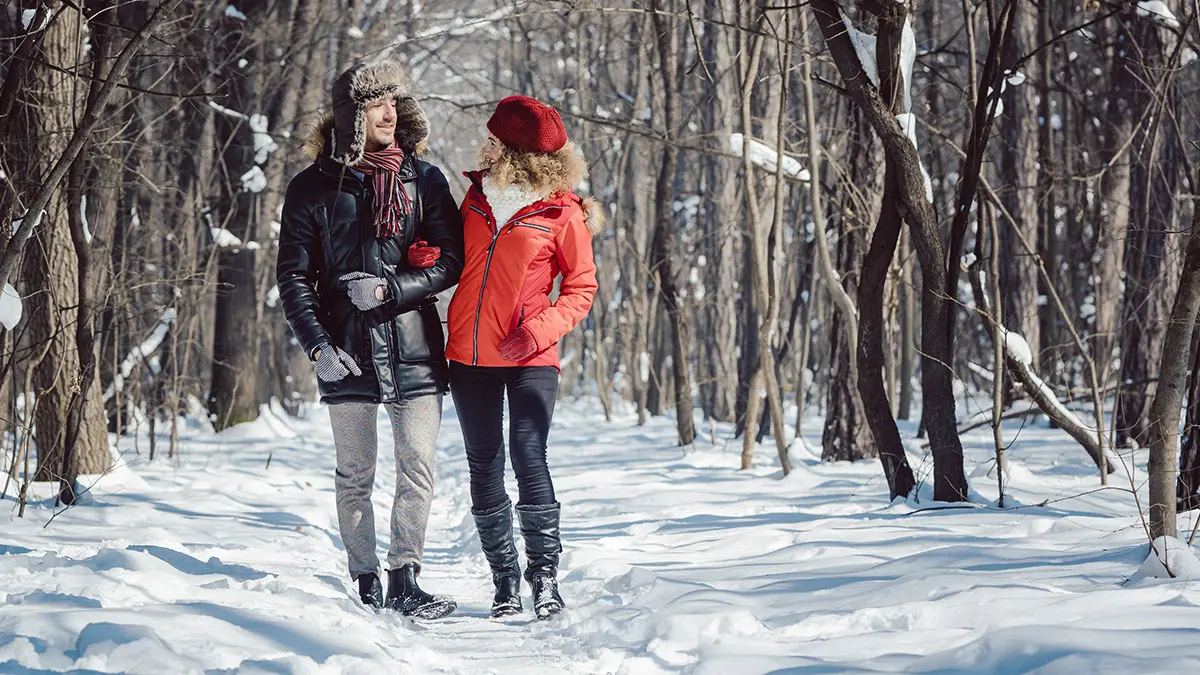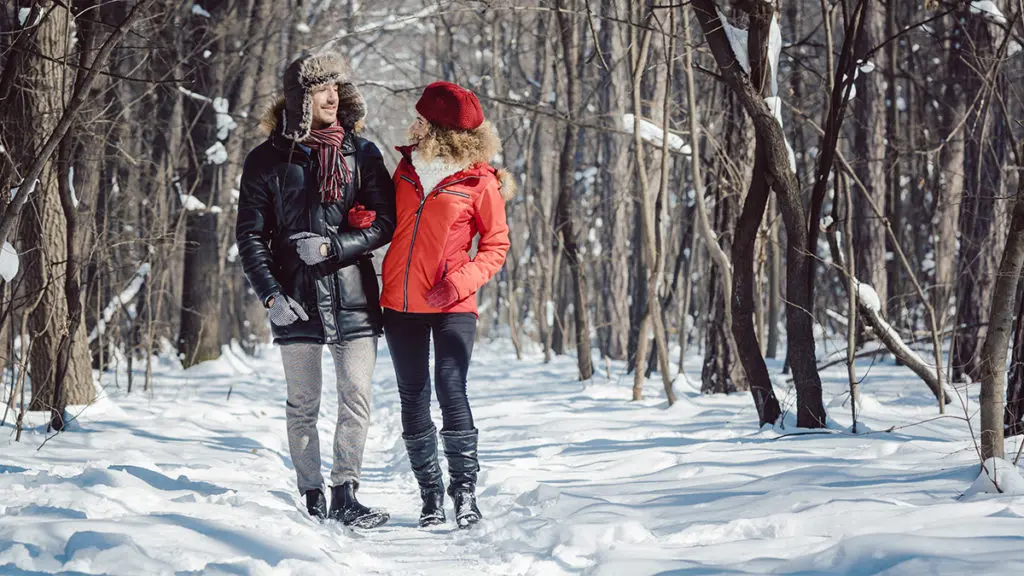 "Getting out in nature is always helpful for us as humans," she says. "So many studies have been done about the benefits of forest bathing, to help regulate us and keep us centered. It's such a great way to bond as a couple."
To get the most out of it, turn off your devices and spend time together being intentional about noticing the little things about your beautiful surroundings — and each other. You may find that a brisk walk in the woods reawakens you both to the initial attraction that made you start dating in the first place.