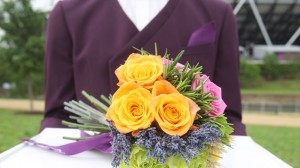 The pageantry of the Olympics is unlike any other. It is a spectacle that puts the host country on display. The host country is able to show off to the world its cities, its people, and even its agriculture. The agriculture will be exhibited when the victorious athletes are presented with a bouquet during the medal ceremonies. It is a stipulation of the International Olympic Committee (IOC) that the flowers used in these bouquets must be grown in the host country. For this years 2012 Olympic Games the winning bouquet was designed and arranged by the world famous floral company, Jane Packer.

The founder of the company that bares her name, Jane Packer, was an English landmark. Mrs. Packer unfortunately passed away in 2011 but by the time of her death she left a lasting mark on the floral industry. She was born and raised inEnglandand opened her first flower shop in downtownLondonin 1982. Mrs. Packer started really small and continuously worked her way up until she received the call of a lifetime in 1986 when she was asked to design the bridal flowers for the wedding of Sarah Ferguson and the Duke of York. In 1989 she opened her first floral school (in the basement of her parent's house) where she would teach aspiring florists the art of floral design. Today Jane Packer has stores inLondon, New York, Tokyo, and Seoul with floral design schools accompanying each store. Packer's legacy was her ability to turn her flower shop into a brand in the echelon of Gucci and Versace. There was a certain stigma to owning Jane Packer flowers which makes it fitting that one of her last floral designs before her death was the Victory Bouquet that will be presented to the 4,400 victorious athletes at the 2012 London Olympic Games.
The Victory Bouquet is very significant to the country of England. There are four section of the bouquet to mirror the 2012 Summer Olympics logo. Each quadrant is represented by a different style of rose which is a very iconic to England. In each section the arrangement will be filled with traditional English herbs: mint, rosemary, English lavender, and wheat. The roses chosen for the bouquet are Illios (yellow), Marie Claire (orange), Aqua (pink) and Wimbledon (green). The mix of flowers and herbs provides and eclectic fragrance to the bouquet. A representative of Jane Packer describes the arrangement as "representing the vibrancy of the Games."
The roses, mint, and rosemary in the arrangement will be grown at Landgard/Chessum Plants in Sussex. The wheat will be from Shropshire Petals in Shropshire while the lavender will be from Long Barn Garden in Alfreds ford, Hampshire.