As Featured on Facebook Live Today
Tulips are the go-to flowers of spring! At 1-800-Flowers, we absolutely love tulips. In fact, we love tulips SO much that even our logo has a purple tulip in it!
During our Facebook Live event today st 1 p.m./EST, we will be talking all about tulips! In case you don't know how to attend, just visit the 1-800-Flowers Facebook page to join the discussion! From different types of tulips like our Margarita and Monsella tulips, to tulip care, and fun tulip facts, our 1-800-Flowers experts Liz and Lisa will be sharing knowledge about everyone's favorite spring flower.
Just in case you can't tune in live, we wanted to write this blog post to make sure you don't miss any of the tulip details we'll be sharing today! Thank you in advance for "Petal Talking" with us!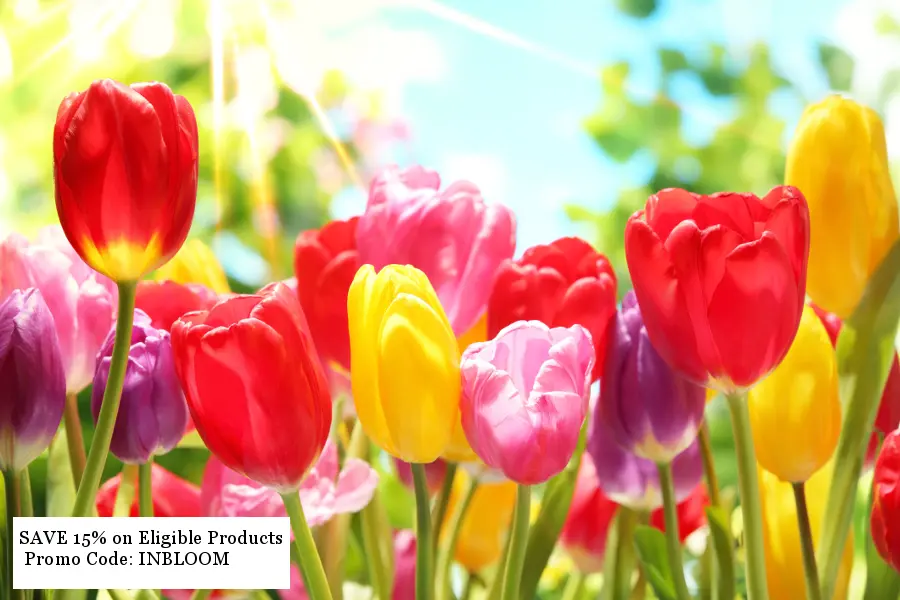 Fun Tulip Facts
There are over 3,000 species of cultivated tulips
Tulips come in a wide variety of colors and each has a special meaning
Even in a vase, tulips follow the sun
Tulips will continue to grow even after they are cut
During the 17th century, tulips were so valuable as they increased in popularity that they began a craze known as Tulip Mania. In six months tulips increase 20x their price.
"Tulip" is derived from the Persian word "delband" which stands for turban
If you're interested in learning even more about tulips, click here for our blog post called "All About Tulips"!
Details on Tulip Delivery
Our tulips are delivered one of two ways, either arranged by local florists in your area, or sent in a box fresh from our California farm. Our tulips arrive in bud form to ensure the highest level of quality and freshness, and so that you can enjoy your tulip bouquet for as long as possible!
Tulip Care Tips
Handle tulips gently (flowers are delicate!)
Fill your vase with cool tap water and add floral food
At least one inch of tulip stems should be trimmed off the bottom while still in their sleeves, and then immediately placed into a vase of water
Leave the tulips in the sleeve for at least four hours in order to prevent them from curling
Keep your tulip arrangement in a cool location that is not in direct sunlight
Remember to change the water in the vase and recut the stems every 2-3 days
Unique Tulip Types
Each month we feature a new seasonal flower as part of our exclusive "NOW BLOOMING" collection. This month we are featuring lovely yellow Monsella tulips along with the deep purple Margarita tulips! If you're interested in another colored tulip, shop our entire tulip collection to find the perfect arrangement. If you are unsure what tulips to choose, learn more about what each tulip color represents here!
Tulip Arrangements Featured in Today's Facebook Live
Tulip Thank You Gift
As a thank you, we're offering 15% off eligible products for a limited time with the promo code INBLOOM! Also for a limited time, some of our favorite tulips are on sale, check out our tulip sale page here.