Coming all the way from Europe, the alabaster garden rose sports a cream colored, ruffled bloom and fresh fragrance that has been described by many as "a pleasant dream." Needless to say, the decision to make it the newest addition to our Now Blooming collection was an easy one!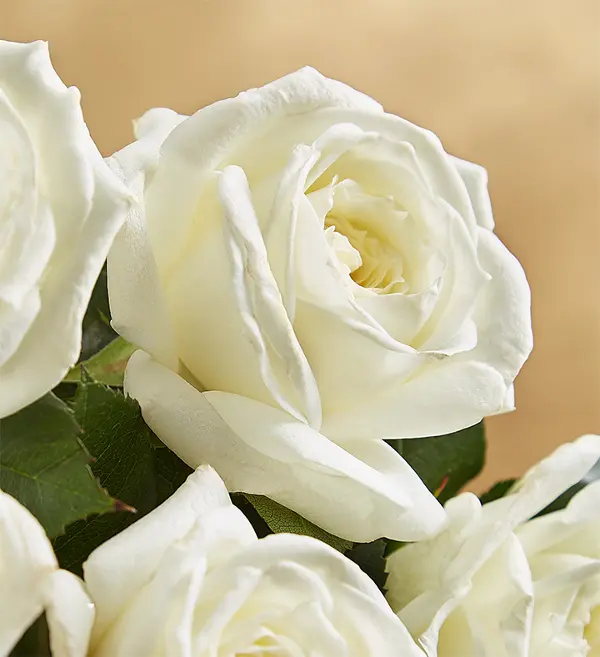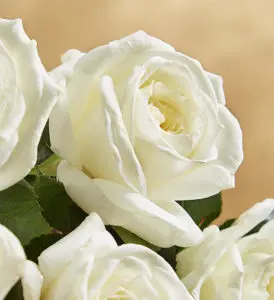 The Difference Between English Garden and Hybrid Tea Roses
You probably know that roses come in a variety of colors, but did you know that they also come in hundreds of species and far more cultivars? Your traditional Valentine's Day roses and the ones we see in movies are most often of the hybrid tea variety. Known for their signature pointed buds, hybrid tea roses open slowly and typically bloom several times throughout their growing season.
With many saying they resemble a cross between a carnation and a rose, English garden roses are a delightful twist on the classic roses we've grown to love. Typically, it has a small cluster of wavy petals at its center with larger, more rounded petals on its outer ring.
The Exquisite Scents of an Alabaster Garden Rose
Roses are known for their sweet scents, but alabaster garden roses may take the cake for one of the most fragrant rose variety. While it's common to arrange a garden or bouquet based on a flower's look, designing based on smell is becoming more and more popular. And with your windows likely closed for the season, what better time to introduce a straight-from-the-garden fragrance into your home?
Caring for Alabaster Garden Roses
Though alabaster garden roses don't have as long of a vase life as traditional hybrid tea roses, their unique shape, vibrant colors, and delectable scents more than make up for it. To get the most out of your roses, take these steps to extend the life of your cut flowers: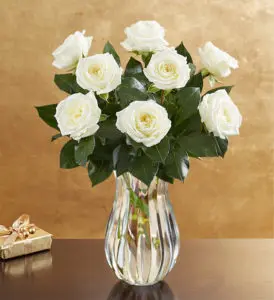 Alabaster roses need to be handled more carefully than hybrid tea roses. Too much movement can cause them to lose their petals. So like a fine pearl, handle them with care!
Using a clean knife or gardening scissor, cut the ends of each stem at a 45-degree angle.
Place them in a clean vase with fresh water the moment you receive them. For the best results, place them in water with a pH level of around 4.5 – 5.0.
Once your roses are hydrated, display them in a relatively cool room with plenty of natural light.
Embrace the Season of Giving
If you'll be the one giving alabaster flowers, you're in luck! Alabaster roses' pure white coloring and delicate petals make it the perfect gift for any number of events. With their petal reminiscent of snow, alabaster roses make the perfect gift for a winter birthday. And with its crystal counterpart widely known as a healing stone with the power to soothe anger and sadness, alabaster roses also make a thoughtful sympathy gift.