Do you believe in magic? We do – and that's why we're introducing the High & Magic Rose as our Now Blooming flower this month! With bright yellow petals and bold burnt red-orange trim, this bi-colored bloom puts an enchanting twist on the classic rose. Its rare and radiant color combination features a hue that can only be compared to fierce flames or a hot summer sunset. Known for its sophistication and brilliance, this multi-colored rose is sure to leave you spellbound!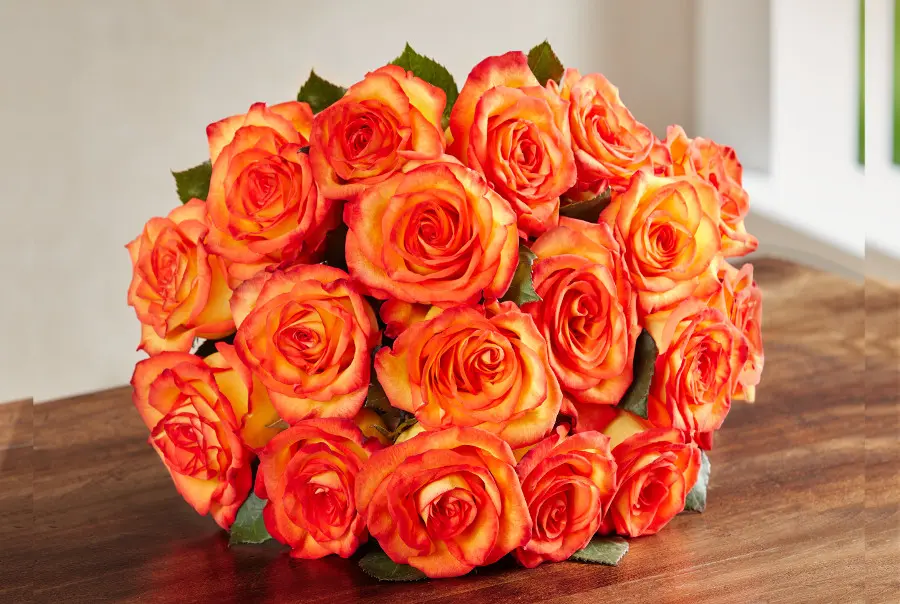 High & Magic Rose Fun Facts
South American Grown
As much as we'd like to think this flower is found in the depths of an enchanted forest, it is actually grown in South America! Even so, there is no question that this flower belongs in a storybook.
High & Magic Rose Meaning
Although the High & Magic Rose is in a class of its own, many consider it to be in the yellow rose family. Therefore, like its more conventional counterpart, it is said to represent friendship. Yet, it's hard to ignore its captivating colors and large, 'look-at-me' bloom. So, this flower is known to symbolize enthusiasm, too! Whether you're honoring a best friend or expressing your excitement for a milestone or special occasion, let this rose bring the magic!
High and Mighty!
The bright yellow, orange and red petals are not the only thing that attracts attention. This flower boasts a large bloom and a stem that reaches tall heights, ranging from 50 to 80 centimeters! Because of these impressive attributes, many farmers are choosing to grow High and Magic roses over the older Circus variety, which only grow 40 to 50 centimeters tall.
Showstopping Shoots
There's no doubt that these bi-colored buds are exquisite; we can't keep our eyes off of them – and we know you won't be able to either! Since they are so eye-catching, let them take center stage as a centerpiece for your next special event. Can't wait until then? Decorate your room with an arrangement that features these flowers as the focal point.
High & Magic Rose Care Tips
Lucky for us, High & Magic Roses have a long vase life! Keep them blooming in a cool environment for the best results. However, if you need the flowers to open faster, place them temporarily in a warmer environment. But, be careful! Temperatures should not be higher than 80 degrees Fahrenheit. Follow these hints and those included below to prolong their life:
Remove wilted outer petals or foliage that fall below the waterline
Re-cut flower stems at an angle under running water – this open up the flower's pores & help them absorb water faster!
Keep flowers away from direct sunlight, heat and drafts
Even though classic roses will always hold a special place in the hearts of flower-lovers, the next time you're in search of a rose floral arrangement or bouquet, spice it up with High & Magic Roses! Order these fiery flowers for that special someone, or yourself, before – poof! – they're gone!