From winning gift ideas to card message suggestions, "Birthdays Reimagined" provides tips to help you make your loved one's birthday wishes come true. Plan a unicorn birthday party with these simple steps that will guarantee your party is gorgeously epic and showcases the magic of unicorns.
A unicorn birthday is one of the most popular kids' party themes out there, and for good reason: It combines the fanciness of fairy tale magic with the adorableness of magical ponies. Unicorns are notoriously extra, and that makes planning a unicorn birthday even more fun. It's the perfect opportunity to go wild with colors, opulent accents, and all that glitters. We say, bring on the fun and fabulousness.
Jasmine Shah, owner of Atlanta'sIDEA! event + style, says the unicorn party became popular around 2014 and remains one of her most frequently requested parties. "For many years, princesses had reigned supreme for little kids' parties," Shah explains. "The party world was ready for something new. The unicorn is a perfectly majestic and magical creature that piques the imaginations of kids and adults alike."
Although a unicorn party can be tailored to any age, Shah says that it's especially popular for preschool kids, between 2 to 5 years old. And, she contends, it's easier than you think to summon the beauty, grandeur, and wonder of this mythical one-horned horse for a child's birthday party.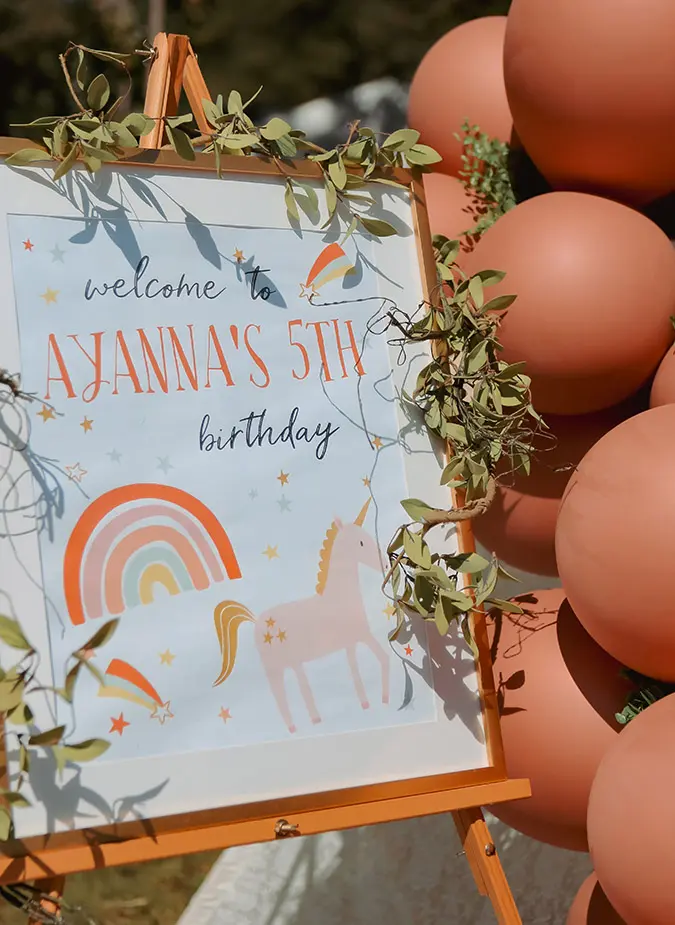 Unicorn party basics
Some parts of a unicorn party are essential to channeling the epic glamour of the unicorn aesthetic. A rainbow of colors, some sparkle, and, of course, the all-important unicorn cake are the foundations. But unicorns embody wild imagination, so there's plenty of room for fun interpretations personalized for the guest of honor.
"Usually the unicorn parties I plan include pastel rainbow colors, sparkly tutus, iridescent horns to play dress up with, a real life pony making a grand entrance dressed up like a unicorn, and sometimes a 'unicorn princess' making an appearance as well," Shah details.
Shah recommends figuring out the entertainment portion of the party before getting too caught up in fantasy bling. "While kids appreciate the special decor elements, what they really remember is the fun factor!" she exclaims. Shah suggests leaning into your child's interests as a way to customize the experience. While she often hires "unicorn princesses" to play games and read stories, any adult, with just a costume and a wig, could easily fill this role.
Unicorn party decor: rainbows and royalty
Shah suggests renting an all-white bounce house and decking it out with a rainbow of pastel balloon garlands. She says elements that do double-duty, providing both fun and style, are the way to go. Think unicorn pool floaties, pretty lawn games, and glammed-up party rentals, such as a cotton candy cart. Give each child their own unicorn-themed place setting with place cards and a snack box. "Kids love seeing their name printed," Shah says.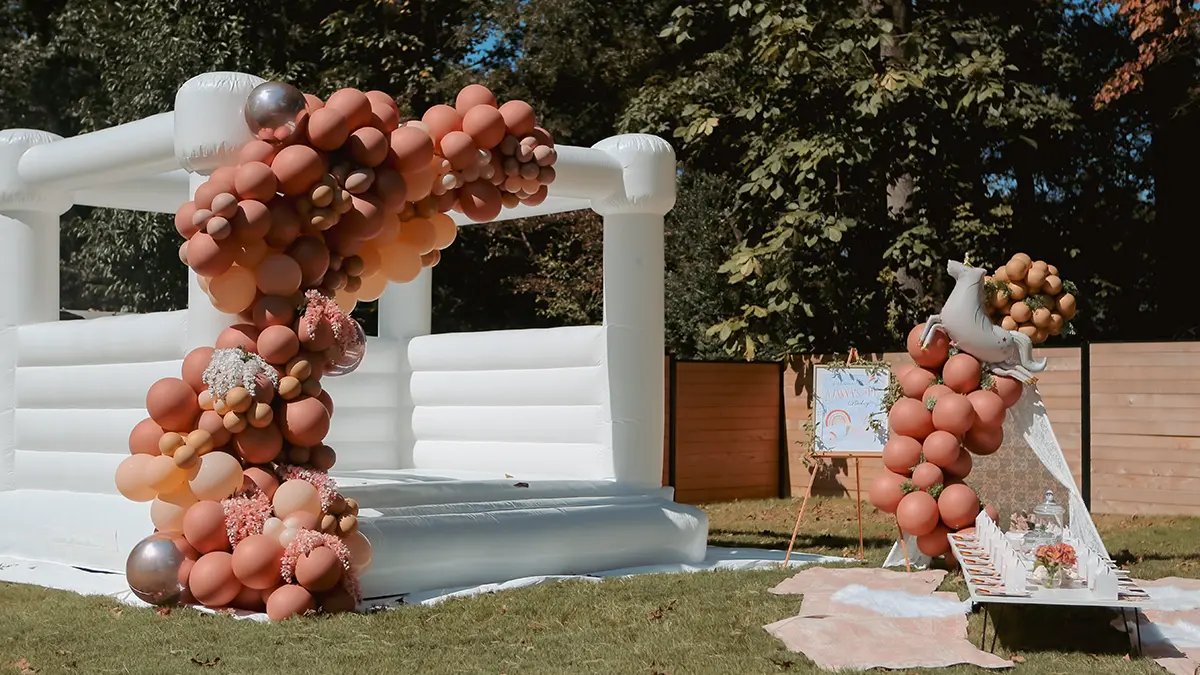 If you don't want to spend too much time on decor, you can take care of your tablescape in one click with the Unicorn Party Bundle.
Unicorn party fun and games
Shah hosted one unicorn party in the courtyard of a ritzy Atlanta hotel where she brought in a real "unicorn" pony for rides. If you don't have the means (or space) for real ponies in your yard, swap in unicorn plushies that party guests can cuddle, such as Sparkles the Llamacorn. Other ideas for keeping party guests happy and entertained include unicorn piñatas, unicorn ring toss, and unicorn slime making.
Don't forget a photo station for your little unicorn wranglers. "Create a custom-printed unicorn backdrop with the birthday child's name and age," Shah says. "Add a bunch of fun unicorn-themed photo props so the kids can get silly, goofy photo memories!"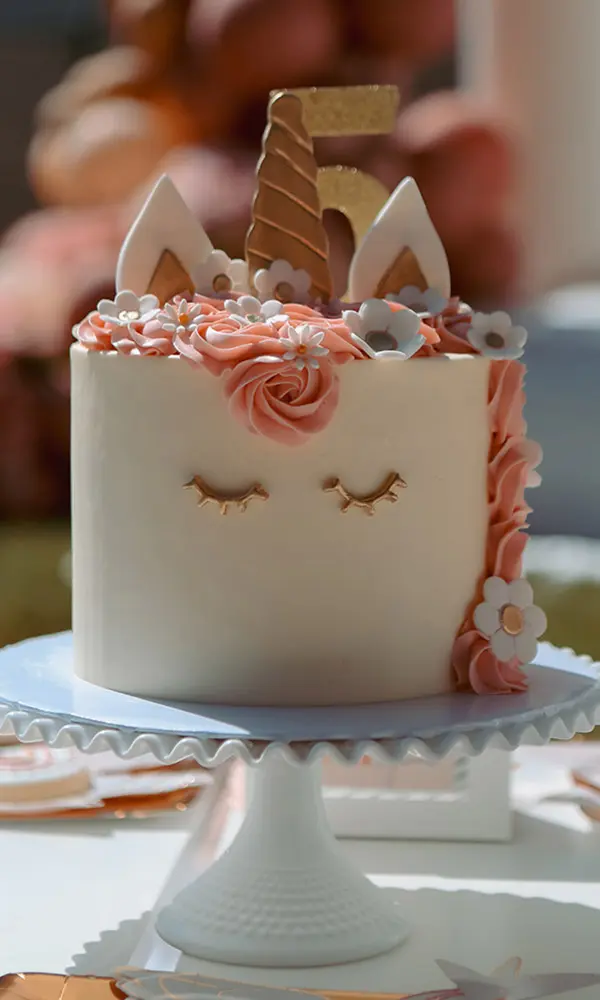 Unicorn cake
The centerpiece to any proper unicorn party is the iconic unicorn cake. "The unicorn cake is one of the most special elements for the birthday child — it's a must," Shah says.
To create this demure classic, use a tall round cake with flawless white icing for the unicorn head. Add multicolored icing for the mane and dreamy unicorn eyes with big, bold eyelashes. Last but not least, top the cake with a majestic silver or gold horn.
Whether you DIY or work with a baker to create a custom cake, Shah suggests additions like rainbow cake layers or a sparkly glitter sheen. Be sure to stage it on a proper pedestal to enhance the grandeur.
Unicorns need to eat, too
Finger foods and easy-to-eat snacks are the way to go at a unicorn birthday party. Here are three ideas that fall in line with the overall theme.
Unicorn 'poop' dip
We all know unicorns poop rainbows, right? Get some giggles by whipping up this silly side dish using your favorite white veggie dip, such as ranch, hummus, and sour cream and onion dip. Separate your dip into four separate bowls and add a different pastel color gel food coloring to each bowl. (Food coloring goes a long way, so you don't need to use much.) Fill a larger bowl with your dip and alternate spoonfuls of each color until you get a good unicorn rainbow swirl.
Rainbow grilled cheese
Make rainbow melty cheese using shredded cheeses (mozzarella, cheddar, and Gruyère make for good stringy cheesiness) divided into different bowls. Mix each bowl with pastel food coloring. Place the cheese on the bread (the thicker the better) in different-colored strips, and grill the sandwich until you get a nice melt and the bread is golden brown on each side.
Unicorn pizza
Use the same method for making grilled cheese to make rainbow pizzas. Just be sure to keep your colors of shredded cheese nicely divided so it makes a visible rainbow effect when melted.
Sweet treats for playful ponies
Here's where you can really get creative with the unicorn theme. Balance out rainbow-colored treats with crisp white desserts to really let the colors pop. Pre-made treats, such as the ones found in the Have a Magical Day Party in a Box, make the dessert menu a breeze. For a great table centerpiece, try a Unicorn Gift Basket. It contains an assortment of goodies your unicorn-obsessed little one will love and provides a place for you to put utensils and napkins.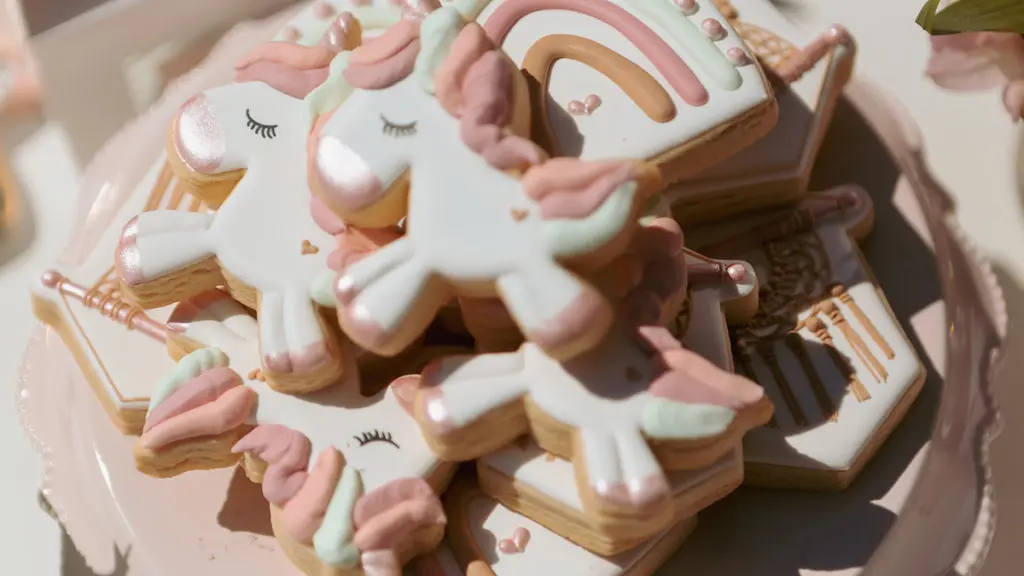 Add some variety with Magical Unicorn Dipped OREO® Cookies and Magical Unicorn Truffle Cake Pops, and finish off your dessert menu with rainbow sherbet. Let guests create their own tasty unicorn horns using ice cream cones that they can cover with icing and other toppings, such as sprinkles or magic shell.
Offer a fruity alternative with the Mystical Unicorn Arrangement, which includes unicorn-shaped pineapple slices. And what fancy party is complete without chocolate covered strawberries? Make it epic with Unicorn Sparkle Strawberries. These feature gorgeous pastel colors that twinkle with pearlized sugar crystals for a perfectly pretty look.