The series "Unboxing the Holidays" is all about bringing you top-notch advice and creative ideas to make the most of the season's special moments. In this story, learn how to flock a Christmas tree and why it's on-trend this season.
If ornaments and twinkling lights aren't enough to give your Christmas tree that wow factor, it may be time to try something new, like flocking. It's a treatment that adds a snow-kissed look to the greenery that evokes a tree in its natural wintry setting.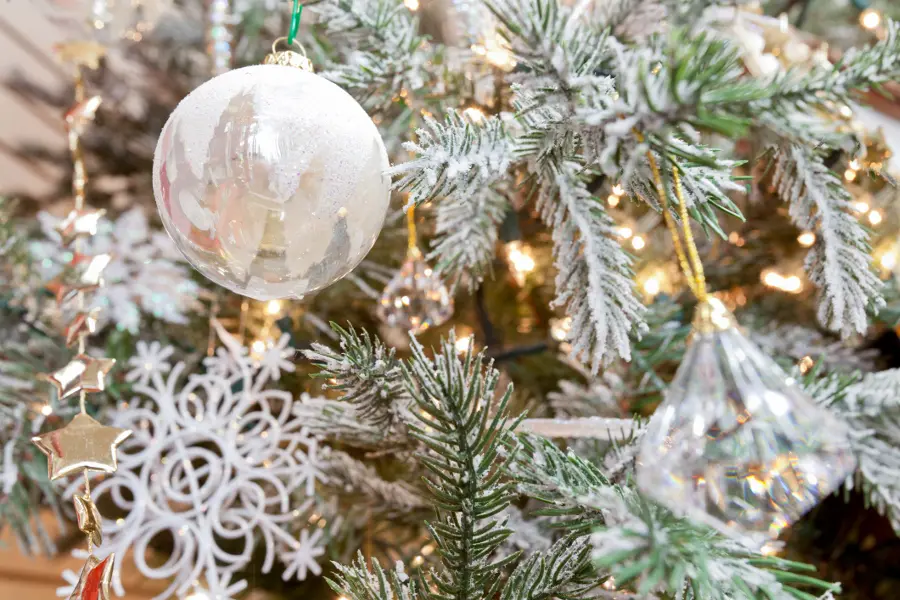 "I'm not surprised to see flocked Christmas trees are making a comeback," says 1-800-Flowers.com floral and crafting expert Julie Mulligan. "It has such a nostalgic feel and sets the stage for the perfect hygge Christmas. Hygge (pronounced hoo-guh) is the Danish term for cozy, warm, and comforting. Even if you didn't go out into the woods and chop down your own tree and bring it into the house with the freshly fallen snow still on it, a flocked tree makes it feel like you did."
Throw on some holiday music, set some gingerbread out, and get your crafting clothes on because it's time to transform your home into a true winter wonderland.
How does flocking work?
If you want to get technical, flocking is the process of creating texture by attaching tiny fibers to a material. But when talking about Christmas trees, flocking means to give it that natural, snow-covered look by applying a white, powdery mixture to the branches. We love flocking a Christmas tree because it gives it more dimension and achieves that alpine feel.
The origins of flocked Christmas trees
The idea to flock Christmas trees has been around for quite a while — since the 1800s, in fact. Back then, crafters tried to get the snowy effect by using cotton and flour mixed with glue or cornstarch. But flocking as we know it today became popular around the 1950s and 1960s (though we can't imagine metallic trees of the time looked all that natural, even after being flocked). It was around then that flocking powder became mass-produced and marketed, meaning people could now quickly and easily flock their trees at home.
How to make your own flocking spray
With flocked trees becoming more popular, most stores now carry pre-flocked trees for sale. But for all of you DIY enthusiasts, you can really get into the Christmas spirit by flocking your tree with either pre-made flocking powder or creating your own from scratch.
Around the holidays, the flocking powder can be found at nearly any craft or convenience store. Most kits just require you to add water to the powder and mix it for a few minutes before you're ready to go.
But for the most extreme DIYers, you can make the flocking powder yourself with a few household items. The only catch here is that this solution won't last for next year, meaning it should only be done on a live tree that you're planning on getting rid of after the holidays. All you'll need to cover a traditional 5-foot tree is the following:
2 cups white soap shavings
2/3 cup liquid cornstarch or white glue
4 tablespoons of warm water
Once all of your ingredients are mixed, flock your tree outside, just as you would with traditional flocking powder.
Keep in mind. . .
For the best, most natural results, make sure to always flock your tree before decorating it with any lights, ornaments, or tinsel.
Leave roughly two days for this project, since flock can take anywhere from 20 to 48 hours to dry.
Never brush the underside of a branch with flocking powder.
Only flock the tips of branches.
Allow some of the mixture to fall onto branches below.
Dollop (don't spread) the mixture onto needles.
If you used flocking powder to flock an artificial tree, all you have to do after the holiday is cover it with a cotton cloth and store the tree standing up. Live trees with our DIY flocking powder can typically be left on the curb (or better yet, recycled) with any flock still on it.
Pro tip: Add glitter to your mixture for a festive glimmer.
Once the Christmas tree is flocked, add lights and decorate to your taste. Or keep it natural! It's easy to enjoy the look of a tree with freshly fallen snow in the warmth of your own home. Says Mulligan, "Just light the fire, make a cup of hot cocoa, put on your warm wooly socks, and curl up with a good book. Have a Merry Hygge Christmas!"