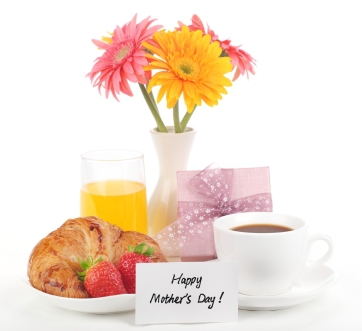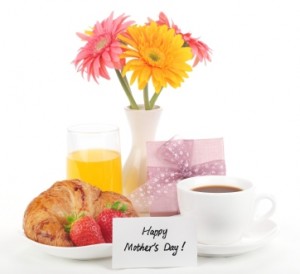 Breakfast in bed is a fun, thoughtful way to make mom feel special, whether it's on Mother's Day, her birthday or Valentine's Day. Getting the kids involved makes it an special family day and will make mom feel even more appreciated that the whole family helped! Making mom breakfast in bed does not have to be an overly elaborate affair, but there are plenty of little touches that can go a long way with our Mother's Day breakfast in bed ideas below!

Plan the Main Dish with Mom's Favorite Foods
For the main dish, you should decide if you want to go the savory or sweet route.
A savory main dish could be enticing scrambled eggs with extra ingredients such as cheese, smoked fish, bacon, green onions, mushrooms or anything that could go into an omelet. Have the kids beat the eggs while you chop up the extra ingredients.
If mom prefers something sweet, pancakes or French toast are always a delicious choice. Kick it up a notch by using a gourmet pancake mix or by adding berries, nuts or chocolate chips to the batter. If you decide to make French toast, you may want to consider using gourmet bread such as an artisan French loaf with add spices like cinnamon and flavored extract such as vanilla or orange to the egg wash. Letting the kids beat the eggs while you slice the bread and prepare the spices makes cooking for mom extra special.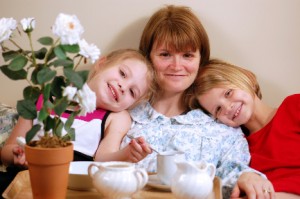 Kids Help with the Side Dishes
The side dish is next and you will again have the savory or sweet choice. If you made the scrambled eggs in the previous section, you may want to choose a bread product for the side. Muffins or scones are an excellent choice for this. You can either buy pre-made muffins or bake them yourself with a gourmet mix or make the batter from scratch. The convenient thing about muffins is that you can make them the night before. Have the kids line the muffin tins while you mix the batter or preheat the oven. If you chose a sweet option for the main dish, you may want to mix it up with a savory food such as bacon or a sausage patty. Fresh fruit such as melons, grapefruits, strawberries or oranges and served in a nice bowl make a delicious and nutrious breakfast side dish as well. If the fruit is a bit tart, add a little sugar or a spoonful of clotted cream.
Special Breakfast Drinks for Mom
Another fun idea to spice up breakfast for mom is by adding a little something special to the average coffee, tea and juice breakfast drinks!
* For coffee loving moms, consider buying gourmet or flavored coffee. Brewing French press coffee instead of the usual drip can also be a special treat. Using flavored milks to add to her cup of coffee can add a gourmet unique touch such as almond milk or coconut milk.
* For tea loving moms, you can get gourmet teas or buy loose leaf tea from a tea shop.
* For juice loving moms, nothing is better than fresh squeezed orange juice, but remember it can take up to ten oranges to get a tall glass – now that is love!
A Breakfast Presentation Fit for a Queen
Finally, the decoration and presentation are key to make mom feel like a Queen. The first thing you will need is a breakfast tray. Not only will this keep crumbs from getting on the bed, but it is the most convenient way to transport the dishes. Put a placemat on it and use the china or nicest dishes you have. Use linen napkins and if you have room for something extra, try Mother's Day flowers in a small vase or a little bowl of chocolates to the side. Have the kids make mom cards or drawings and include those on the tray as well. Placing a picture of the kids and mom on the tray can also be a nice addition!
The very last tip is to remember to clean up the mess! You can definitely get the kids involved in that one as well.
With a special Mother's Day breakfast in bed, this will be one she is sure to remember!