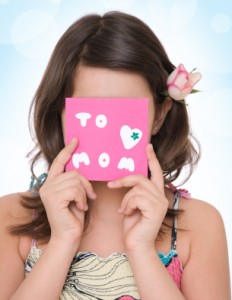 With mom it's the thought that counts which is why Mother's Day cards are just as important, if not more important, than the gift. Although cards for Mother's Day often have their own message inside, it's always a good idea to personalize it with your own words. If you're having trouble thinking of the perfect note to mom, here are some sample Mother's Day card message ideas to help you write the perfect note. Make sure to add your own memories to personalize the cards and potentially make mom tear with joy!
Remember, Mother's Day is all about celebrating mom so when you're choosing your words, think of ones she would enjoy reading over and over again.
Enjoy these adorable printable Mother's day cards from our friends at Goodsey!

What to write in a Mother's Day Card
Message from Son to Mom:
Dear Mom,
Happy Mother's Day! I may not say it often enough, but thank you for always being there for me. [Insert a sentimental or funny memory about you and mom like never missing a little league game]. Since I was a boy until now you have always picked me up if I've been down and given me advice, even if I didn't take it all of the time! Your love and unconditional support means the world to me. Thanks for being you!
Love Always,
[Insert Nickname and/or Name]
Message from Daughter to Mom:
Dear Mom,
Happy Mother's Day! I am so grateful that I had you to help me grow into the woman I am today. Obviously, I learned from the best! 🙂 Because of you, I [Insert a trait or skill you learned from mom]. Thank you for being you. I love you!
Love Always,
[Insert Nickname and/or Name]
Message from Child to Mom:
Dear Mommy,
Happy Mother's Day! Although I may not always [insert something that annoys mom like "clean my room"], my cuteness and unconditional love make up for it, right? 🙂 At least I always [insert something that mom loves, like "get good grades"]! I'm so lucky to have you as my mom. Thank you for being the best mom in the whole wide world.
Love,
[Insert Nickname and/or Name]
Message from Far Away Son or Daughter to Mom:
Dear Mom,
Happy Mother's Day! Even though we can't celebrate in person, you always make me feel like I am close to home. [Insert item or action that reminds you of home]. Through thick and thin you're always there for me. I love you and miss you and can't wait to see you soon [if available, insert time period or holiday]!
Love Always,
[Insert Nickname and/or Name]
Message from All of Us (More Than One Child) to Mom:
Dear Mom,
Happy Mother's Day! Although we may not tell you often enough, we are SO lucky to have a mom as caring and loving as you! [Insert personal line about growing up with mom like home cooked meals or Sunday breakfasts] Thanks for being you!
Love Always,
[Insert Nickname and/or Names]
Message from the Family Pet(s) to Mom:
Dear Mom,
Happy Mother's Day! [Insert sound animal makes i.e. for dogs "Woof," for cats "Meow!"] Although I can't speak English, I do write beautifully and wanted to wish the best mom in the world a very wonderful day from her furriest child!  A [insert animal i.e. dog, cat] like me is SO lucky to have a mother like you.  [Insert personal line about mom's favorite thing to do with the pet.] Thanks for being you!
Love Always,
[Insert Nickname and/or Name]
* For extra cuteness, add a paw print as a signature
Mother's Day isn't just for the kids to tell Mom how much they love her; it's also for husbands/fathers.
Message from Husband to Wife:
Dear [Insert Name/Nickname/Pet Name],
Every day that I see you I am reminded that you are just as beautiful as the day we met! You are an amazing mother to our children, and your [insert physical trait like smile] always brightens my day. Raising kids is not always easy but raising them with you shows how much of an amazing team we make. What did I do to be lucky enough to have a woman like you?
Love Always & Forever,
[Insert Nickname and/or Name]