What's the key to having a successful business? Was "the customer" the first thing that came to your mind? While there's no denying a loyal fan base of customers is important, the success of a business lies first and foremost in its employees. Are they happy there? Are they driven? Do they want to see the company grow?
It's this change in thinking over the past few years that has led business owners to consider their employees' well-being and happiness just as much, if not more, as a customer's.
If you're looking to reward your employees and thank them for another year of incredible work on National Employee Appreciation Day, we've got a few suggestions.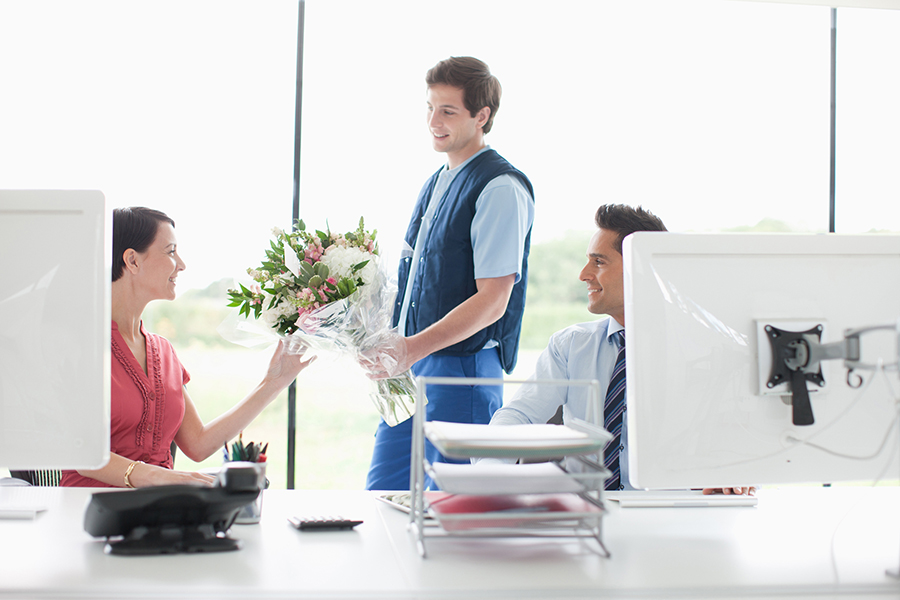 Hand out flowers.
Not only is this a sweet gesture, but having flowers and other greenery around the office has been shown to improve worker's moods and increase productivity.
Order lunch in.
Send out a survey letting employees vote on their favorite lunch spot. Then, order lunch for everyone from the winning choice. Get everyone really excited by extending their lunch break, as well.
Trading places.
How much do you trust your employees? If the answer is, "a lot!" than you may just want to make one of them CEO for the day. Trading places with another member of your staff is a great way for people to see that you're a team player and not afraid to do the work of others. And hopefully, the person you trade place with will realize that being "the boss" is a lot harder than it looks.
Give the gift of relaxation.
After a long day of work, your employees deserve a relaxing night in. Surprise them by raffling off spa gift baskets at the end of the day. You can even create a system in which the more work an employee gets done, the more tickets they get to put into the raffle.
Simply say, "thank you."
Whether in a company-wide email or personalized letter to each employee, most people just want to know that their work is appreciated.
Embrace casual day.
Is your office usually flooded with business suits and pencil skirts? Let employees skip their professional clothes for the day and come in wearing jeans and a t-shirt. You may be surprised by how much more work employees accomplish when they're comfortable.
Celebrate their birthday.
Birthdays are a special day, so treat them as such! Before the birthday boy or girl gets to his/her desk, decorate it with streamers, flowers, balloons, and anything else that's festive. Don't forget the cake and to sing happy birthday at lunch!
Raffle off parking spots.
You may have to get approval from the building's owner for this one, but it's definitely doable. To keep things fair, consider hosting a new raffle each year on Employee Appreciation Day.
Surprise everyone with an early release.
Remember how excited you got in elementary school when you learned that your mom was there to take you out of school early? When the clock strikes 4 (or even earlier, depending on how generous you want to be) surprise everyone with an email saying they're welcome to leave early.
Bring in baked goods.
When in doubt, you can never go wrong with giving employees cookies, brownies, and cake.
Redecorate the office (or at least the break room).
Change up your employees' surroundings by encouraging people to update their screen saver to something funny or beautiful, add greenery throughout the office, and to take breaks outside every once in a while.