Take your spring garden party from wow to WOAH with this stunning jello flower centerpiece idea! Using just a few basic supplies, we've created a show-stopping decoration that is sure to get guests talking.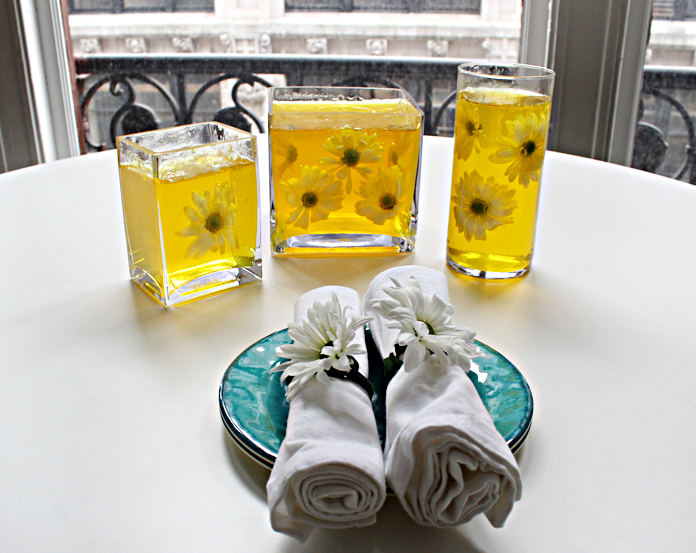 Use jell-o in colors that will fit your theme for a perfectly polished look. Use vases and containers in varying sizes to add dimension. Be sure to use glass containers as plastic may crack when pouring the hot water in.
Supplies for DIY Jello Flower Centerpiece: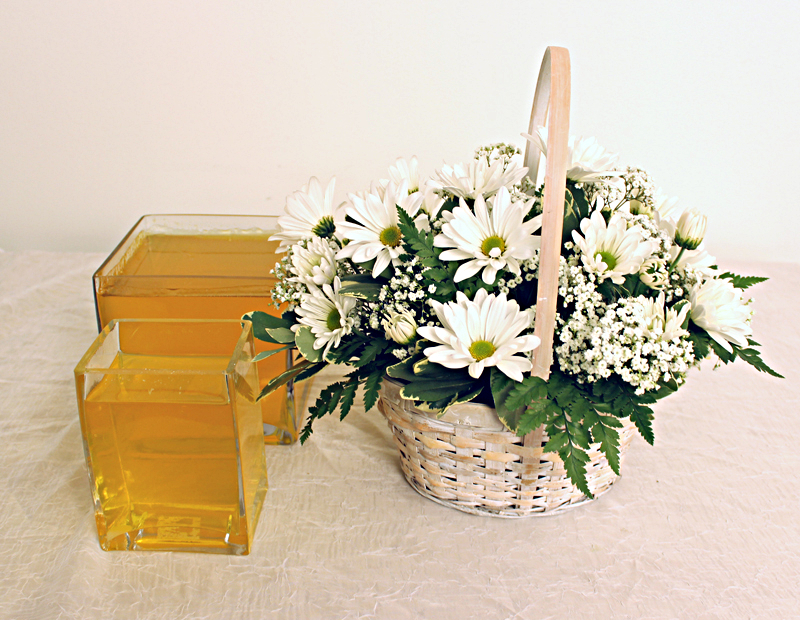 Jell-o mix
Water
Flowers (we used daisies)
Long thin stick
Clear, glass vases and containers
Directions for DIY Jello Flowers Centerpiece:
Follow the directions on the jell-o box, cutting the water contents in half. Place in fridge, and let slightly harden. Remove when the jell-o is not completely liquid, but not completely hardened. Depending on the size of the container, this can take anywhere from 15-45 minutes. You may want to consider setting alarms in increments of 10 minutes as to not miss the perfect consistency. Waiting too long for the jell-o to harden will make it difficult to position the flowers.

While the jell-o is hardening, prepare your flowers by removing the stems and leaves. Once prepared, set aside.

Once the appropriate consistency has been reached, it's time to position your flowers! The flower pick that came with the bouquet of daisies worked perfectly for this project, but you can really use any long stick. The simplest method for getting your flowers to "stick" is to position them against the glass and hold down for a few seconds.

When you are satisfied with how the design, place your flower jello centerpieces back in the refrigerator. Once the jello has fully hardened, your centerpieces are party-ready!