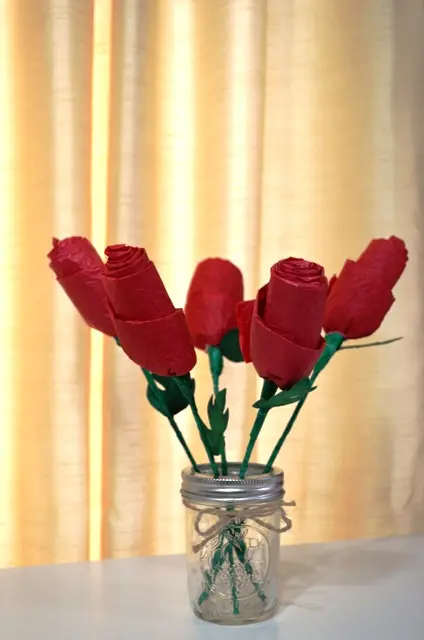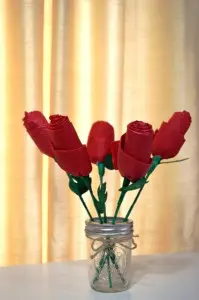 Remember when we decked the halls with tissue paper flowers? Well, now it's time to put a fancy twist on an old favorite. The most romantic day of they year is almost here, so let's get your house ready for Cupid's arrival by showing you how to make tissue paper roses! They bring a beautiful handcrafted touch to your Valentine's Day décor, and they even make a charming gift for that someone special. Here's how to make them.
Materials for DIY tissue paper roses
Red tissue paper (one sheet makes two roses)
Wooden skewers (one per rose)
Clear adhesive tape
Green adhesive tape
Scissors
Twine or ribbon
How to make tissue paper roses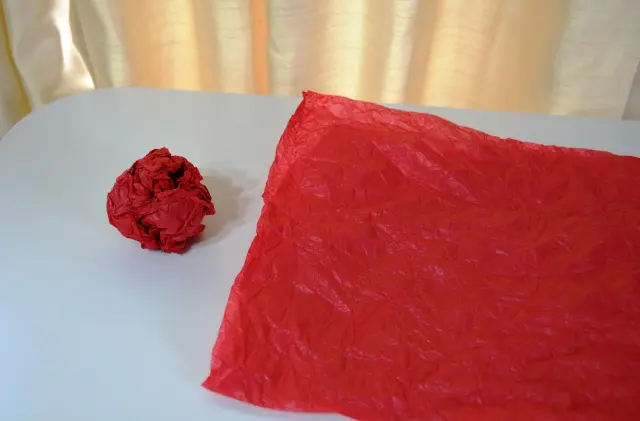 Take one sheet of red tissue paper and crumple it into a ball. Carefully open the sheet again and flatten it out, making sure not to rip it.

Lay the tissue paper vertically and cut it in half, from bottom to top.

Fold each cut piece in half vertically twice to create a longer, skinnier rectangle.

Turn the rectangle so that it's lying horizontally with the folded side at the top. Pinch one of the bottom corners and gently roll the tissue paper inward toward the opposite corner.

Make sure that the center is the highest point of the flower, and that the tissue paper moves lower and lower from the center as you continue to roll it.

When you're done rolling your flower, place it on one end of a wooden skewer and secure it with adhesive tape.

Using your scissors and green construction paper, cut out a few leaf shapes with stems. To make the leaves look more natural, color them with a dark green permanent marker.

Starting at the top of the skewer, tightly wrap a thin strip of green tape around the wooden stick and work your way down until you reach the bottom of the stick. As you move along, place a few leaves onto the skewer and wrap them with the tape as well.

Repeat steps 1-8 for each flower you'd like to make.

Place your finished flowers into a mason jar. To add a homey touch, tie a piece of twine or festive ribbon around the mouth of the jar.
Of course, if crafting is not your thing, you can always surprise your special someone with Valentine's Day roses. Sure, sending flowers might take as much effort as making them, but they still make for a great addition to anyone's Valentine's Day decor.