How To Face Paint Flowers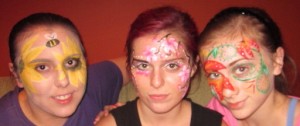 Birthdays, carnivals, bat mitzvahs, flower shows and block parties are perfect events to offer flower face painting. Painted flowers look beautiful on every skin tone and will help brighten a customer's day.
Before face painting flower designs, you should consider several factors to get the best result. Choose face paint that is hypoallergenic and suitable to use on facial skin. You can purchase face paint at most craft stores, but be aware that cheap paint is likely to crack. Read the packaging carefully, and purchase the appropriate brushes and face paint remover. Keep a supply of soft cloth or makeup pads for removing face paint.


Bring a chair to the event that will allow you to be comfortable when you are face painting flower designs. If the event is outside, you may want to set up your area in the shade. A shady area will make it comfortable for patrons while you are painting their faces.

Many flowers have a round center with petals stemming out from it that will be easy to paint. For example, daises and sunflowers contain a circular center surrounded by petals that are thin brush lines. Hibiscus flowers have a circular center and short, rounded petals. Tulips and roses are basic ovals with added outer leaves. You should also pay attention to the thickness of the stems and shape of the leaves when you draw them.

Find pictures of these flowers to print out. Display them on a poster. Be sure to offer flowers that are different sizes such as sunflowers and cherry blossoms. Some people may want a giant flower that covers their entire face, but others will prefer a smaller one on their cheek or forehead. Most customers will select a design that you display, and you can offer to customize the flowers in a color of their choice.
Flower face painting on a person's face is inexpensive and fun. Furthermore, a quick peek in a mirror will make a customer smile in delight when she looks at her face flower art.