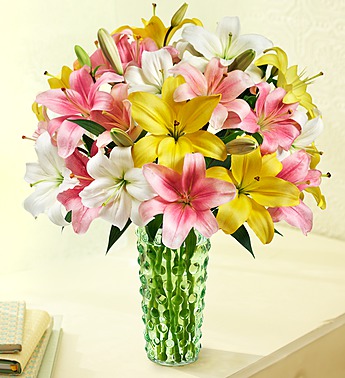 Beautiful in form, lilies are one of the most popular and versatile flowers in the world. Coming in a variety of colors and known for their strong fragrance, this elegant bloom is a show-stopper on its own while also serving as the perfect compliment to any bouquet. In fact, lilies are one of the most popular flowers in the world, and it's not hard to see why!
History of Lilies
Lilies have been a prominent symbol throughout history–from art to religion. One of the first records of this flower can be dated all the way back to the Minoan Period (around 1580 B.C.), where it appears in a painting found in Crete, Greece. Even the Ancient Greeks held this flower dear as they believed lilies sprouted from the milk of Hera, the Queen of the Gods. Roman mythology claimed that Venus, the Goddess of Beauty, envied the flower's beauty which caused it to grow the pistil in the center. Ancient Egyptians saw the power of this flower as well, as they included lilies in the funeral ceremonies for mummies.
As time went on, lilies continued to grow in popularity for religious occasions. In artwork The Virgin Mary is often found holding white bundles of lilies, representing her purity. One of the most popular lilies is the Easter lily plant which has become one of the most popular symbols for Easter. Learn more about the history of the Easter lily by clicking here.
In Chinese culture, lilies have been known to symbolize good luck and long lasting love.
In addition to its usage at religious ceremonies, lilies have also been used for medicinal purposes. The buds or oils of the lily have been known to reduce fever and make skin more firm to lessen wrinkles.

Lilies for Special Occasions and by Colors
Lilies are probably one of the most symbolic flowers in existence which is often determined by a specific occasion or by the color of the lilies.
Lilies are the birth flower for May babies. They are also the traditional flower for 30th wedding anniversaries.
White lilies are one of the most popular funeral flowers as they provide comfort by representing purity and by giving off a very fragrant and distinct scent.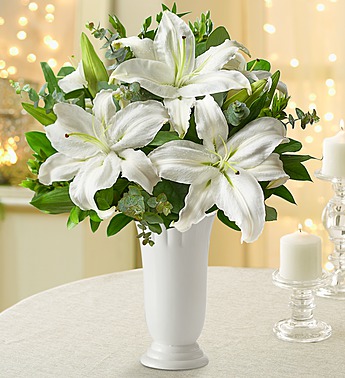 Pink stargazer lilies often symbolize prosperity, while orange lilies represent passion.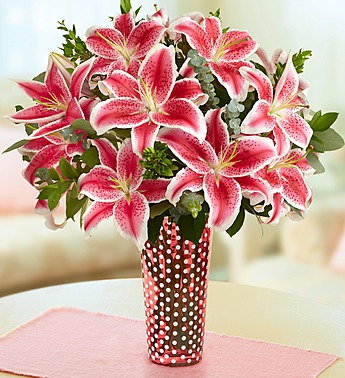 Peruvian lilies represent devotion and friendship, while the lily of the valley represents devotion and romance.
Additional Fun Facts About Lilies
Some lily buds are consumable, and can be used in cooking
Lilies can range in size from one foot to seven feet, depending on the type
There are dozens of plants/flowers with the word "lily" in their name, but are not true lilies such as the daylily and the peace lily; true lilies must belong to the genus Lilium.
Types of Lilies
There are over 100 different types of true lilies belonging to the "Lilium" genus. Lilies are found dominantly in the Northern Hemisphere of the world.
Some of the most popular types of lilies Include:
Peruvian lilies (alstromeria)
Calla lilies
Stargazer lilies
Easter Lily
Tiger Lily
Lily of the Valley
Rock Lilies
Madonna lily
Asiatic lily
Oriental lily
Amazon Lily
Yellow Lily
Turk's Cap Lily
Bolander's Lily
Washington Lily
Panther Lily
Michigan Lily
Carolina Lily
Sandhills Lily
Swamp Lily
Fire Lily
Japanese Lily
Morningstar Lily
Siroi Lily
Water Lily