Crisp air, apple cider and pumpkin spice are just a few of the reasons we love Autumn. Just like how some love pumpkin spice, pumpkin décor and a good fall bouquet, pollinators love certain fall flowers.
You may have seen some of these fall blooming flowers before, but did you know these late-bloomers offer so much for your garden? Not only are these flowers in season in October, but they also attract and support butterflies, bees, and a wide range of other pollinators.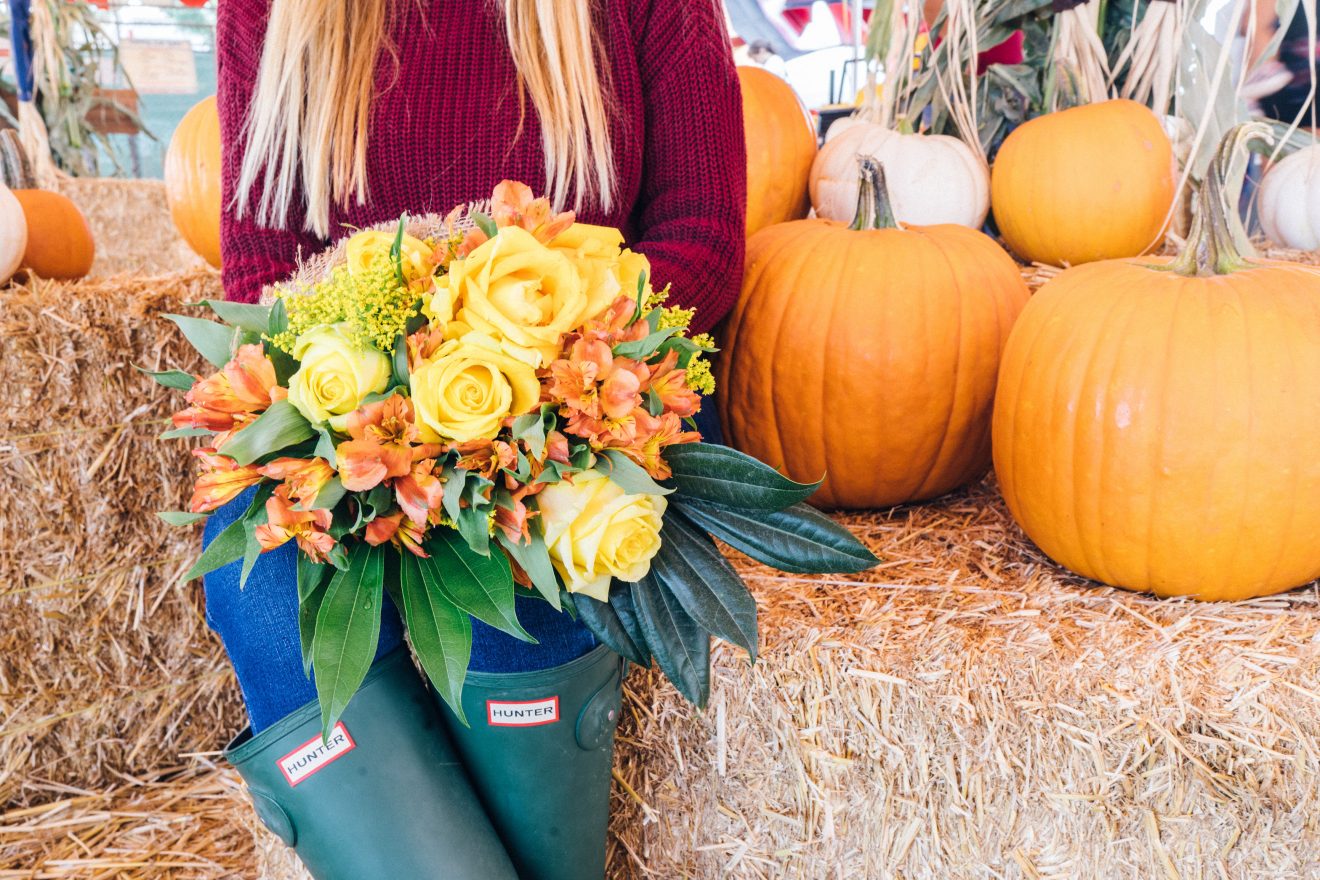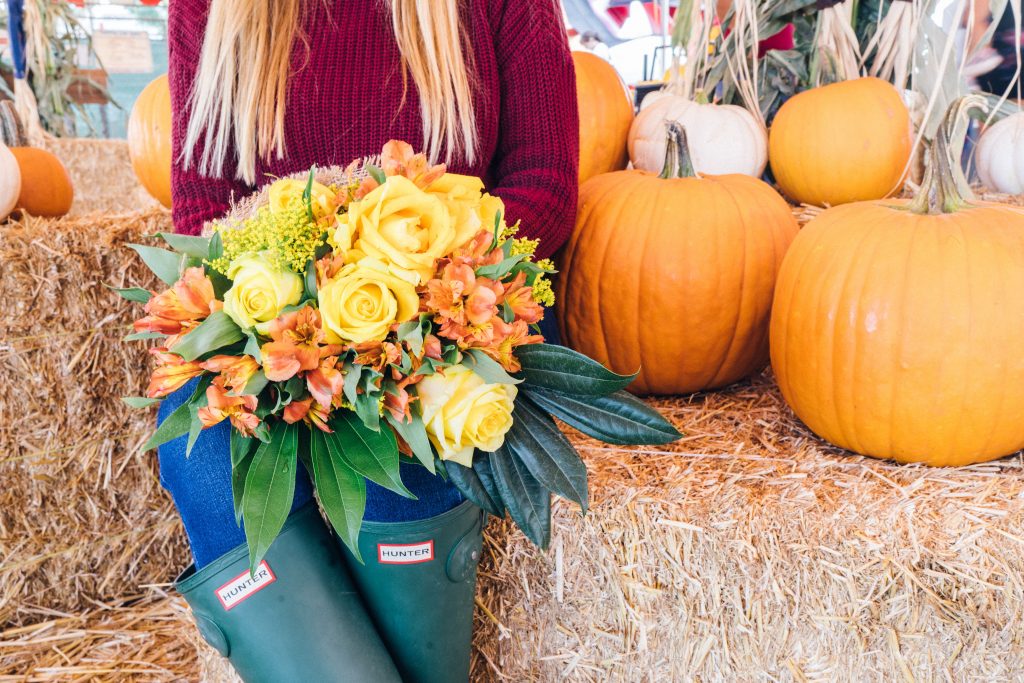 Fall flowering annuals and perennials provide nectar for beneficial insects. Across a large part of the country, native plants such as asters and goldenrod account for much of the fall nectar flow. However, there are fall garden plants and flowers you can add to your own garden to help support pollinators.
Check out this list of fall flowers that keep the garden buzzing with life well into the autumn and consider adding some to your landscape.
5 Fall-Blooming Flowers That Look Good & Help Pollinators
Goldenrod
Just like fall leaves, yellow goldenrod blossoms are a sign of fall. Popular in meadows and wildflower gardens alike, you can appreciate them up close and personal in our Amber Waves floral arrangement. Goldenrod, or solidago, is drought-tolerant and hardy in USDA Zones 4 to 9*.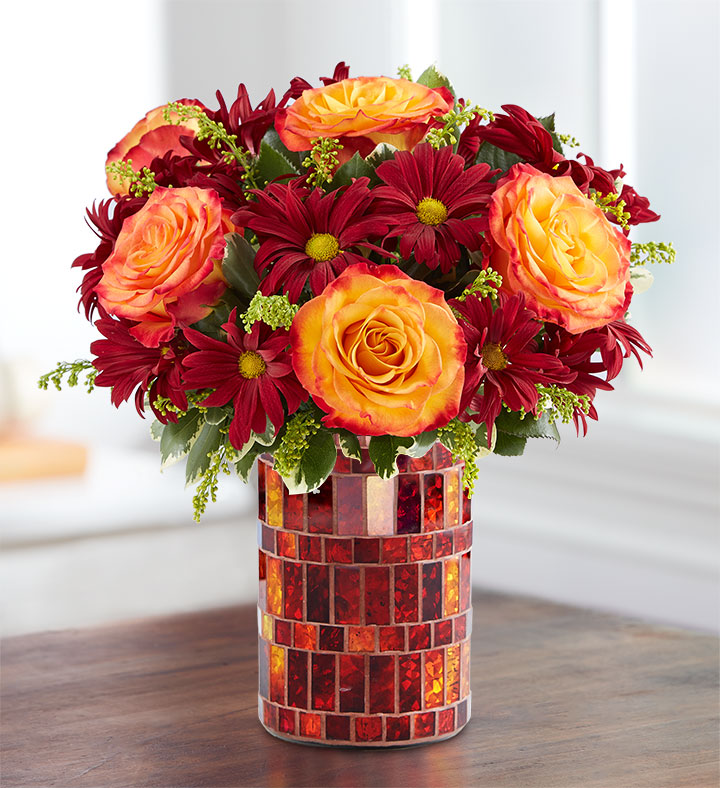 Purple Aster
The dainty lilac petals of the purple aster are an abundant food source for a variety of butterflies, bees, and other wildlife. They are drought-tolerant and hardy in USDA Zones 4 to 9*. They work beautifully in fall flower arrangements and in our Floral Medley bouquet, and grow 2-3' tall in sun and part shade.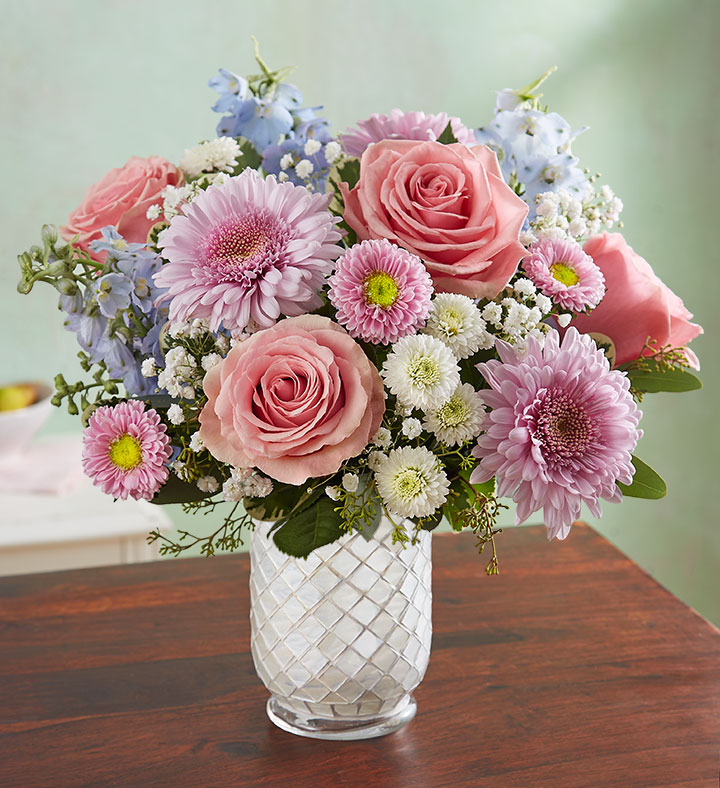 Sunflowers
Fall blooming sunflowers like 'Moon Shadow' and 'Van Gogh' are favorites for birds and bees alike. Bonus points for the fall perennial 'Maximilian' sunflower because its height makes it perfect for the back of a garden, borders or screens. Plus, these sunflowers look amazing in a fall flower bouquet. They are drought-tolerant growing 5-8'tall, enjoy full sun, and are hardy in USDA Zones 3 to 9*.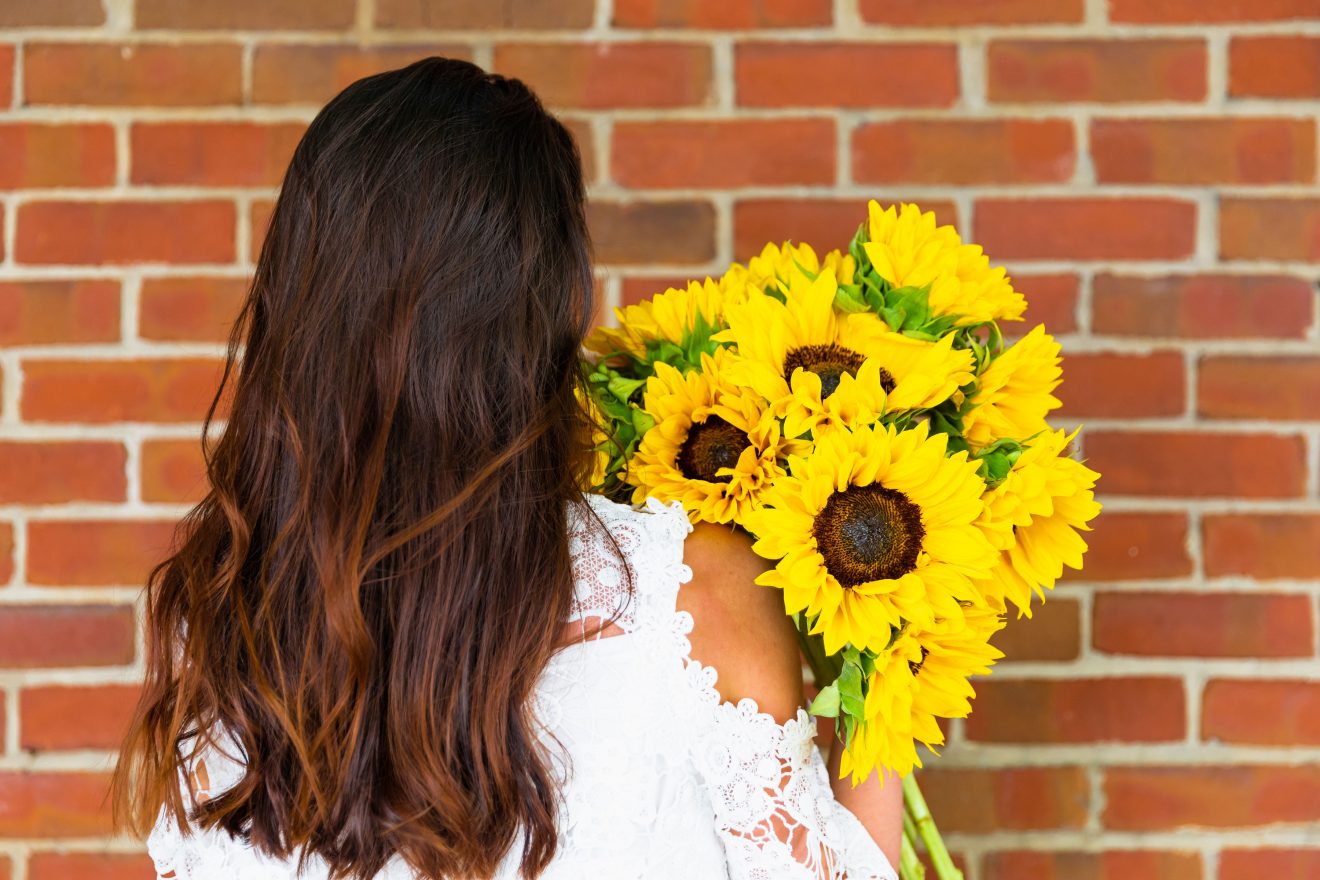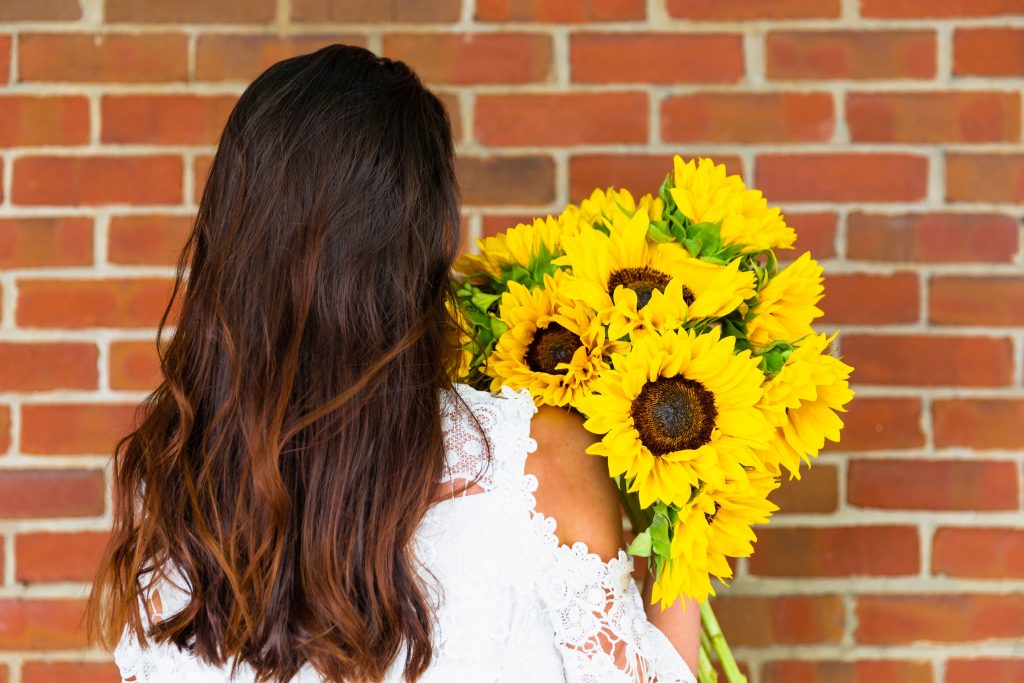 Lantana
These fall blooming flowers are annuals that add pops of bright red, orange, and yellow color to gardens. This beauty is popular with all pollinators, especially butterflies. They are hardy in USDA Zones 3 to 9*, and can grow 2' tall in full sun.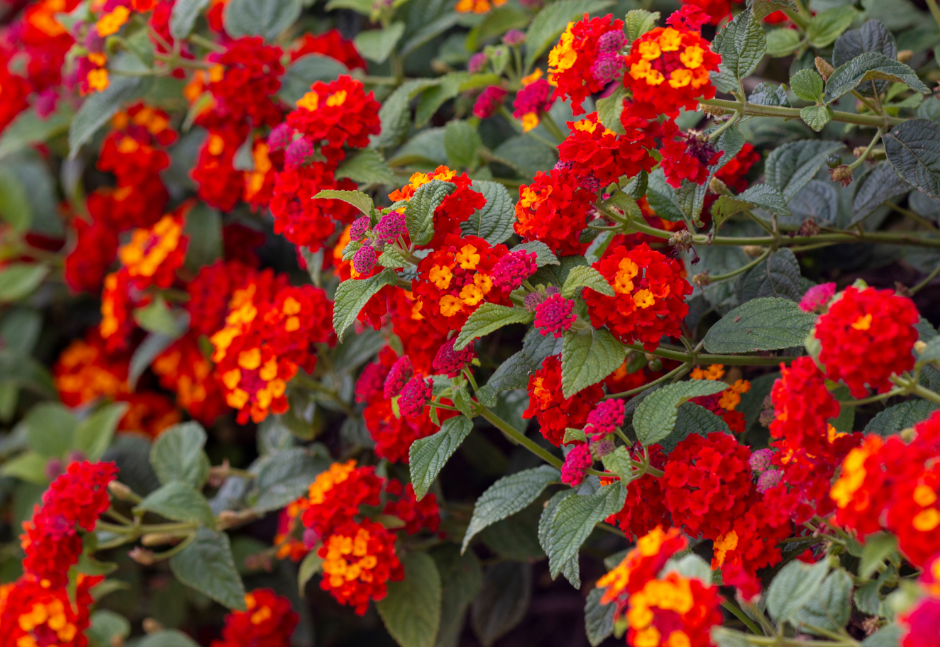 Mums
Mums add a warm fall color and extend the gardening season because they are tolerant of the cold. Our pumpkin mum plant in a beautiful wooden planter spreads fall charm instantly. Mums are hardy in USDA Zones 3-9* and can be planted outside once the blooms have expired.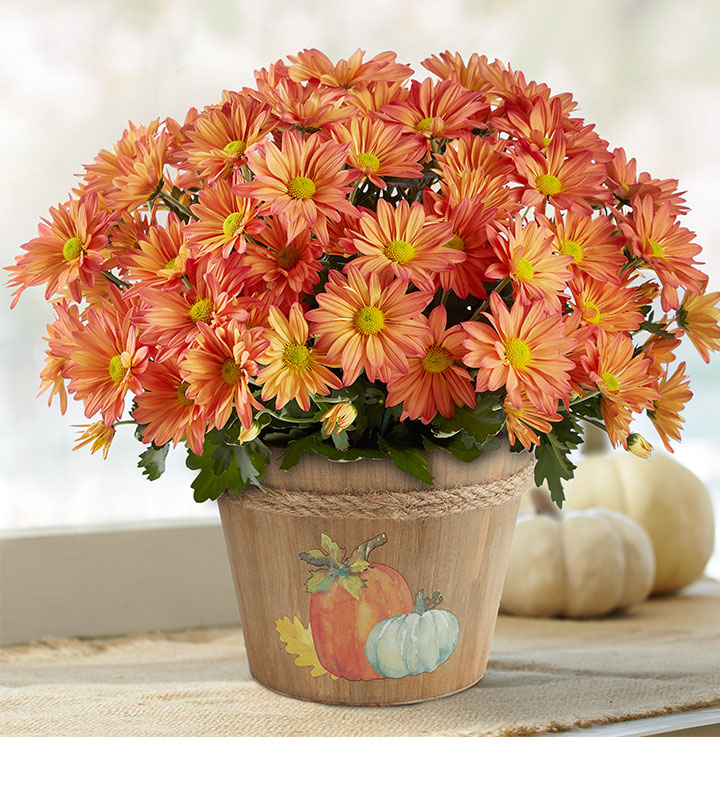 View our entire Pumpkin Spice collection and check out our fall arrangements to spread the autumn feeling.
*USDA Plant Hardiness Zones are the standard by which gardeners can determine which plants are most likely to thrive in a location. The map is based on the average annual minimum winter temperature, divided into 10-degree F zones. To learn more visit https://planthardiness.ars.usda.gov.