From tulips to chrysanthemums, our series "The Language of Flowers" explores everything from fresh flower care tips to flower symbolism and meaning. In this article, we look at the life cycle of the sunflower.
Towering over the fields and adding a burst of happiness to the gardens, sunflowers are one of the most recognizable and beloved flowers in nature. In fact, painter Vincent Van Gogh painted an entire series of still life paintings around the flower titled "Sunflowers." But just how does a tiny seedling turn into the awe-inspiring flowers of sunshine we know and love? Read on for the full sunflower life cycle – from seedling to petal.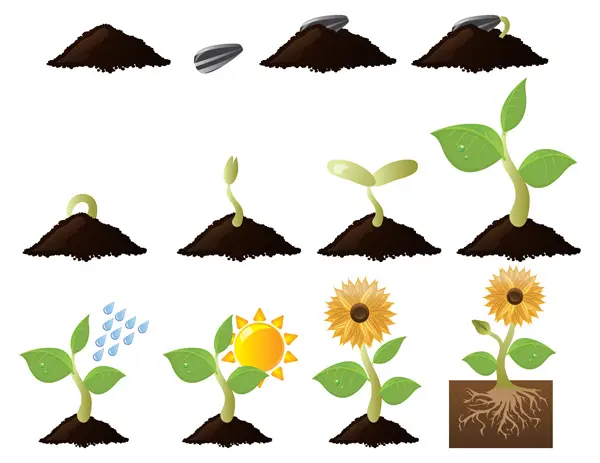 Learn about the sunflower life cycle
Phase 1: Seedling
As with most flowers, the first phase of the sunflower's life cycle is as a seedling. After about 3 days after the seed is planted into soil, it germinates and the case begins to split as the roots shoot out and push down further into the soil.
Phase 2: Shoot
After roughly about a week, a shoot will sprout out of the soil, reaching slowly for the sun. Shortly after the shoot appears, the leaves will begin slowly opening; the steam and leaves will continue to grow larger and wider as time continues.
Phase 3: Bud
As the seedling continues to grow, eventually, a bud will be noticeable. The bud will begin to slowly unfold as the flower head slowly opens.
Phase 4: Bloom
Finally, as the flower head opens fully, the hypnotizing beauty of the sunflower can be appreciated at its prime.
Phase 5: Wilt
After a long season of beauty and life, the flowers petals will start to wilt. Eventually the whole flower will shrivel, where the seeds will then be released and scatter into the depths of nature.
Phase 6: Regrowth
Once the sunflower seed settles in an ideal spot, the sunflower life cycle will start all over again.
Looking for more sunflower fun? First, read up on all about sunflowers, then keep the fun going by learning how to plant your own sunflower from sunflower seeds!
---