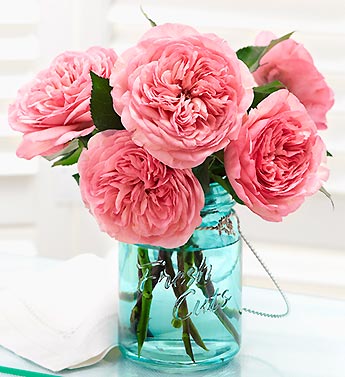 Did you know that there are more than 15,000 different types of rose species and cultivated varieties worldwide? Among these is the Garden Rose; a luxuriously timeless classic, known for its frothy petals, vintage look, and sweet fragrance. Not to be confused with an average rose in a garden, the Garden Rose's alluring aroma paired with its textured flower heads gives it an antiquated feel that creates a sense of old-world nostalgia.

Also referred to as "Vintage Roses" or "Cabbage Roses," Garden Roses are larger and have more petals than standard roses. This gives them a fluffy full look, similar to that of a Peony. Peonies are often popular wedding flowers, but are generally not available during the summer months, which is prime wedding season. Not to fear! Garden Roses are the perfect substitute, are a lower cost, and are available all-year round! With its remarkable fragrance and classic heart-shape, the Pink O'Hara Garden Rose is just one example of a perfect wedding rose, chosen by many blossoming brides worldwide!
One of the most popular types of Garden Roses are the English versions, named after an English gardener who began developing hybridized roses in the 1960s. His mission was to recreate the Garden Rose featuring old-fashioned shapes and fragrances, evoking a classic, chic feel. Today there are hundreds of different English Garden Rose varieties available for purchase!