If you don't have the proper packaging like we do at 1800Flowers.com, we know that the struggle is totally real when it comes to transporting flowers from point A to point B; without it, things can get pretty difficult AND messy! If you've ever been the recipient of a gorgeous wedding floral arrangement, then you know exactly what we're referring to – talk about water all over your car's floor mats! Or, if you've ever brought flowers as a gift for a dinner party host and crushed a perfect bouquet of roses, then you've definitely experienced this struggle too.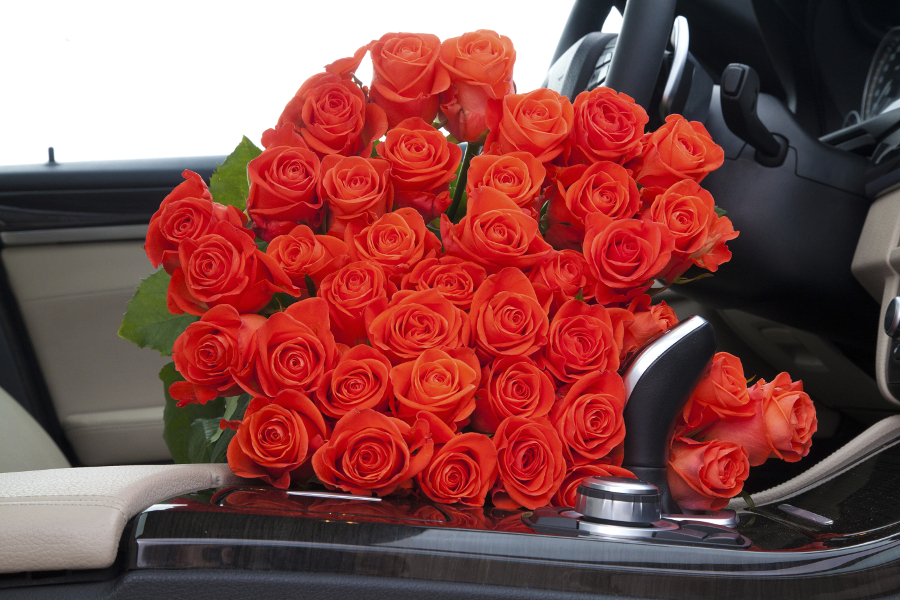 But we have good news! You don't need to be an expert to guarantee that your flowers will get from one destination to the next without a major disaster – all you need is a few simple tricks up your sleeve! Here are a few that we recommend remembering:
For a bouquet
1. Keep them out of the trunk:
Although you may think your trunk is a safe place, the truth is that the lack of oxygen can damage your flowers' ability to thrive, meaning you won't get to enjoy them as much as you normally would once they get to the proper destination. However, if you must use your trunk, it should only be done if outdoor temperatures are relatively mild – if it's too hot or too cold, the flowers may wilt or freeze.
2. Avoid the dashboard:
The dashboard is yet another place you shouldn't leave a bouquet during a drive. Although it is a flat surface, it is in direct line of the sun which isn't necessarily ideal for freshly cut flowers. You wouldn't want your beautiful bouquet to wind up faded and sagging, would you? Also, it obstructs your view as you're driving and can be very dangerous (and illegal)!
3. Store in a water-filled bucket:
Aside from what you shouldn't do, here's what you should do. Whether you are transporting one bouquet, two bouquets or too many to count, you may find success by storing them in a bucket filled with water for the duration of your trip. This way, they won't be without their lifeline and can remain in an upright position! Keep in mind, though, that you won't want to fill the bucket with too much water as this could lead to a spill if you hit a bump in the road – filling it just enough to wet your flowers' whistle will do. But, even with minimal water, you can make sure that the bucket doesn't get too jostled around by placing weights or sandbags on each side. Bonus tip: If you aren't traveling too far, you can do away with the water altogether and just keep your bouquet(s) standing upright in the bucket – just be sure to get them in some as soon as you arrive at your destination!
For a floral arrangement in a vase
1. Choose the floor:
Although you may want to keep your floral arrangement next to you thinking that you can keep a better eye on it, placing a vase on a surface that isn't necessarily flat could be an invitation for trouble. Therefore, you may want to choose the floor instead. But let's talk about what you should do with the water that's in the vase when you receive your arrangement; to ensure that your flowers' stems don't need to be recut by the time your trip is over, keep approximately ⅓ of the vase filled before placing it on the ground. And even though this is quite a minimal amount of water, don't forget to wrap an item such as a blanket or sweatshirt around the vase's base to keep it in place as you drive! Bonus tip: if you must keep your arrangement on a seat, whether front or back, be sure to use your seat belt for added protection.
2. Safe-guard it in a box:
If you anticipate that you'll be bringing home a vase or two from an event, prepare yourself for the trip by packing a few cardboard boxes in the car. But before you do, cut some openings in the top of the box in the shape of a star – this can help keep your arrangement sturdy as you drive (remember to place the box on the floor!). Although this method is a surefire way to protect your arrangement regardless of the size, to be extra prepared, also pack some old newspaper that can be used to fill in each hole in case the cut out seems to be a bit more roomier than desired.
3. Stick them in your cup holder:
Other than to store drinks, you may use your cup holders to collect change or temporarily hold your GPS while you drive. However, did you know that they can also safely transport floral arrangements from one place to the next? If the vase is small enough, of course! Should you choose this approach, we recommend using the cup holders in the back seat of your car so that they don't become a distraction.
While a few of the above methods may require a bit of extra preparation on your part, such as by cutting out cardboard or finding buckets big enough for bouquets, the end result is well worth it. By the time you get your flowers to their destination, they'll still look as good as new!