There's nothing better than a juicy peach on a hot summer's day, or a crunchy apple in from the farmers market in fall, or sweet piece of citrus in winter. The trick is knowing what fruits are in season so you can experience each bite at its peak flavor. A crunchy blueberry or a bland mango can take a snack from delicious to disappointing in a matter of seconds.
The good news is that most fruits are available all year long. However, to enjoy a fruit's full benefits and taste, it is best to buy when they are sourced locally. The less time the fruit travels the fresher it will be. Another benefit knowing what fruits are in season is the cost. If a fruit is shipped, chilled for transportation or not available in abundance, the cost will rise significantly.
The amount of fruit at your fingertips can be overwhelming, so we made this handy infographic so you know what fruits are in season no matter what time of year it is and you never have to waste your grocery budget on out-of-season fruit again.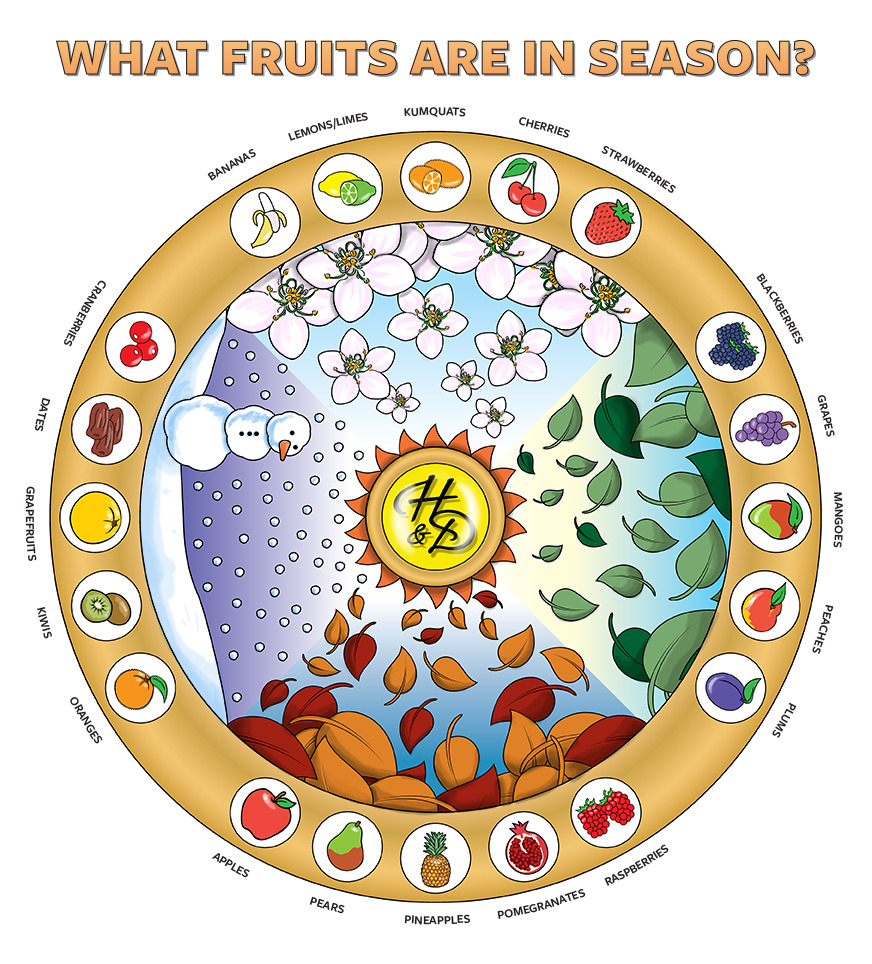 Spring fruits
Apricots
Bananas
Blood oranges
Cantaloupes
Casaba melons
Kiwis
Kumquats
Lemons
Limes
Papayas
Raspberries
Summer fruits
Apricots
Bananas
Bitter melons
Blackberries
Boysenberries
Cantaloupes
Casaba melons
Cherries
Currants
Figs
Gooseberries
Grapes
Grapefruits
Guavas
Fall fruits
Bananas
Cantaloupes
Cranberries
Dates
Figs
Grapes
Kiwis
Melons
Passion fruits
Pineapples
Pomegranates
Quinces
Raspberries
Winter fruits
Apples
Bananas
Blood oranges
Cactus pears
Clementines
Cranberries
Dates
Grapefruits
Kiwis
Kumquats
Lemons
Limes
Oranges
Persimmons
Pomegranates
Tangerines