Use This Graduation Gift Guide as Your Tool to Find That Perfect Present for Your Graduate!
School's almost out! And, of course, that means graduation is just around the corner. Do you still need to find a special gift for a graduate you know? Don't worry! Using this nifty guide, you can find the perfect gift for any graduate. And if it's not in here, you can surely find it among the many graduation gifts that are offered at 1-800-Flowers.com!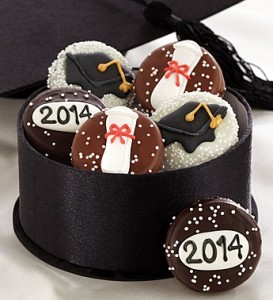 Congratulations Graduate Chocolate Dipped Oreoes
If your graduate has a sweet tooth, he/she will surely love our Congratulations Graduate Chocolate Dipped Oreos! These aren't just any Oreos, but they the famous cookies dipped in decadent chocolate and carefully decorated with icing! This sweet graduation gift is presented in a unique graduation cap gift box, which the recipient can then use to store all of the memories and cards from their special day!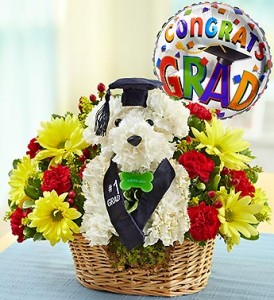 Best In Class A-Dog-Able
You're sure to make an impression at grad parties this summer if you show up with a colorful grad-inspired A-Dog-Able. It's a beautiful arrangement of fresh carnations and colorful daisies, uniquely presented in the form of a graduation-ready pup! This party-ready pup is the perfect prop for graduation photos and party centerpieces! Talk about the perfect graduation flowers!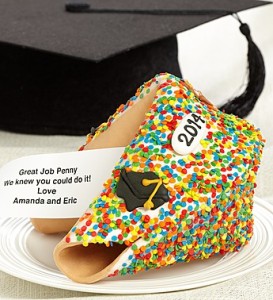 Colossal Graduation Fortune Cookie
Looking for something fun and unique to give your grad? Look no further. Check out our Personalized Gigantic Graduation Fortune Cookie! It's a great way to give your graduates luck and good fortune in the years to come! Customize the fortune with memories, advice, antecdote, inspiring quote, or even an inside joke between you and your special grad!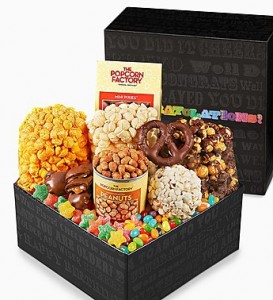 The Popcorn Factory Congratulation Sampler
Send your grad something sweet! Nothing says "Congratulations!" quite like The Popcorn Factory Congratulations Sampler. This box is completely stuffed with three kinds of popcorn, pecan-caramel Pixies, honey roast peanuts, original-recipe popcorn balls, and milk chocolate-covered pretzels. Guaranteed to make your grad smile!
Are you looking for something more personal? With our Personalized Photo Vases, you can create a unique and beautiful gift for your graduate! Pick any photo of your graduate and we'll put it right on the vase to create something truly special.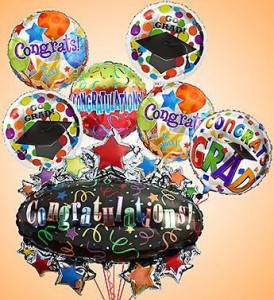 Graduation Balloon Bunch
What better way to celebrate a graduation than with balloons? Get your graduate a Graduation Balloon Bunch and his/her graduation party is sure to be a hit!
Graduation is a special time in a young person's life. Make sure your graduate has fond memories of their accomplishments. Through 1-800-Flowers.com's fine selection of graduation gifts, you can do just that!