Sunflowers are one of the most popular flowers out there, and for good reason. Their shape and bright yellow, orange, and red petals are symbolic of the sun. These instantly recognizable flowers symbolize radiant happiness and all things positive.
Many different varieties of sunflowers exist, as do ways to use these flowers to decorate your home. The topiary design is an easy way to display these cheerful blooms. You can use this one design technique to create many different looks and styles, depending on the size and shape of the sunflowers you use, whether you incorporate foliage and other floral varieties, and any accessories you add, such as ribbon, raffia, etc.
The container you use contributes to the final look, too. A terra cotta planter gives a nice rustic garden look, while a white ceramic wine cooler, such as the ones pictured above, feel brighter and lighter.
Making a sunflower topiary is easier than it looks. Here's what you'll need:
Materials
Container (if the container isn't waterproof, you'll need to use a liner, such as a plastic bag)
Floral foam
Sunflowers (at least six stems)
Waterproof tape
Raffia or ribbon
Moss
Instructions for making a sunflower topiary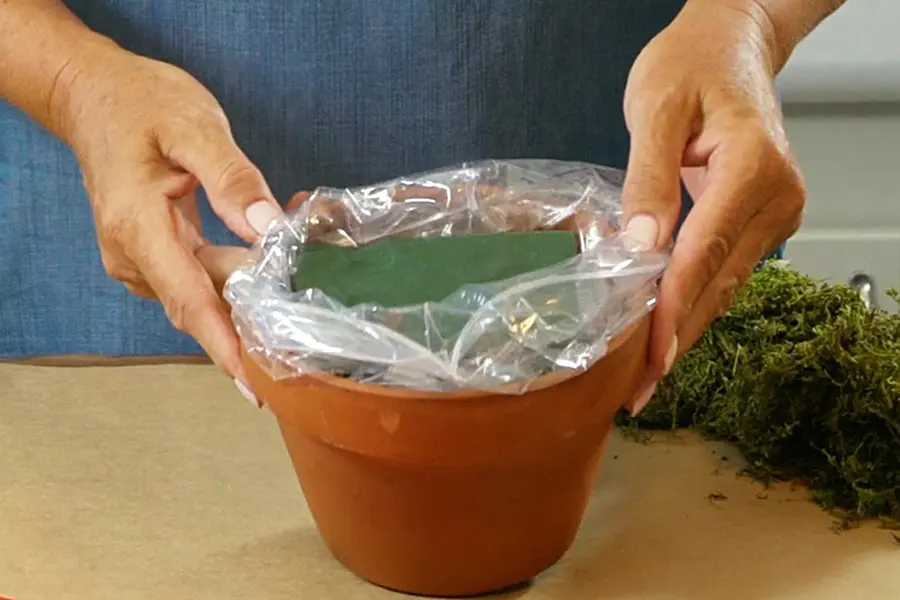 Cut a piece of floral foam to fit the size of your container and soak thoroughly before placing it in the pot. If the container you're using isn't waterproof (this terra cotta pot has a drainage hole on the bottom), you'll need to line it first. A plastic bag will do the trick.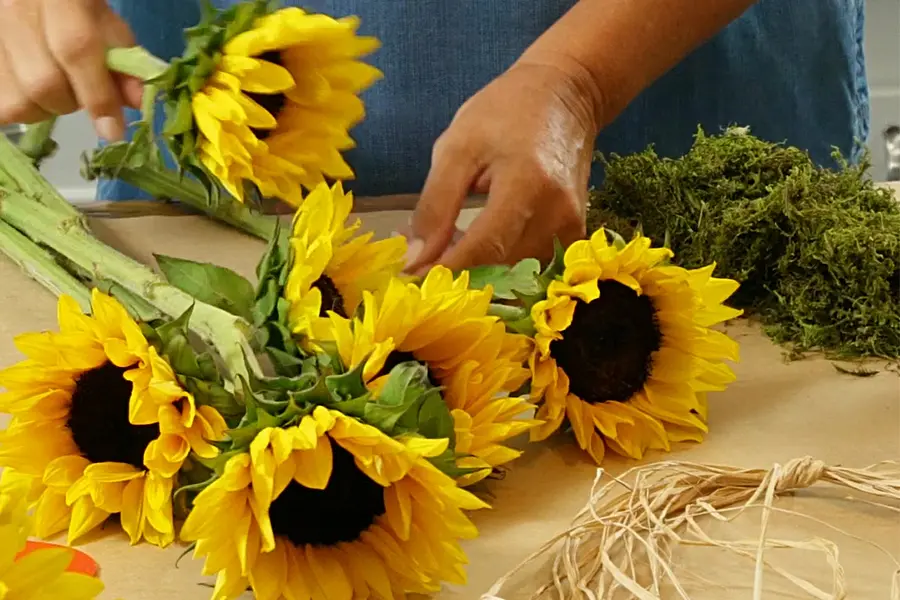 Choose six long-stem sunflowers with similar size heads.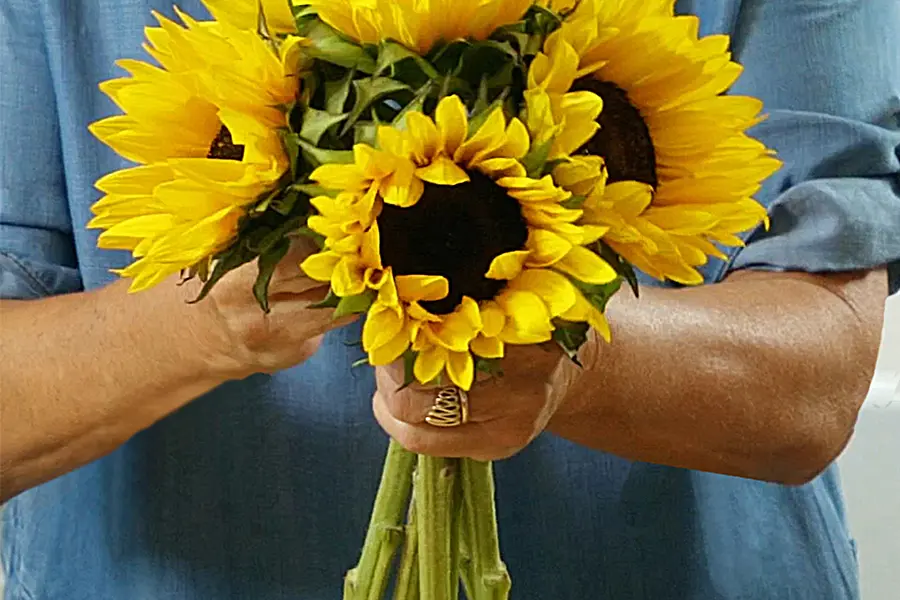 Gather the sunflowers in your hand, one by one, with one in the middle and the other five placed around and slightly below the middle one.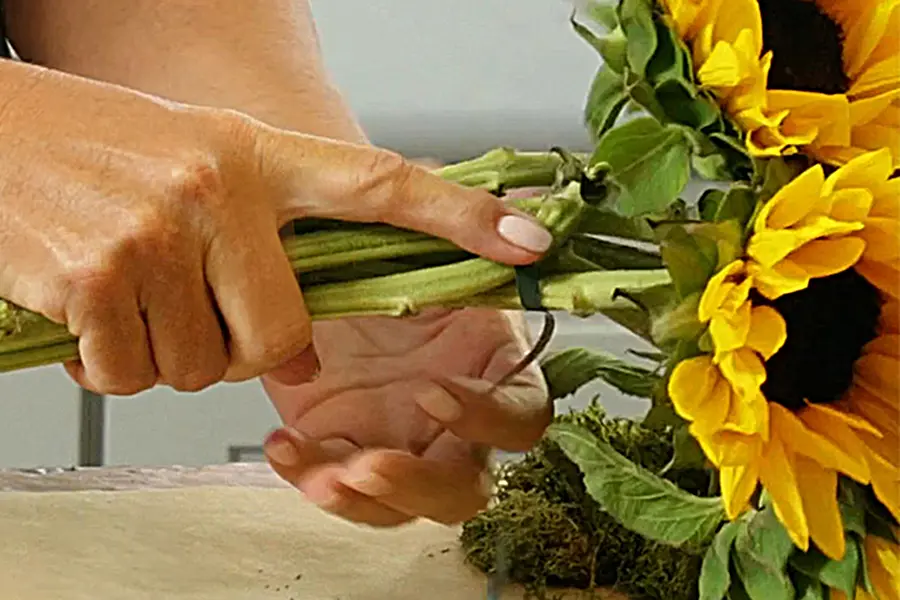 Using waterproof tape, wrap the stems together first at the top of the stems right under the heads of the sunflowers…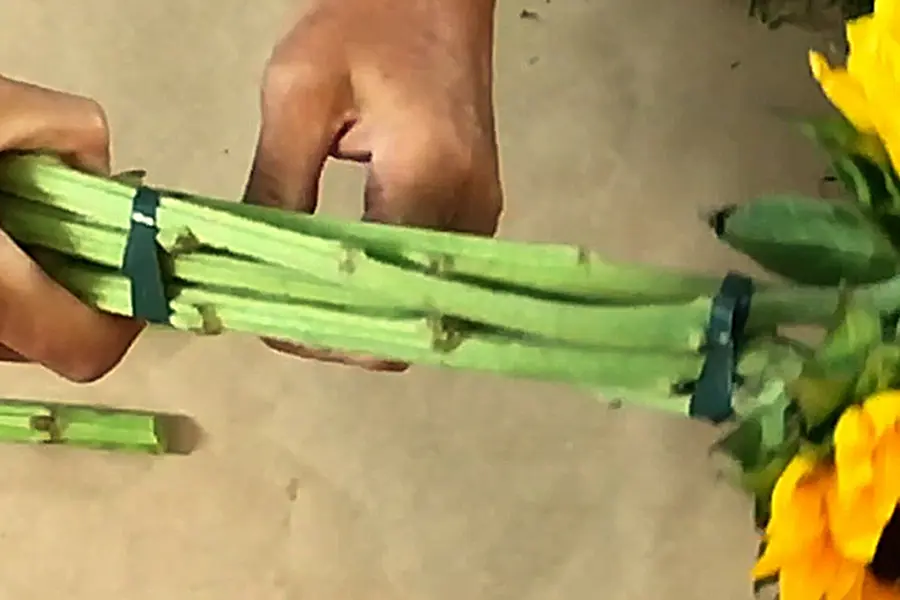 …and again near the bottom of the stems.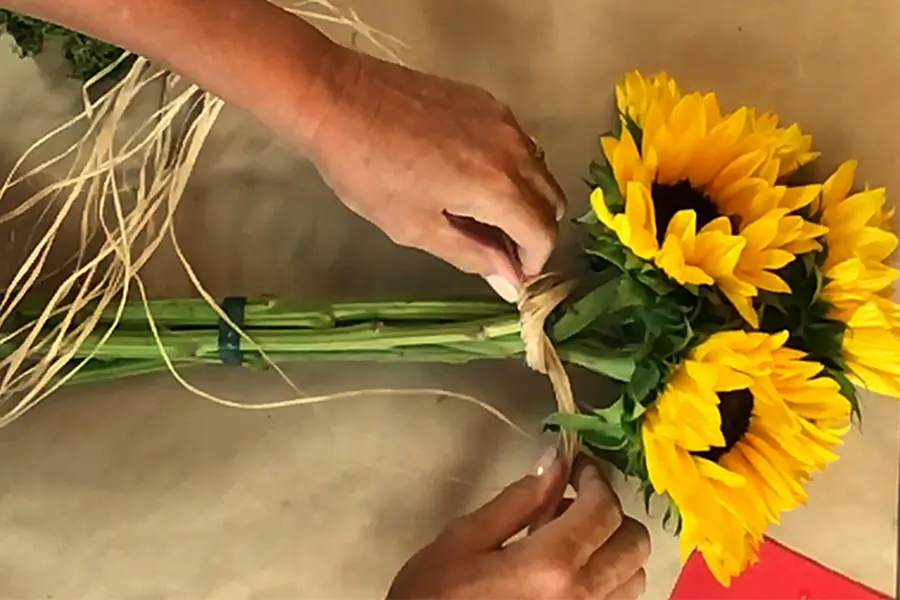 Use raffia or ribbon to cover your tape and to add a decorative touch.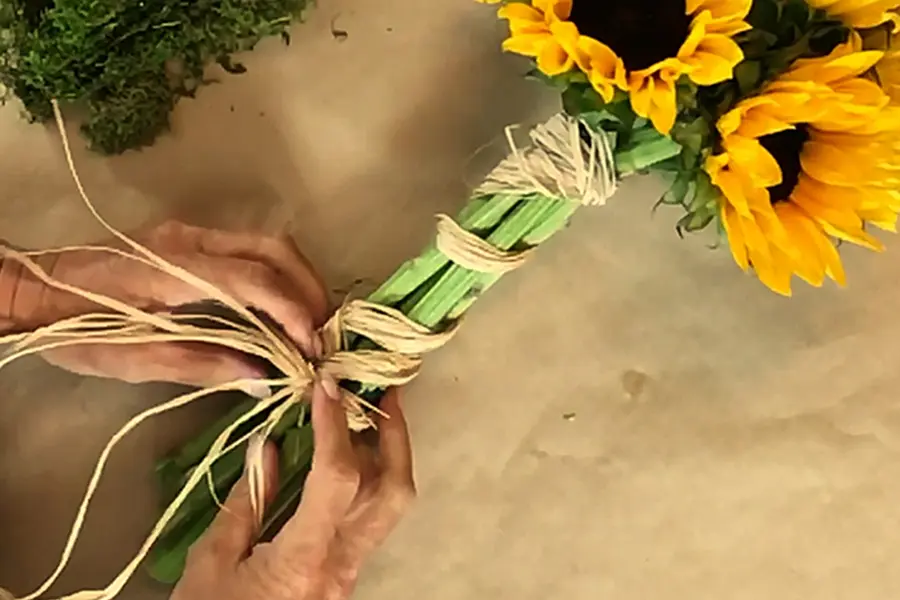 Continue bringing the ribbon down to the bottom of the stems to wrap the bouquet together tightly.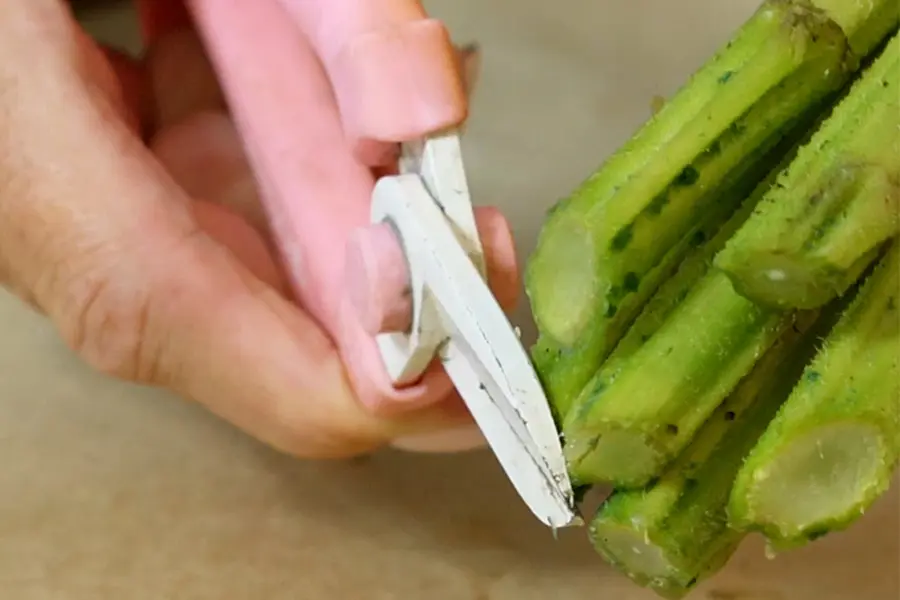 Cut the bottom of each stem on an angle.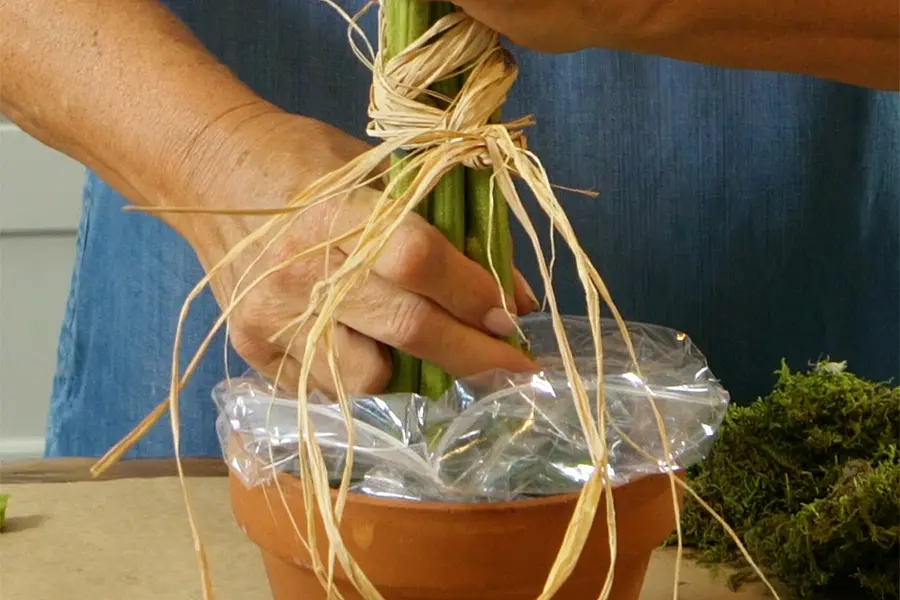 Insert the stems into the wet foam.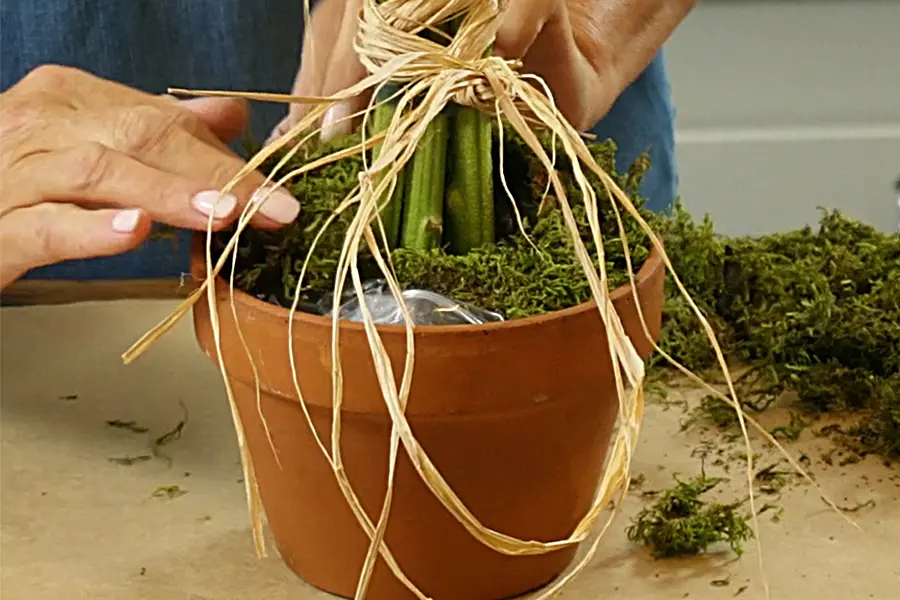 Cover the foam around the stems with moss. You can also add additional flowers, fruit, or other decorative elements.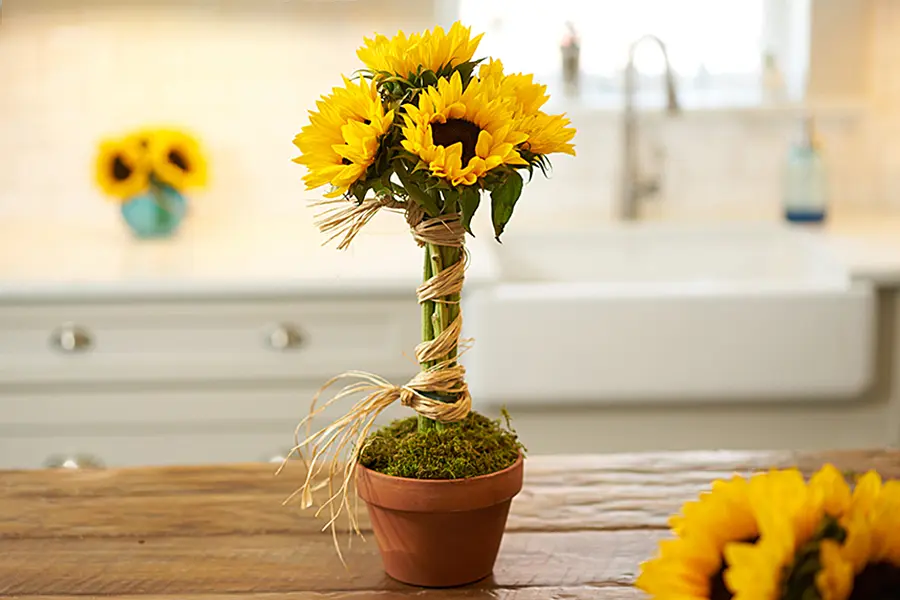 And that's it! Your finished sunflower topiary is ready to be displayed.
Remember to add water to your sunflower arrangements daily, and they'll stay fresh for about a week.