The series "Seasonal Design" covers home decor and how flowers elevate an environment. In this story, we show that you don't need a farmhouse to love farmhouse flowers.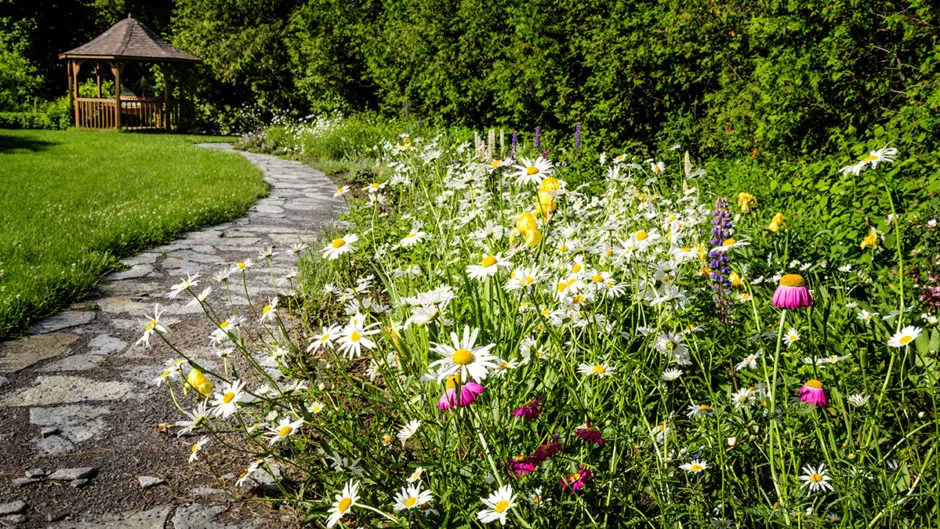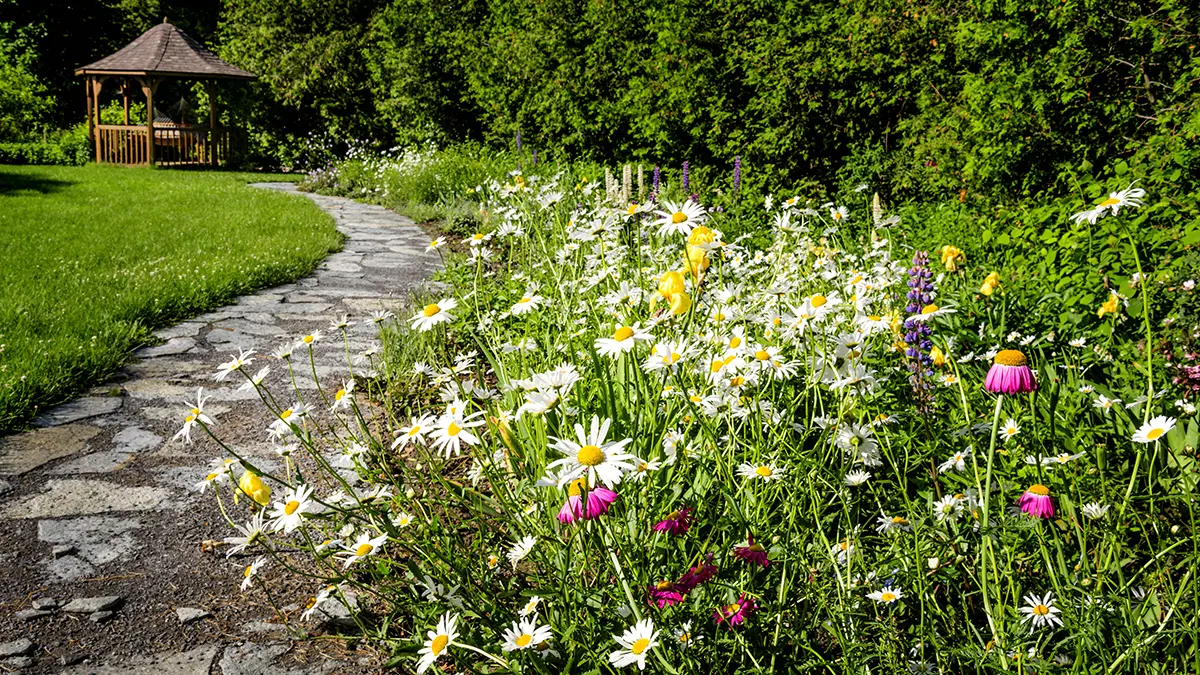 Farmhouse flowers pull us to earth and family. Even the most devoted urbanites respond to the simple nature of farmhouse flowers, which are essentially blooms that thrive in home gardens and have a long history of being easy to grow for busy farm wives.
When our ancestors moved to a new home, they often brought with them seeds that they saved. If the conditions were right, these flowers flourished along with the family and became part of our heritage.
"Think of how a wild garden looks," says Don Yim, member of the American Institute of Floral Designers and Professional Floral Communicators International. "Farmhouse is non-structural, freeform, like fresh-picked flowers from the garden."
Enhancing your home with farmhouse flowers
For your home, natural and home-grown-looking bouquets are lovely anywhere but in particular the dining and kitchen areas. Farmhouse flowers are close kin to kitchen gardens, where fruits, vegetables, and herbs were grown to feed the family. Capitalize on that connection with relaxed, colorful bouquets on windowsills, countertops, and a breakfast nook table.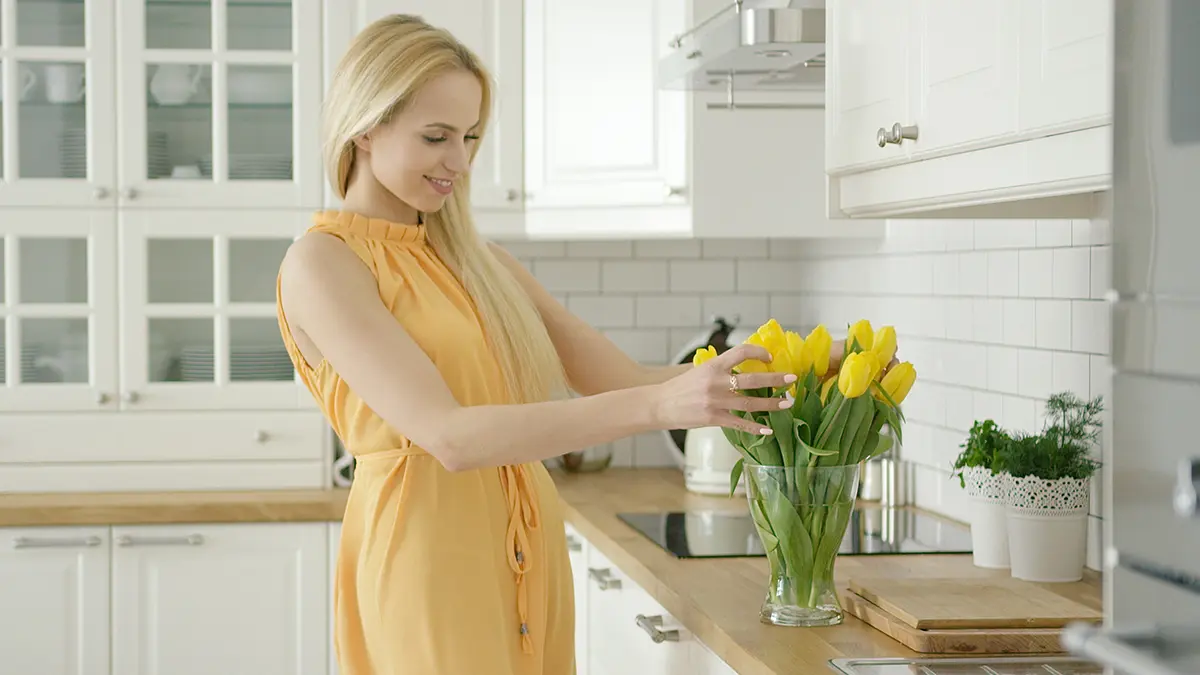 Whether you are eating takeout at the counter or serving your family at the dining table or in the backyard, farmhouse flowers can bring the feeling of home-grown goodness to any gathering. The look can enhance the table setting by using colors to create a vibe for the whole table.
Here's an idea: Set a table with an ivory linen table cloth, white plates on black chargers, and checkered cloth napkins with a mini twig wreath wrapped around them. Fill mason jars with the famous Arnold Palmer beverage. Then, add the finishing touch: a colorful arrangement with cheery sunflowers in a mixed bouquet. Wrap a black ribbon around the clear vase to coordinate it with the table setting.
Farmhouse flowers in an office environment
It's a fabulous spirit lift when you bring farmhouse flowers to your business or office. This is where nature and the outdoors can make a huge impact. One of the key areas in most service or retail businesses is the purchase or reception area. Farmhouse-style arrangements are a perfect way to say hello and show a well-curated and friendly establishment. Everyone including the team and clients will enjoy the freshness and warm greeting the flowers will provide.
Quick decor tips
Colors
Select natural colors that are both cheerful and faded. Farmhouse runs the gamut from super-bright sunflowers to faded pink roses.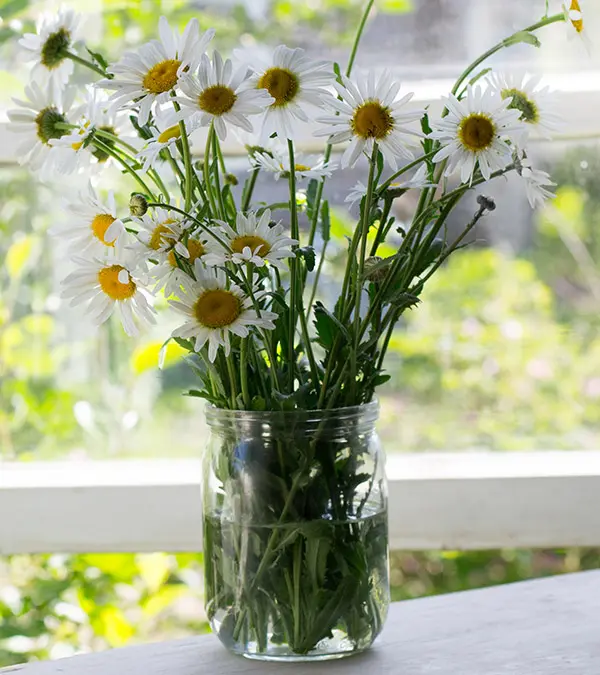 Filler flowers
Use lots of greenery in your bouquets. That could be as simple as a few wildflowers or grasses that bend gracefully over the vase.
Container selection
The vase can also convey a farmhouse look. Choose creative containers, such as watering cans, camping kettles, mason jars, and small wood crates. (Glass, wood, and enameled metal are preferred over plastic and overly shiny surfaces.) "Use low bowl containers, urn shaped-containers, and compote style bowls," Yim advises.
Wreaths
Festoon your home with pretty wreaths that reflect the season. A wreath is a quintessential symbol of welcome and speaks of harmony between man and nature. Look for garden flower wreaths containing hydrangea and petunia for spring and lavender for summer or fall. In the winter, pinecones and snowy evergreens always say "farmhouse cozy."
Quintessential farmhouse flowers
Daisy
Hardy and colorful, daisies range from classic white with a yellow center to the kaleidoscopic colors of the Gerbera daisy. They are easy to grow, too, and provide endless material for your farmhouse arrangements.
Hydrangea
Also a favorite for the cottagecore look, hydrangea adds sublime faded blues and pinks to an arrangement. It was, and still is, a favorite shrub in country gardens.
Mixed bouquet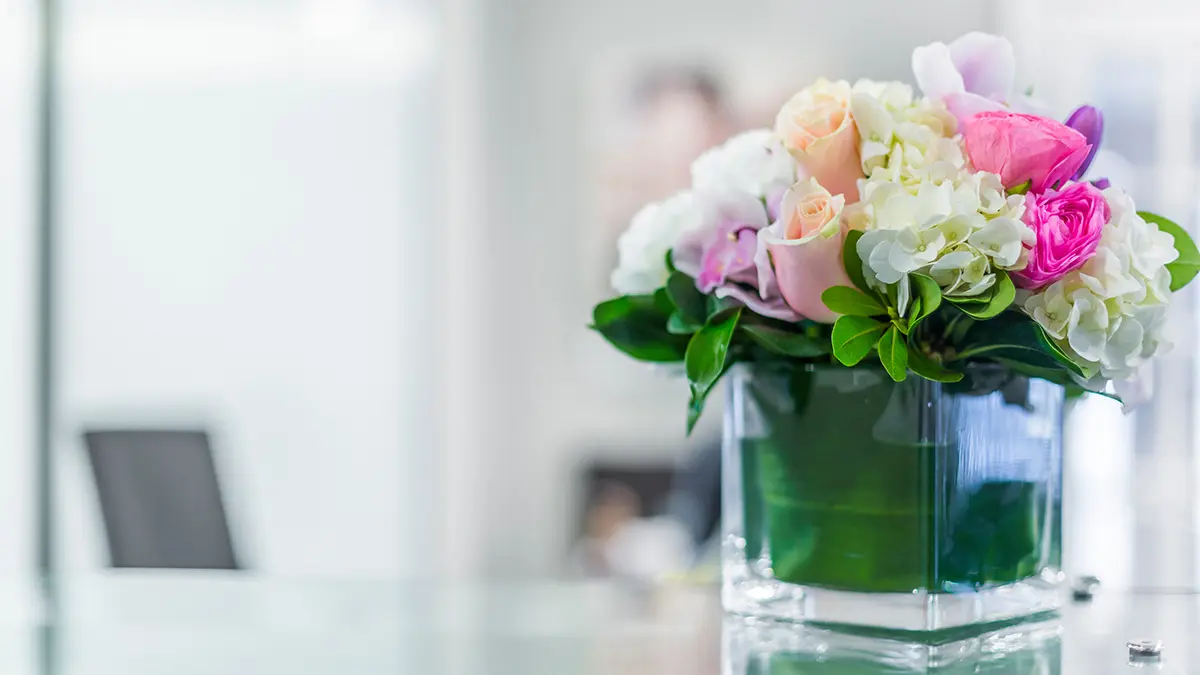 Farmhouse fresh means leaving matchy-matchy behind. Mixed bouquets balance colorful blooms with fresh greens and even a few thistles.
Queen Anne's Lace
Nodding their lacy heads along every country lane, Queen Anne's Lace is one of the prettiest fillers for bouquets of roses, tulips, and sunflowers.
Rose
The beloved rose possesses universal appeal, which is why so many varieties made their way to the United States during colonial times. Don't worry about fully opened roses — that's when they are at their farmhouse best! Carefully pluck dead petals but keep the roses in the vase as long as they have color.
Snapdragon
These jaunty blooms create tall spiky areas of color in arrangements. They are reminiscent of hollyhock, a very popular farmhouse flower that is considered the "definitive old-fashioned garden plant."
Sunflower
You can't go wrong with sunny, yellow sunflowers to brighten any spot in the house. Don't forget your backyard either; a gathered array of sunflowers on the patio table will remind you to step outside and enjoy lunch or dinner al fresco.
Tulip
The ultimate beacon of springtime, tulips delight with their fairy tale colors and beautiful shape. Set jars of live tulips in your entryway for a truly warm welcome.