Written by our Founder and CEO, our Celebrations Pulse Sunday Letters aim to engage with our community. From sharing stories to welcoming your ideas, we want to help you to express, connect, and celebrate the important people in your life.
Lá fhéile Pádraig sona duit!
That's "Happy St. Patrick's Day" in Gaelic, and only those born in the Irish wool would know how to say it. (It's "lah leh PAH-drig SUN-uh gwitch," if you're curious!)
Every year on March 17, all of us lay claim to being at least part Irish. And we celebrate by wearing something green, having green drinks or green cookies, attending a festive parade and party, or temporarily putting an O' in front of our names.
However, the McCanns don't need an extra letter or apostrophe. Our surname is Irish, and, according to Ancestry.com, is an anglicized form of Gaelic Mac Cana, which means "Son of Cana," or "wolf cub."
Ideas to celebrate the day
St. Patrick's Day was originally a religious holiday for Christians to honor the life of the man who brought Christianity to Ireland. Over the years, the day has morphed into a less spiritual celebration.
Our colleagues at 1-800-Flowers and Cheryl's Cookies have published several helpful guides with tips on celebrating St. Patrick's Day. The first provides advice on setting up a party in three clicks, from picking the décor and food to the all-important drinks. The second article offers ideas for discovering your Irish roots and virtually attending a St. Paddy's Day parade if there's not one near you. You can also take a quiz for even more ideas on how to celebrate.
How our community celebrates
We've been counting down the 17 days to St. Patrick's Day! Thank you for sharing your stories and limericks. Here are a few of our favorites:
Irish soda bread, Green beer, and Irish music
Community member John recalls that his mother remarried a few years after his father died, and it was difficult for him to accept his new stepfamily as a teenager. John's step-grandmother was all Irish. Gertie, as she was called, recognized John's remoteness, and she knew he loved to celebrate St. Patrick's Day.
During his senior year in high school, Gerty dropped off a package for John while he was at school. It was her famous Irish soda bread, along with a note saying she loved him with all her Irish heart. It broke the ice. Until the day she died, and no matter where John was, Gertie sent John her soda bread.
Jim's wife also makes Irish soda bread to celebrate. Although it's a few ingredients short of the "real thing," it's a delicious twist on the classic. And it certainly causes a five-pound weight gain the week of St. Patrick's Day.
Many in our community shared that they go to the local Irish pub for some green beers and Irish music.
Sharing memories of Ireland
Patricia's family lived in Ireland for a year while she was in graduate school, and they miss Ireland every day. They remain connected to their Irish friends via video chats and mail. They pay tribute to them — and to their Irish ancestors — by playing traditional Irish music, making Irish foods, and reliving their experiences in the Emerald Isle.
Walking a parade and raising money
In Natchez, Mississippi, Rosemary always has a very productive St. Patrick's Day. The local Krewe of Killarney, a charitable organization, chooses a "St. Patrick" each year from their town to preside over a parade.
The parade-goers dress in green, march down Main Street, throw beads, and end at a gazebo overlooking the Mississippi River, where they enjoy a feast of corned beef and cabbage. Finally, the "Krewe" raises funds for a scholarship for deserving students.
We wish you all the luck of the Irish this coming Thursday, and go gcoinní Dia i mbos A láimhe thú, Gaelic for an old Irish blessing, "May the road rise up to meet you. May the wind be always on your back."
An Irish Blessing
Wanda N. shared one of her favorite Irish blessings:
May the road rise to meet you.
May the wind be always at your back.
May the sunshine warm upon your face.
And the rains fall soft upon your fields.
And until we meet again,
May God hold you in the palm of his hand.
Dancing up a celebration
Irene L.'s Irish Riverdance troop has been practicing for their big performance on St. Paddy's Day. Cheryl's Cookies are a favorite post-practice snack.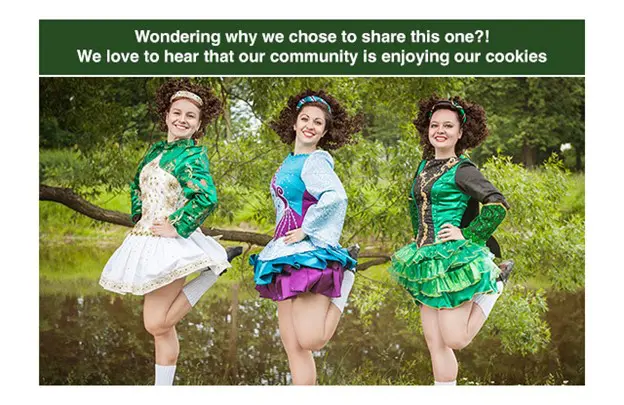 St. Patrick's Day treats for coworkers
Erin O. shared one of her favorite Irish blessings: "For St. Patrick's Day, I come in early to work, and I like to leave treats and small presents on my coworkers' desks. It's a happy and mysterious gesture from "the office leprechaun" that livens everyone's day and gets us all in the spirit. This year, the office leprechaun got everyone festive popcorn treats and a $5 gift card."
Bringing a taste of Ireland to the book club
Larry D. is getting inspired by Irish voices in his book club. "For the past month, we have been reading books written by Irish authors," he says. "Right now, we are reading Jonathan Swift's Gulliver's Travels."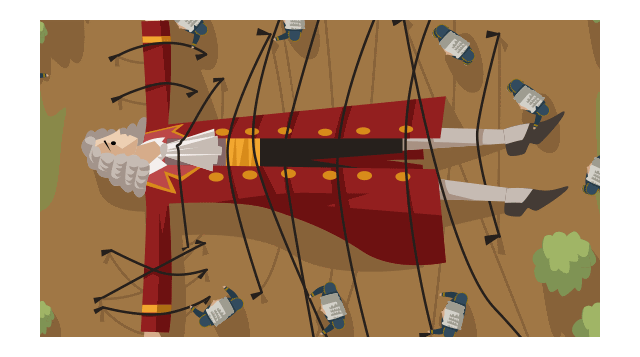 Baking up a storm for St. Patrick's Day
Every year, Mary C. and her friends have a St. Patrick's-themed baking competition. She shares: "We all make and decorate cupcakes using Irish-inspired flavors and motifs to be shared at our St. Patrick's Day gathering. I'm making Bailey's Irish Cream and Chocolate cupcakes and garnishing them with gold coins."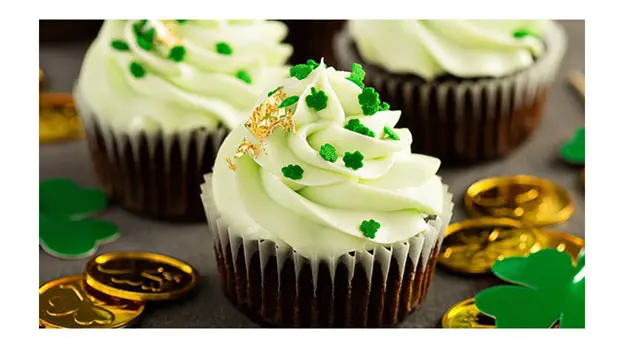 Honoring Irish heritage with trees
One of the things Tim M. loves most about Ireland is how green it is, literally! "My children and I donate to have a tree planted in Ireland each year. We take St. Patrick's Day as a time not only to honor our Irish heritage but to show our gratitude for the Earth too."
Here's a fun limerick that Patrick shared with us:
I went to the pub for a drink
A man said its Patty's day I think
So I pinched his arm
I really meant no harm
But now I'm sitting in the clink
We all look for excuses like St. Patrick's Day to express, connect and celebrate. For those of you who aren't Irish, St. Patrick's Day provides you with an excuse to connect with anyone in your life who is of Irish heritage. Send them a note, call, text or free ecard.
Let's keep the countdown going! Share your limericks and favorite memories of St. Patrick's Day, and we might just open our (green) cookie jar.
All the best,
Chris and Jim