Written by our Founder and CEO, our Celebrations Pulse Sunday Letters aim to engage with our community. By welcoming your ideas and sharing your stories, we want to help you strengthen your relationships with the most important people in your life.
July marks the anniversary of the Americans with Disabilities Act (ADA), which President George H.W. Bush signed on July 26, 1990. One of the most consequential laws in United States history, it barred discrimination against people with physical or mental disabilities in several areas, including employment, transportation, accommodations, and access to government programs and services.
The ADA raised awareness, challenged stereotypes, and promoted disability rights, which are civil rights. The law leveled the playing field and opened doors for millions of Americans who showed that disabilities do not define one's worth or ability to make a difference in our society.
The anniversary reminds us that the narrative around disabilities has shifted from one of pity and limitation to one of strength, resilience, and limitless potential. It's turned into a monthlong celebration of accomplishments and how people with disabilities are making a difference.
The anniversary month also reminds us that there's still work to be done to ensure that the 54 million Americans with disabilities can fully tap their potential. And there are ways – big and small – where everyone can help people with disabilities reach their potential.
A personal connection
The McCann family has been involved in this movement for decades. Our brother, Kevin, was born with a developmental disability, and we've seen firsthand the progress that's been made and the challenges that remain for people like him.
I remember the importance of our parents' response to Kevin's disability, especially at a time when there was very little public support. Our parents were not wealthy, but they pulled together what resources they had to rent small spaces to welcome other families who also had children with developmental disabilities. The families could engage in social activities and recreation in a judgment-free zone. To this day, all the McCann siblings still recall how relaxed and happy the other families were at those events.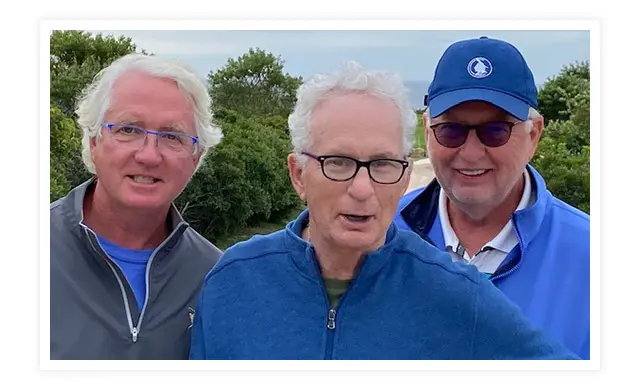 Years later, Kevin was living at the Independent Group Living Home (IGHL) in Moriches, New York. Walter Stockton, the CEO of the organization, reached out to us with an idea: Could we help Kevin and other residents by giving them a chance to work?
That was the beginning of Smile Farms, which started as a way to provide meaningful work opportunities in agriculture to people with developmental disabilities. Farmers now grow peppers for Smile Farms' line of hot sauce, and new opportunities have been created in the hospitality industry. Since 2015, it has expanded to 12 campuses.
And, in Garden City, New York, this past spring, Catholic Health and Smile Farms unveiled a new cooperative garden that was created and designed to support the mental health community, while combating food insecurity on Long Island. The leaders of Smile Farms are always on the lookout for unique ways to provide jobs for those who deserve them.
How you can help
Federal data does show that people with disabilities are landing jobs at a faster pace than in the past. In 2022, about 21% of people with a disability in the U.S. were employed. That figure is up from about 19% in 2021, according to the U.S. Bureau of Labor Statistics. While that's encouraging, there's still more work to be done.
One of the ways to help support the disabled community's attempt to secure more employment opportunities is to purchase the products that come from companies with developmentally disabled owners and workers. We wanted to provide you with a few of those businesses that have special significance for us.
John's Crazy Socks was founded by John Cronin and his father Mark. They built John's Crazy Socks into the world's largest online sock store. More than half of John and Mark's colleagues have differing abilities and every day, the son and father work to show what people with differing abilities can accomplish.
Collettey's Cookies was started by Collette Divitto, who was born with Down syndrome, and despite finishing Clemson University's three-year LIFE program in just two years, she could not find a job in the business world. She used her love of baking to start her own cookie company, and she is on a mission to open production facilities across the country and employ thousands of, as she likes to say, "(dis)abled people! ONLY!" Every cookie sale gets Collette one step closer to fulfilling her mission.

Learn more about Collette and Collettey's Cookies in this week's Celebrations Chatter podcast.
Heat with Heart™ hot sauce is composed entirely of peppers grown by Smile Farmers. Hundreds of Farmers derive valuable educational, vocational, and paid employment opportunities from this pepper project. 100% of the proceeds from the hot sauce fund jobs and training for people with disabilities. Your support of Heat with Heart ™ validates the significant contributions people with different abilities make in their workplaces and in our communities.
I also want to thank our friends at the coupon site Savings.com, which is highlighting Smile Farms in July as part of its "SavingsCARES" program. Its millions of users not only can save money but also learn about the great work Smile Farms is doing for people with disabilities. The company donated $5,000 to jump-start the campaign.
I hope that this month, you can help support the disabled community and take a moment to learn about all the ways they are contributing to the world around us. "Do something for others because we, here, have a mission to spread happiness," says John of John's Crazy Socks.
I can't think of a better way to sum it all up.
All the best,
Jim